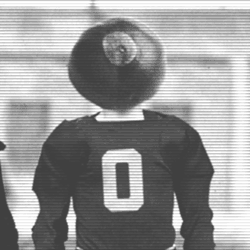 gobucks1966
---
MEMBER SINCE January 18, 2018
Recent Activity
Not surprised about The Vest. Not a fan of little big guy and wasn't when he was at YSU. Sure he beat TTUN but so did everyone else in his era. He beat Miami pretty much with Coopers kids. He lost his next two tries against LSU and Florida and beat soundly. Couldn't beat USC two more sound beat downs. His motto was keep Ohio money in state which meant play YSU twice and other Ohio MAC schools. The real motto was beating those weak Ohio schools and run through the B10 which like I mentioned before wasn't strong in his time here then get ripped in a NC game. His biggest flaw was he couldn't replace coach's as they moved on to other jobs. Bringing in brothers from d4 schools in Minnesota and grad coach's. OSU is not a place you start your career at. Instead of teaching school he should of used that time coaching and learning about the team up next. Cooper was chased out because he couldn't beat TTUN The Vest was adored because he could and that's a problem here beating them has more weight then a B10 title or a NC. Cooper by far was a better coach and recruiter but for some reason wasn't liked by the brass and couldn't win that last game. One more thing I disliked about The Vest was he never liked to beat anyone and put them away. Many times he gave teams hope and made it harder than it should of been. Best example was his last game when he had Arkansas in his hip pocket but got a interception near games end to win as the Hogs where driving down the field for a win. I was elated when he was removed.
This will be a good class and a great class for you cats that love Ohio players. Much of the frosting is slipping off the cake like the kids from the New York area and as we read today others headed to other schools. We are reaching out to more Ohio kids because the staff feels we are losing ground to oos kids. I figured this would be a problem with the changes at the top. We need to win big this year or we will be losing more of our swag like Florida did when Urban left.
Room for the kid from Mars and any other planet will fit. I have been hearing for awhile 5 or 6 lineman in this class and there should be space even if it's from outer space.
Game man ship your not going to show your cards how to do something so they can counter it. Hairball might but he is a loose cannon.
Not sure how anyone can say who will go when and to who. Teams will move up and down in the draft to try to get their guy before draft day and during the draft. For kicks and giggles one year I followed Mel Kipers predictions first two rounds he was a tad over 50% correct. Which in away wasn't bad because once you miss one it's like a NCAA bracket your going to lose more down the road.
You never heard of Bob Ferguson then who never lost a yard running the ball at OSU.
Not to be rude guys but what did you expect him to say about a former player. Your never going to get a negative word about a player or a team from a coach. I know reporters are paid to ask questions but in some cases good luck getting the meat of the question. My boy Biddle asked about the qb derby a 100 times before Baldwin left. You would think not only them but the fans would know the answer will be after last season's qb derby.
I can live with that and some sort of a penalty like sitting a year will make you think twice. If not there is going to be dirty tactics to poach players from team's behind the scenes. It happens now in recruiting when a player commits teams keep calling even when they say they have shut it down. We do it too.
How often has that ever happened and will it happen again is pretty slim. C.Jones whats he doing these days?
Give him a ship he will be taking Baldwins and we give them out to players who rarely see the field but just worked hard and deserving.
Old school here and most won't agree with me but this potal in college football should be stopped and I said that before Fields. The one and done is horrible for basketball. In most cases not all but if you can't win the job at your school you more than likely won't be a pro either. Part of going to college is to grow up and life has many turns and twist. Your not always going to get your way 100% of the time. These kids have years to look into and study the teams recruiting them. If you selected poorly that's your fault live with it.
I would agree with you but OSU wants him as a DB and his ranking is for WR. I remember John Simon from Youngstown Mooney his senior year getting his ranking lowered from a 5 to 4. There was two reasons for that which the experts didn't see. 1 He was doubled team many times 2 He played TE his senior year and never left the field. Just another point why some 3 stars become elite when they hone in at one position and play half a game. Last I saw he is in the NFL
GLENVILLE Tar Blooders dried up and I think Ginn has retired has so much to do with that.
I'm one that will eat crow but with hot sauce.I was on the fence about Hartline and had good reason as he was getting to much credit with players that Z. Smith had his stamp on. Smith did no favors for the program but was a good wr coach and we can leave it at that. Hartline is doing wonders in the wr room and there have been others from OSU that played with SR. I believe like M.Doss for one? The Colts have drafted OSU pretty good through the years. Yes about pumpkin head
Any relation to the player here a few back or a different spelling? Getting old gang.
True my son had a nice video on him back in the day that's why they are called high lights. I look at them and also look at who they are playing. What makes me worry is when they are against just a couple teams that probably stunk and another is scrimmage tape that shows he didn't perform well in a real game? Some of these kids get a bad deal because they don't camp. Wiltfong and others can't see everyone and evaluate even hundreds at one position let alone thousands of seniors each year.
Is there really that much difference between a low rated 4 star and a high rated 3 star. Very very little to answer that. I look more at players offer sheets and who are offering them. Recruiting services are not 100% and either is the NFL draft. Sometimes when people bring Hooker and Hawk up as 3 stars you don't know why they were 3 stars. Hooker played 2 years of high school football and was under the radar. Hawk was injured and missed some time if not for that he would of been ranked higher. One more thing to think about in the star game. There is a cut off at a certain number then it goes to the next star and another cut off to 3 stars. Some years a class could have a 100 5 stars because the class is so deep and other years the 5 stars could be maybe just 20 and half of those wouldn't make the list on the year before. Just as Ohio has one year deep in talent and other years thin in talent. It goes that way nationally too. There ranking kids with the cards their dealt like this years class had a weak qb group.
Harrison and McCord would be pretty and a slap in the face to pumpkin head.
Will there be a spot for Scott with so many others more highly rated on our board if one goes by ranking's. Wr is a position that there are many to choose from and a thin line but someone has to be ranked 85 and 100. With all of those kids could play any place and not lose a beat.
With Urbans players and a couple really bad teams. Even this years bunch are Urbans. The vest started slipping when Coopers kids filtered out. Along with he couldn't replace the coach's when they left as family and friends was getting thin.
I think it's to early to say how this class and the future holds for recruiting. Day is pretty much a unknown outside of Buckeye Nation not like Urban who everyone knew about across the globe. My only worries are will he lean and rely on Ohio talent? I preach this all the time Ohio talent just is not as strong as years ago. All you need to do is look at the top 250 recruiting rankings of any service. I am willing to bet Ohio is not even a top 10 state for talent like back in the 60's thru and into the 90's when it was a top 5 or 7 state talent wise. Sure there are surprises and kids develop late and become stars but the other happens too and they don't become very good. For every A.J. Hawk there is a Justin Zwick and at 70 years old I have been following OSU since Paul Warfield my childhood hero growing up. Plus following recruiting since the 70's when I found out about recruiting rags back in the day. Does that make me a expert or a guru no but I know plenty of the ups and down of the states and where to look for talent. We have a shot for most of the top 10 Ohio kids this year but many of them are not currently that high nationally at their positions. Bottom line we will find it hard to win a NC or even make the final 4 again living on home cooking those days are gone. I just hope coach Day hasn't been pressured from the out cry of Ohio folks and coach's to recruit more Ohio kids I wouldn't put it past Drake. Again time will tell and winning games will bring them to CBUS but right now Day is a unknown and our defense is too.
You mean Oregon St. lol but I wonder why we didn't land her from the get? Maybe no room for that position I need to follow the Lady Bucks closer. Foster pissed me off and I kind of swayed away from them I miss Tera when she was here,
Wasn't sure if it was the right thing to say but wanted to mention her hair yesterday. Very pretty and that was a boot in the ass congrats you young BUCKS.
I haven't been high on Thomas from the get but many here want him for the wrong reasons. He probably won't play lb here if we get him but when you lower your standards the product suffers. Then those same people will be the first to complain.