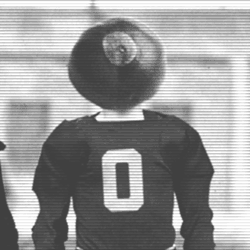 gobucks1966
---
MEMBER SINCE January 18, 2018
Recent Activity
yes and are we surprised?
Agree but recruiting services are far from perfect and we will know more in a couple years on who did what and stayed as Fields and Cox left Georgia. Will all those wr's stay here time will tell.
With Paris on board the other two tackles listed at 29 and 26 I believe would be left tackles on most of the nations teams and a position that two play makes that haul look even brighter. I'm impressed with the oline recruiting nearly as high as wr. To go along with that losing out on two nice rb's with a line like that lesser talent at rb won't miss a beat. Now fire the rb coach lmao two quick to judge what the future holds on whats coming in.
1st question is asked daily and why same answer over and over give the coach a break. Compition and best man won the job same as any other position Wasted 5 min of my life listening to that AGAIN.
Hind sight and a crazy thought but if we did get the ball for the score the entire game would of been different and we might not of won.
The other Bama player knew what was going on and downed it and if you watch the replay he took his time to do so but was ahead of our kids and had it covered .
Same as a on side kick 10 yards free ball.
Basketball did some say basketball you couldn't be more correct hoops is not a major player here. Has anyone ever posted lets keep Ohio kids in state for basketball or get upset when we lose our top talent to not one but both tun and other schools in the B10 yes but very seldom. People get on board when they do well but quick to jump off kind of like watching the Titanic.
Sad day when it gets torn down and now they say it might stay so which is it. Not long ago it was mentioned to expensive to repair the electrical and the roof I heard was in bad shape. How ever what would it cost to just tear it down and build some thing new there. Where would the Skull move to?
Guys like Wiltfong have a better idea of talent over any coaching staff and they know the type of talent a team needs. All kidding aside most top 300 kids you don't want to pass on.
Question I would tell our reporters and people that cover TOSU would be is to stop asking the question who will be the starting qb. I understand you have a job to ask that but they are not going to tell you until it's settled and they want us to know. It's wasted time in the presser and a pita to the coach to give the same answer over and over. You think they would of learned their lessen last year with Haskins and Burrows
I wouldn't risk a ship for another qb when you can land a back up from the transfer pool. TOSU would be a top choice for most coming out and we can get a kid that has at least seen a little action to evaluate from over a high school kid who could be Zwick like or leave after a year or two. Stroud is a duel qb and I thought they were getting away from that type and yes Fields is too but a passer first.
Growing up in the Warren Youngstown and being a old shit and retired from General Motors. I played with and against a lot of people who went into coaching and had ties. Most are no longer doing that and it's dried up for me. When I worked at GM we had a work force of 12,000 a few big time recruits parents gave me some of the low down on their recruitments. Cooper screwed the pooch on two recruits that wanted to come here. Bill Burke who played qb with my son and beat a great OSU team loved the Buckeyes. Another was the Stanley kid from Youngstown East that went to ttun. My X mother in law worked at Packard Electric with Korey Stringers mom and I got to talk to him after his Tennessee visit. M.Adams grandmother cut my hair and I knew the low down on the Brew crew and T Pryor who played the game and was all Buckeye for a long time. What a dick and ego that kid had. I mentioned before how MC cost us 3 or 4 good players with the crap he did at Warren Harding. For getting into a practice no but had some inside info thru the years.
Alford taking unfair heat and getting beat down more than Bill Davis did or Studs for that matter. Not always going to get their man all the time. Plus if we would flip either the honey moon would be back to all good.
I took a hit in a thread and don't have thin skin but many young fans on here and you just don't get what recruiting is all about and what the most important thing is when you recruit. I will probably be a reader instead of throwing my opinions out there. My last post here so having the best recruiting class is not important but filling positions of needs is first and foremost. Do you turn away a game changer if a position is stacked on your team no you never do. Recruiting Ohio kids because they will play harder is flat out nuts who doesn't play hard and want to win. Kids out of state that don't know how important the ttun game is could be true but they will learn and quickly get it when they are here after a couple weeks. Good luck to all and GO BUCKS
I won't argue any of that other than 3 star Ohio players that some posters to me don't seem to understand. A.J. Hawk is a name that comes up many times. The only reason he was a 3 star was of injury and missed a lot of the season. Recruiting services lower players that are questionable to be accepted to enter college and players that miss a lot of playing time. We seem to think only Ohio has 3 star kids that are under the radar. Coach Osborne of Nebraska made a living on walk on's year after year and I think one or two won or came close to the Heisman. I agree Ohio kids don't have that extra training but I think down the road with the huge watch on injuries they may make everyone go our way of less contact before Ohio would go to more contact. Either way though with the population shift Ohio talent is not what it once was. Canton had 5 high schools now only one and Warren had 3 now with two. Massillon is no longer in Ohio's top division because of numbers and other schools too.
What would you think a ND fan would say after losing a top flight coach the same bs that PSU said when they lost LJ. Alford was the asst. head coach and got that title for a reason at ND. There are a lot of D1 schools but only a handful of 5 star rb's and you don't always hit a home run. TA is getting a bad rap from our fans for one kid that changed his mind. What will all of you say if we flip him or Knighton back? ND hasn't done all that great at rb recruiting since he left either.
That the next two classes are loaded and the best in years. Ohio talent believe it or not has been in a funk for some time. Ohio once was a top 7 state for talent but the talent has shifted to the south and other parts of the country. With one player in the top 100 tells me 2022 looks like back to the last 10 or so years.
Not to be rude but if you read the top on this thread it has the early 2022 rankings and it goes against what I have been hearing. We have 1 in the top 100 and now you know a little shit about the future. Yes next year looks bright and lets real them in.
It's not even close to accurate this years rankings of players. You truly can never get a good feel on how good a class is until 2 years after the kids have played here. Georgia a great example have lost Fields and Cox in back to back years. You need to fill your needs first and with the best kids you can. There is no gold cup for winning a recruiting championship a third of most classes never play 3 years at a school and with this new transfer game that will go higher. We loose 19 seniors this year and not all of them came from the same recruiting cycle with red shirts and such. Last years seniors was even a smaller number so having the best class is nice to brag about but only if they all stayed and played up to 4 and 5 stars but not all will or even be there in the end.
Call me confused because everyone I hear is saying the next two classes are to be strong in Ohio. I have said I been following recruiting for 40 or so years and Ohio always use to have 3 or 4 top 100 players and another bunch in the top 250. Ohio use to be a top 7 state for talent some years higher well folks not any more. I'm all for recruiting Ohio kids if there good enough but don't jump on them just to please Ohio high school coach's because their jobs are not on the line here. Yea Yea Yea list all the 3 stars that have played well here and at other schools but you can do that in most states. In two years that list will change a 100 times too and maybe a couple more Ohio kids will appear.
The only thing I would add to that is the SEC has less cream puffs than any other conference. Plus not sure if you added ND to the mix as they are under contract to play 5 or 6 I believe ACC teams so thy can stay in the ACC for hoops. If I was running the ACC I would tell ND either go all in or go scrub your ass because the ACC needs ND like a hole in the head for hoops. I think a time will come and soon everyone will be in a conference and should be. ND would of lost to Clemson if they played all in the ACC last year. Not sour grapes but I think a couple other teams like Texas and W.Virginia would of beaten ND too simply because they wouldn't be able to out score either one of them. JMO
If you go through the years we had home and homes with LSU Texas FSU and others but that's off the top of my old head. Bama has played PSU a couple times but rarely do they come across the Mason Dixon and never in the cold. The team that played it smart and still screwing ND in my eyes is USC. They play every year but come to ND in the early warm part of the season and ND travels to USC at seasons end and they never play in the cold. With ND a independent why don't they do that game at seasons end every year cold one year warm the next. Weather makes a difference as the body has to adjust. So other than PSU and TOSU who else in the B10 has played a meaning full south team.
I would think having that black stripe removed is the way to go. It's a eye sore to look at and to have it removed It would be a blessing to me. Probably easier to remove than to add stripes for the helmet mgrs
These rankings many times are nuts and players get knocked back because the talent they play against and the state they play in. Plus they don't see many kids unless they camp all over the place. Thousands of kids each year and no one can evaluate everyone fully. The NFL screws up a ton too.