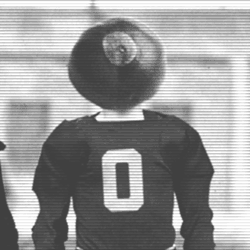 gobucks1226
---
Member since 30 March 2011 | Blog
Recent Activity
Is the Torrance Gibson situation affecting Haskins' decision?
I think we can all agree that the top 4 teams are very close and all have faced marginal opponents. So who are their best wins against (current BCS standings)?
Florida St- at #7 Clemson
Alabama- at #15 Texas A&M
Oregon- #19 UCLA
OSU- #24 Wisconsin
Every team but Florida St still has a chance to gain their best win this year (assuming Michigan St wins out), so no need for the outrage today with 5 weeks still left in the season. A lot will change between now and December 8th.
I think the staff is targeting Samuel for the hybrid role. He's been compared to a bigger version of Dontre Wilson. Hard to imagine putting him at safety when he's so lethal with the ball in his hands, IMO.
Good article, Kyle. Thanks for posting. Just one point of clarification: Andy Geiger was athletic director in 2004 for the hire of Thad Matta.
We desperately need Lenzelle Smith to be that guy. He has been by far the most disappointing player on the offensive side of the ball this year. Unless he starts playing at a higher level, we are going to continue to struggle to score points.
Before I read the article, I put my top 5 together (in no particular order) and it matched yours. Great memories!
This all comes back to recruiting. We have had so many linebackers leave the program that we did not expect to (Ejuan Price, Dorian Bell, Jonathan Newsome, Chad Hagan) and with a guy like CJ Barnett missing so much time, our other safety recruits have not developed into elite players. Also, when Nate Williams is out, we do not have a pass rusher in the game who can also drop into coverage (Noah Spence is a great pass rusher, but that's the reason the staff has not played him as much) so we are not getting any pressure when rushing four.
This is not an excuse for the poor tackling or bad angles taken, but there are fundamental reasons why this defense has struggled.
Interesting- feels like we would have a log jam at guard in this scenario if one/both transitioned (Underwood, Brown, Eiflen, O'Connor, Farris, plus Gardner in '13). Perhaps that would speak to the staff's confidence in guys like Underwood & Brown and also assume one or more may transfer.
Alex, thanks for putting a great write-up together. How do you see Munger fitting in with this class given the fact that we have young DTs on the team currently (Washington, Schutt, Carter) and already have Hill and Price committed for 2013?
I think Tyquan Lewis' commitment is huge. Besides Noah Spence, we don't seem to have any game changing pass rushers from the end-spot beginnning next season (guys like Steve Miller and JT Moore don't seem to have the pass rushing skills, while Adolphous Washington has moved inside and Se'Von Pittman seems pegged for the SSDE role or 3-technique depending on how much he grows).
Who would consider Kameron Williams a wing at 6-2? He's a pure guard and sounds like a very good shooter, which was something we missed last year.
Gotta feel good about Mike Mitchell since we're considered a co-leader and he hasn't even visited yet.
Finally- in terms of the other remaining targets, Bell has to be at the top of the (realistic) list, with Gibson/Quick/LaRue right there. I see no way we take a commitment from Donovan Munger. With the depth we are gaining on the D-Line, we bank that scholarship for '14 or hope one of the reaches (Dorian Johnson) ends up in the S&G.
Good points. We should know more by season's end. I keep forgetting how young these 2014 guys are, so there's plenty of time for evaluation.
It was a previous bucknuts.com Boarding House rumor. Still surprised because we were thinking about offering two guys this year (Mitch Trubisky comes to mind), so not sure what to make of it.
I'm still surprised to hear that they are thinking about only taking one QB, especially with the talented guys that are seriously interested in us. Going into 2014, Braxton will be a senior, and Barrett will be a sophomore. It sounds like Cardale Jones has been struggling with attitude (hence not even playing in the spring game). My hope is that they are really high on JT Barrett, but would like to see them take two guys.
I think the disorderly conduct charge was related to the fact that he almost hit the police car as he made a turn before he was stopped.
Good article on Sully. I see where the Glen Davis comparisons are coming from, but Sully is much more talented. I heard Jay Bilas make some comparisons to Carlos Boozer and have heard others make comparisons to Elton Brand, which I think are more accurate.
Assuming he stays healthy, he will continue to work on his game. The biggest area for improvement is his agility and/or lateral movement on the court. Physically, that can only be improved so much, but he's such an intelligent basketball player, there's no reason to think he can't find his niche in this league.
The BCS reminds me more of this Sean Penn movie.
What? Braxton was coached by the same staff and was a much better player after he finally got some games under his belt. The coaching staff was more than willing to give Bauserman a shot, but his he was simply not skilled enough.
I think just a couple oversights on Danny's part. Weatherspoon was on scholarship, we currently do not have any commitments for 2012, and now only have nine remaining scholarship players on the roster (Craft, Smith, Thompson, Thomas, Williams, Ravenel, Scott, Ross, and McDonald).
Hiring anybody else as head coach and keeping Fickell on is a pipe dream. Looks great on paper, but it's not realistic. The new HC will not want any potential distractions or issues, and the political ramifications behind something like this are huge. Also, assuming we finish 8-4 or 9-3 and Fickell is not retained, he will most likely get a new HC gig at another program.
Thanks for the correction.
Ohio State vacated the ENTIRE 2010 season, including the loss to Wisconsin. It was as if the season never happened. Ohio State's record should actually be 0-0.
Honestly, I wish ESPN would just not vacate anything for any program in their stats. We all know the games happened and who won & lost, and 99% of the time it had nothing to do with actually affecting the games ON THE FIELD.
But, this is ESPN. Common sense isn't an option.
How about Joe Bauserman's major? Fisheries & Wildlife....wow