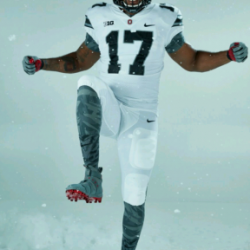 GoBucks1014
---
MEMBER SINCE November 05, 2017
Favorites
SPORTS MOMENT: 85 yards through the heart of the South
COLLEGE FOOTBALL PLAYER: Terry McLaurin
COLLEGE BASKETBALL PLAYER: Aaron Craft
NFL TEAM: Pittsburgh Steelers
NHL TEAM: Pittsburgh Penguins
NBA TEAM: Cleveland Cavaliers
MLB TEAM: Cleveland Indians
Recent Activity
445
Yeah I completely agree. Everyone seems to be overlooking Army. They'll probably have their best team in the last 25 years, Michigan should absolutely not sleep on them. Plus, the triple option in football is like the 3 point shot in basketball: it is the great equalizer. Army can make some noise this season
I'm sure the tackling dummies have Harbaugh's head taped onto them
Could this dude be more of an ass. Seriously. I mean, we don't need bulletin board material to beat their ass every year, but man they love giving it to us
Well that's depressing. One of my favorite NBA players goes to my absolute least favorite team. As long D-Lo doesn't start throwing mouthpieces and kicking people in the nuts I guess I can still find a way to root for him individually.
Thankfully, I was born at the end of the 90s, 3 years before the hiring of Jim Tressel, so I never really had to experience the horrors of that time. But I'm not stupid. I see the dark shadow that passes over my dad's face when he hears "John Cooper" or "90s" and "Ohio State football" in the same sentence. I may not have experienced it, but I know enough about it that I sure as hell don't want to go through something like that. That being said, here's to the continued dominance of TTUN!!
Logged in just to upvote this.
I'm 100% in agreement about CJ. Say what you will about his talent, but he never lacked effort. Always gave his all. And he did it the right way. Never got into trouble, worked his ass off, and he always did what the coaches asked of him. I'll always remember that cold-blooded dagger he hit against Indiana last year in Bloomington.
Logged in just to upvote this
There were an enormous amount of PI penalties called on us this year. But also, Isaiah Prince and Malcolm Pridgeon probably led the conference in false starts and holding penalties.
419
I wish I could upvote this twice.
2018 was amazing. But 2015 and 2016 were fantastic too. In 2015, they talked all that smack leading up to the game (similar to this year) and they got curb stomped. And in 2016 they choked away a 10 point lead.
I get it. But Michigan has never been able to win the big game on the road. If they do win in East Lansing..... yikes
Versus Michigan State in East Lansing will be the real test. If Michigan wins that game, I will definitely be concerned. Especially if our Buckeyes continue to exhibit the same problems that have plagued them all year.
1. Mostly agree, especially the part about Prince. 2. The O line in particular. 3. Maybe, but Weber has been fighting injuries all year. 4. We've seen these players (Borland, Dobbins, Arnette, Michael Jordan) play very well in previous games and years. That seems like a possible knee jerk reaction. 5. No. Nope. Absolutely not. No on every account. NO
Yeah I agree with that. However, whatever scheme they've been using with the running game hasn't really worked, so at this point I'm good with them trying anything to get it going
I saw in Meyer's press conference that he said he wants to "jumpstart" the running game. What better way to jumpstart it than with Tate Martell? All we heard the entire offseason was that he was too talented to stay on the sidelines, and that there would be a special package for him. Well, we're 7 games into the year, and we still haven't seen it. I get that you want to keep Haskins in the game as much as possible (for good reason) but desperate times call for desperate measures with the running game. We will not beat Clemson or Alabama without a running game. That said, I've never seen a passing game that's this good.
The Victor TD is #1 for me. When that happened, I knew the Bucks were gonna pull out the win.
279
Maybe, but only if they play Alabama. Clemson and Georgia aren't looking so hot right now either. Those 2 teams have plenty of issues.
I would be shocked if an NFL team didn't take a chance on him in the 6th or 7th round. Blocking ability like McLaurin's is so rare.
Dwayne Haskins should be the Heisman frontrunner. Dude has literal ice running through his veins
Gonna be at the game tomorrow. Any suggestions for a poster? Edit: I would prefer suggestions that won't get me beat up. However, I wouldn't want to stifle the creative genius of the good people of Eleven Warriors by making stupid rules. That said, have at it.
Yeah me too. I'd like to see him get some semi-meaningful time against Tulane next week