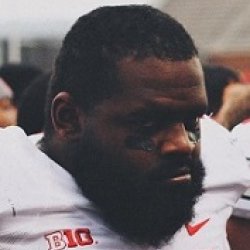 Goalscorer9
MEMBER SINCE May 14, 2013
Biomechanical Engineering Master's student at Ohio State. Been an avid buckeye fan since I was about 5 (1995-ish). Got an A in Tressel's class (going to the Woody 3 days a week was awesome!) and occasionally get to work with buckeye athletes for research purposes.
Favorites
SPORTS MOMENT: 1) 2002 national championship
2) Holy Buckeye
3) Ron Lewis' game winner against Xavier
4) 4 way tie of all the wings' stanley cups
5) Pistons winning the NBA championship in '04 over the lakers
COLLEGE FOOTBALL PLAYER: Tedd Ginn
COLLEGE BASKETBALL PLAYER: William Bufford
NFL TEAM: Lions
NHL TEAM: Red Wings
NBA TEAM: Pistons
MLB TEAM: Tigers
SOCCER TEAM: USMNT (and Crew)
Recent Activity
Not gonna say I called it, buuuuut I called it haha
Lots of Rashod Berry. I like it.
Didn't we have a couple former DBs at Auburn? Or did they both graduate already?
Good call, totally forgot about Santonio!
Might be fun to compare to a line up from the Tressel or Cooper years as comparison:
Tressel:
QB- Smith
RB- Beanie
WR-Jenkins, Ginn, Gonzo
TE: Hartsock
OL: Stepanovich, Mangold, Bentley, Simms, Barton
Cooper:
QB- Germaine
RB- George
WR- Boston, Glenn, Galloway
TE: Dudley
OL: Pace, Murphy, Bentley, Winrow ,Stringer
Those are some scary offenses!!
I believe the 0 for the last 8 is referring to games in Columbus. Where Michigan hasn't won since 2000. ('02, '04, '06, '08, '10, '12, '14, '16 = 8 straight home wins)
That second round will get ya...
How is Sevyn Banks any number other than 7?
Michael Jordan- 6'5.75 300 lbs
Billy Price- 6'4 315 lbs
My prediction definitely could be wrong, but I'm not sure it will be because of size. Billy is a pretty big guy and they moved him to center. I'm going strictly off the fact that they moved Elfein from guard to center, then Price from guard to center in each of the last 2 years. Urban seems to like to have an experienced and talented lineman he can trust at center.

I'm going to go out on a limb and predict a move for Booker from OLB to DE. Add's depth in a position group that needs it, and opens up the OLB spot for Harrison. I think I remember hearing rumors that Booker was being looked at for DE earlier in his career as well. He's a big physical guy who struggles with pass coverage...seems to make sense.
My 2 Deep:
QB- Haskins, Burrow
RB- Dobbins, Teague (Weber goes pro)
X- Mack, Victor
Z- Dixon, McLaurin
H - Hill, Campbell, McCall (in my gut I feel like one of these three won't be here next season, whether it's going pro or transferring)
TE- Berry, Alexander
LT- Prince, Alabi
LG- Pridgeon, Davis
C- Jordan, Taylor
RG- Knox, Myers
RT- Bowen, Munford
DE- Bosa, Young, Cooper, Booker
DT- Landers, Jackson, Cornell, Garrett
OLB- Harrison, Jones, Werner, Hilliard (I feel it's very possible Browning gets moved out to OLB if the starters aren't up to the task)
MLB- Borland, Browning (Curtis Grant, Raekwon McMillan like roation)
CB- Arnette, Sheffield, Okudah, Wade
S- Fuller, Pryor, Proctor, Wint
With all do respect, the way he played late in that game far surpassed anything we saw from his freshman season. That was a whole different level of JT that we have never seen before on Saturday. Hope he and the bucks can keep it going!
I'd still like it a little more if the numbers were scarlet or at least outlined in scarlet. However, they are pretty cool! The scarlet buckeye leaves and cleats definitely make the uniform.
Anyone have the GIF of Mayfield getting crushed by the cops handy?
Is Carlton Davis the one who we couldn't medically clear?
21.58 in trainers is legit amazing, regardless of size.
haha beat me to it by 20 seconds!
It was against Florida A&M, not Texas A&M.

Bit of a difference there ;)
A hard hitting safety you say?? I guess the phrase "Woodbey tackle" will take on a new meaning in a few years...
bah bum ch.
I'll see myself out.
I don't know how to make a GIF, but did you guys see this of Jim Harbaugh?
In the picture you use later in the article (against Clemson), the receiver got separation and then the ball was badly underthrown.
I am in the camp where I give the wide receivers a little slack this year, because I recall many times (read: several dozen) where the receiver was open and JT threw inaccurately. More than a few of those opportunities would have been touchdowns.
Just funny that the picture used in the article "calling out" the wide receivers is a prime piece of evidence for the opposite case, in my opinion.
Thanks for the good read, as always, Ramzy.
(I might have gone for gonzo over philly in the route running category :) )
Ummm Erick Smith should be in the mix for starting safety next year...
(Not your downvote, by the way)
I think the proudest moment for 11 warriors should be the night they saved that man's life who was contemplating suicide. That stands out as the crowning achievement to me.
Urban Meyer to Lee Corso: "Who are you talking to right now? Who is it you think you see? You clearly don't know who you're talking to, so let me clue you in: I am NOT in danger. I AM the danger. I am the one who knocks!"