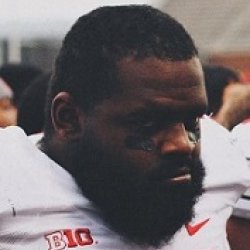 Goalscorer9
Member since 14 May 2013 | Blog
Biomechanical Engineering Master's student at Ohio State. Been an avid buckeye fan since I was about 5 (1995-ish). Got an A in Tressel's class (going to the Woody 3 days a week was awesome!) and occasionally get to work with buckeye athletes for research purposes.
Favorites
SPORTS MOMENT: 1) 2002 national championship
2) Holy Buckeye
3) Ron Lewis' game winner against Xavier
4) 4 way tie of all the wings' stanley cups
5) Pistons winning the NBA championship in '04 over the lakers
COLLEGE FOOTBALL PLAYER: Tedd Ginn
COLLEGE BASKETBALL PLAYER: William Bufford
NFL TEAM: Lions
NHL TEAM: Red Wings
NBA TEAM: Pistons
MLB TEAM: Tigers
SOCCER TEAM: USMNT (and Crew)
Recent Activity
Is Carlton Davis the one who we couldn't medically clear?
21.58 in trainers is legit amazing, regardless of size.
haha beat me to it by 20 seconds!
It was against Florida A&M, not Texas A&M.

Bit of a difference there ;)
A hard hitting safety you say?? I guess the phrase "Woodbey tackle" will take on a new meaning in a few years...
bah bum ch.
I'll see myself out.
I don't know how to make a GIF, but did you guys see this of Jim Harbaugh?
In the picture you use later in the article (against Clemson), the receiver got separation and then the ball was badly underthrown.
I am in the camp where I give the wide receivers a little slack this year, because I recall many times (read: several dozen) where the receiver was open and JT threw inaccurately. More than a few of those opportunities would have been touchdowns.
Just funny that the picture used in the article "calling out" the wide receivers is a prime piece of evidence for the opposite case, in my opinion.
Thanks for the good read, as always, Ramzy.
(I might have gone for gonzo over philly in the route running category :) )
Ummm Erick Smith should be in the mix for starting safety next year...
(Not your downvote, by the way)
I think the proudest moment for 11 warriors should be the night they saved that man's life who was contemplating suicide. That stands out as the crowning achievement to me.
Urban Meyer to Lee Corso: "Who are you talking to right now? Who is it you think you see? You clearly don't know who you're talking to, so let me clue you in: I am NOT in danger. I AM the danger. I am the one who knocks!"
Great write up! Was waiting for mention of "gray boxes" "bucksfan changes icon" and Mindy Drayer diagraming the Carlos Hyde incident.
Logging in just to say "No." I love the Nike brand. They treat us well. I don't think the Lebron crown is iconic yet. If things change down the line, there's a better argument to be made. But as of right now, no way. I love me the nike swoosh :)
In the Drake Johnson article:
"It's a miracle up there with Easter."
I want a book to be made of harbaugh quotes.
With megatron retiring, the lions could look for an outside receiver. Not saying they'd take Thomas, but it could slide everyone up one spot. Wonder if he could slip into the first with a good combine.
Was showing the in-laws mirror lake all lit up for the first time on Saturday. There were some flowers and a little memorial set up. "Is that for the student who passed away in November?" They asked. "No, I'm pretty sure it's for a duck." I answered. We investigated closer, sure enough, it was for afroduck. They didn't understand....
I'm all about that hearthstone life
I was joking based on the fact some misread the uncommon way of writing the measurement.
i am sure nick has very big hands. I am comfortable with my own hand size, no need to measure (it's not the size that counts, but how you use them)
Nick Vannett's senior bowl picture:
How the heck is Webb a junior already? Seems like just yesterday I was watching him and EGW going at it and putting on a show during Friday Night Lights. Time flies man.
I'm pretty sure that cake is giving Jordan Elliott the middle finger...
I LOVE deep thoughts with Jack Handy!!
Woah, we have very similar icons. You're like happy Cris Carter and I'm like angry Cris Carter
Can I see a version where the logo is attempting to call a timeout??