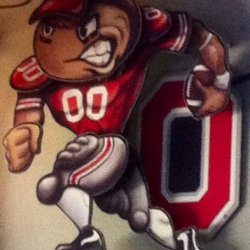 Go1Bucks
---
from Cleveland O-H I-O
MEMBER SINCE November 19, 2013
Favorites
COLLEGE FOOTBALL PLAYER: OSU
COLLEGE BASKETBALL PLAYER: OSU
NFL TEAM: Cleveland Browns
NHL TEAM: Columbus Blue Jackets
NBA TEAM: Cleveland Cavaliers
MLB TEAM: Cleveland Indians
SOCCER TEAM: Columbus Crew
Recent Activity
Would love him in Cleveburg.
Dantonio would love an NCAA title... we got room for D guys...lol
I think they would need to make sure the collapse of the 49ers is mentioned, because without the mistakes, the game giveaway, on last 6 mins, KC would not be celebrating anything
The coach has a problem in team attitude and needs to bench a bumch. If they ate gonna blow an 11 -1 season, then make it an object lesson.
Were better than Clemson. They'll all figure that out eventually.
Though due to poor officiating, we would most likely have captured the prize...
Will not watch a team undeserving of being there with the help of another leagues' officials. Go Joey B.
This is on Day. Baffling stupidity in playcalling and tempo. Hope he can explain this to the best team in CFB that lost due to idiocy. Let us not forget the bs officiating. And for the Tiger pussies that read our site, you KNOW the better team didn't win. LSU will kick your asses.
So Clemson ccan't win without ref help. I'm sick. Damnit Day. Get your boys in the game. Damn Clemson twisting ankles, grabbing no calls. Bs
Plain bullshit, lawrence ducked his head
Disappointing that young men aren't taught to keep their word or notify people in advance so as not to leave others stranded at the last minute. You commit to a program, not a person although that does play somewhat I to it. He didn't commit to The Jeff Hafley or he would follow to BC. Alas, it is what it is and now we look elsewhere.
OSU over punished for first loss. BS system.
Osu plays too slow at times. Need to keep high tempo, take advantage of better conditioning and use more pass plays (crossing routes) to shred their weak D. Our D is something they have never seen in 2 years.
And this loss only showed that DW is a needed piece for the success of the program, or that others need to step up. They played flat. At least Minnesota isn't a 3rd tier team like others have lost to.
Considering the make up of the playoffs... why not use PAC 12? Duh!
Truth. When we play slow, we get bogged down. Hope Day got the message yesterday.
Dissed again by CFP because SEC and ESPN. Fucking acronyms. Use as motivation to make them pay.
Typical. Day not playing Buckeye football, playing Tressel ball weak ass shit instead. Speed up the game, and start playing right already. So stupid.
I only have an issue with your defensive evaluation. Yes, they did not repeat their ridulous stats of previous games, but other than some minor lapses, they dominated out of the gate and made great 2nd half adjustments. Give them their due.
Unlikely they are worth having
Bet Joe Burrow has some insight on this from his years here...lol
Anyi e have any idea how many Buckeyes drafted in last 10 years are still in nfl compated to 'bama guys and whether or not they are benchies or busts, etc...
This shit is the ultimate reality check! (TTUN fans may shit bricks from this.)
Based on comments I've seen on MGoBlog today, I think we may have broken the Ttun mental state. Between the delusional bagmen, ref cheating assistance and luck theories - they are clamoring for new B10 alignments, new coaches and OSU's explusion. Sad day up North.
It had been going on a long time and no one got hurt til some non-student duche had an accident. I'm sorry he died, but there are more than few reasons why he, in particular, should not have been there. Sometimes shit happens.