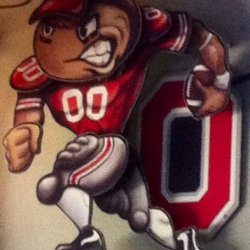 Go1Bucks
---
from Cleveland O-H I-O
MEMBER SINCE November 19, 2013
Favorites
COLLEGE FOOTBALL PLAYER: OSU
COLLEGE BASKETBALL PLAYER: OSU
NFL TEAM: Cleveland Browns
NHL TEAM: Columbus Blue Jackets
NBA TEAM: Cleveland Cavaliers
MLB TEAM: Cleveland Indians
SOCCER TEAM: Columbus Crew, USA
Recent Activity
Took a class from him on coaching in '92. Good coach. Great man. Happy retirement.
Yeah..cease. Stop it.
As it isnt official. This is a dumb thread.
Yep. And his ass shoulda been on the bench.
He may still be..
Shitty norms. And bad for society and football.
Day screwin over Balwin like Meyer did Martell? Or trying to force Day to wake the fuck up? Tired of this shit. Mark my words: Fields isnt the answer.
I hope he can be vocal from the bench too
Disagree
.
Underthrown and not that impressive except by the receiver and his run after.
Um, yes there were.
Agreed.
I could use a farm. Im rooting on Baldwin.
No shit. We wouldnt have lost 3 games if his ass wasnt suspended for some idiotic reason.
Im still banking on Baldwin.
Stupid concept. Speculation not needed.
LoloL
Rooting for Baldwin.
Fucking stupid. All about the $
The S&G name change deserve its own thread, not the weak snippet placed here in the Skull and nipped by the MODs. (Things on 11W have become overly restrictive and the writing of some is not up to its originsl par.) OSU is being ridiculous here.
Yeah, lately.
You obviously dont know your history
Its been at noon a lot longer than 30 yrs. I watched as a kid at noon in the early 70s
Wasnt until some dumbfuck BIG official changed it.