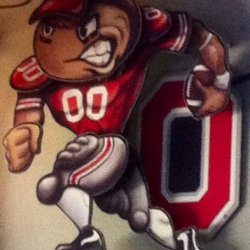 Go1Bucks
---
from Cleveland O-H I-O
MEMBER SINCE November 19, 2013
Favorites
COLLEGE FOOTBALL PLAYER: OSU
COLLEGE BASKETBALL PLAYER: OSU
NFL TEAM: Cleveland Browns
NHL TEAM: Columbus Blue Jackets
NBA TEAM: Cleveland Cavaliers
MLB TEAM: Cleveland Indians
SOCCER TEAM: Columbus Crew
Recent Activity
What typical bullshit. Why have a poll.
Florida scores td for tie, officials miss holding by 56 on 93 allowing QB throw
If this individual is the son of our alumni player, then ass doesn't fall far from the tree. (If not, well...) Incredibly stupid moves when having life opportunity in your hands.
It's you.
Believe we are best in nation, but like the underdog perception
Your correct, I was thinking other team (auburn) at time. Honest mistake, typed while on the go.
Piss poor play calling in 1st and 3rd quarters
Georgia lost... how are we tied?
Should have been holding, same thing we were called for
Should have been holding, same thing we were called for
Our offense was built on speed, stop the 30 second discussions...
Piss poor play calling... and Fields, learn to throw away the frigging ball!
i am curious why you think tthat.
F'ing Stupid. Can we have back tattoo games?
After watching Nebraska play this weekend, I drew the conclusion that the Huskers have a decent offense but are lacking on the defensive side. How do you view their offense and defense, and do you believe that OSU has good odds to win when you compare that to OSU's offense and defense?
Clemson worth no ones time. Wish we could have had the chance to kick their ass last season.
Fair enough. Dont you love the freedom of opinions? Cheers!
After a long period of introspection, I have come to conclusion that.. I was absolutely correct in believing that Alabama sucks, and I do not care about their injury reports.
Great read Colin. Best in depth I've read here in a while. Thanks!
I have to disagree that our title hopes are gone without Fields. Team sport. Good coaches and good backups. Bigger than one man.
Pick and choose much duche?
You wanna stop that!? Win the fucking game Like you should have, instead of playing like tools! Who the fuck cares now? Geez, slow day?
Since Day is letting him start, I can only hope so.
Don't agree with Alabama as 1. Psych peeps good only if a student truly has mental health issues, not one of the many bs labeled issues. And learning proper English is is very important and saying that it isn't, is the biggest load of crap. Chase Young is a beast. Take the Bucks out the CFP the year ghey should not have been in, put the Bucks in the CFP the 2 years they were screwed and we have 2 titles and Bama has 2 less.
Correction: Not at TTUN. I messed up. Lol.