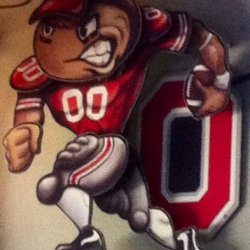 Go1Bucks
---
from Cleveland O-H I-O
MEMBER SINCE November 19, 2013
Favorites
COLLEGE FOOTBALL PLAYER: OSU
COLLEGE BASKETBALL PLAYER: OSU
NFL TEAM: Cleveland Browns
NHL TEAM: Columbus Blue Jackets
NBA TEAM: Cleveland Cavaliers
MLB TEAM: Cleveland Indians
SOCCER TEAM: Columbus Crew
Recent Activity
Truth. When we play slow, we get bogged down. Hope Day got the message yesterday.
Dissed again by CFP because SEC and ESPN. Fucking acronyms. Use as motivation to make them pay.
Typical. Day not playing Buckeye football, playing Tressel ball weak ass shit instead. Speed up the game, and start playing right already. So stupid.
I only have an issue with your defensive evaluation. Yes, they did not repeat their ridulous stats of previous games, but other than some minor lapses, they dominated out of the gate and made great 2nd half adjustments. Give them their due.
Unlikely they are worth having
Bet Joe Burrow has some insight on this from his years here...lol
Anyi e have any idea how many Buckeyes drafted in last 10 years are still in nfl compated to 'bama guys and whether or not they are benchies or busts, etc...
This shit is the ultimate reality check! (TTUN fans may shit bricks from this.)
Based on comments I've seen on MGoBlog today, I think we may have broken the Ttun mental state. Between the delusional bagmen, ref cheating assistance and luck theories - they are clamoring for new B10 alignments, new coaches and OSU's explusion. Sad day up North.
It had been going on a long time and no one got hurt til some non-student duche had an accident. I'm sorry he died, but there are more than few reasons why he, in particular, should not have been there. Sometimes shit happens.
.
2006, we won the Game.
3 step approach: 1. Drive to the Beer Barrel Restaurant off Rt 33 at Dublin Green. 2. Sit down in the bourbon room. 3. Stick to the bourbons and start on the left, leave when you are no longer nervous. P.S. Tip your bartender.
On a side NOTE: Fucking Drake, drained the lake. Good riddance, and restart the jump next year. If anyone sneaks in... post a pic.
Plain and Simple. Take care of business. Beat the shit out of them. No mercy. Period.
I got hungry reading the statement...
How is Bama in top 5?
They'll keep OSU at 2. This way, if OSU were to lose, they look like geniuses and if they OSU wins, they have justification for moving them up. Btw... the decisive win argument is absolute bullshit.
I believe tnis thread should be removed in respect to LJ Sr.
Good game, tough fight, lousy headline.
Agreed!
Have no fear, no loss.
Wish to Godz he would.
He has weak hands. There was no helmet on hand, he landed on it. And he lost the second, plain and simple. Needs to work on grip strength. And a reminder he isn't an rb.
Hoak >Chuganov