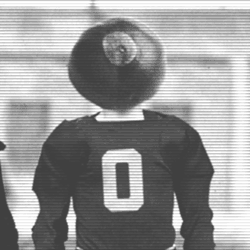 Go Bucks
---
Member since 17 September 2011 | Blog
Favorites
SPORTS MOMENT: The Game 2006, Fiesta Bowl January 2003
COLLEGE FOOTBALL PLAYER: Anthony Gonzalez - that sick catch against Meechigan...
NFL TEAM: Browns circa 2020???
NHL TEAM: Red Wings
NBA TEAM: nah
MLB TEAM: Indians
Recent Activity
M-Dotter and hopeful Boston Qualifier here (attempting at Glass City). Definitely wise to be cautious about potential internal/GI injuries. What most people don't realize (although you've already been through this) is that even with all the physical training, what's at least just as important is training your nutrition plan. If your body can't stomach the necessary calories/electrolytes/fluids, it doesn't matter how great of an athlete you are. I have no idea if that happened to you, but I wish you all the best!
I bet they got sprinkles too. Even Flo knows better than that.
It sure didn't hurt us last year! F the TUN!!!
Cardale made his announcement a while back. Braxton will have his announcement next week. What about JT?
Harbaugh will accept verbal commitments from 30-40 kids this year and then unofficially filter out the lower-rated kids prior to Signing Day.
I'm a 140.6 guy who's training harder than ever now that I've hit what some would call the "Masters" division. I have a lot of respect for you guys that do ultras as it's something I've never attempted. When I lack a little motivation, I ask myself, "What have I done to beat Michigan today?" I am fortunate enough to have a nemesis (that I frequently beat) from that awful state, so that question really hits home. It helps me train on days when I'd rather do anything but that, and it helps me dig deep on race days. If you struggle (and who doesn't at this type of event???), clear your head and find that happy place, and maybe, just maybe it's knowing that what you're doing right there and then is far superior to what anyone from that lousy mitten state would do. Push on! One step after another! Do the Buckeye state proud! Go Bucks and O H!!!
Don't remind me of the offseason going into the 2003 season...
Improvement by by the offense doesn't even factor in how long many of those 3rd downs were against Bama.
I really dislike the weak scheduling. A team doesn't develop if they beat up on the Little Sisters of the Poor and lose to a couple really good teams. A team that faces challenges and overcomes them reaches their potential. Until then, Thad's teams will not get as far in the Big Dance as they could.
Then we better start going for two more often! Of course, only because we can't go for three!!!
Looks like a couple were _issed.
Ridiculous to be labeled a PED. Only place where X is going to help Spence is in the bedroom! If the Big Ten wants to crack down on that, better test all the coaches for Viagra!!!
The quoted record is "within the Big Ten." The early ga_es were outside the Big Ten, although the losses from a century ago still hurt. While both tea_s have been _e_bers of the Big Ten, _ichigan has a one ga_e advantage - until Saturday.
Ti_e to even the Series within the Big Ten! In Big Ten Conference play, _ichigan leads the series 46–45–4 (per Wikipedia.) Saturday can _ake that all square.
Players don't blossom due to redshirting. They redshirt because they need a year of physical/mental maturity. Players blossom on the field - in the Shoe!!!
With Delany diluting the quality of the B1G with Maryland and Rutgers, football teams with playoff ambitions need to avoid this stinkers. Realign similar to European futbol relegation. OSU joins MSU, Nebraska, Wisky, and ... well that's the power division. Put everyone else in a minor division. Teams play round robin in their division with a conference championship. I'd rather see two games against decent opponents rather than these new "demographics" teams.
We lost any room for error when the B1G added Maryland and Rutgers. Only way to counter that is with better non-conference opponents. It's the same thing next year with Va Tech as the highlight and now Wisky or Nebraska (prior to the championship game). Next year's team will be amazing, but they can't afford a slip-up even once.
Texas announcing 10 grand for it's athletes... That's one way to get a better recruiting class!
Rooting for Louisiana Monroe to knock Kentucky down a notch or two!!! That wouldn't hurt the recruiting of a certain RB.
John Oliver covering Miss America is absolutely brilliant! The rest of my day is down hill.
With the way O line is playing, why not get some reps this week for the young guys like Meechy??? Hell, USC started two true freshmen at the beginning of this season.
You have to believe the play design and play calling will evolve this week. What would have kept some of the pressure off, Braxton's speed, is not there but JT has other strengths that need to be better utilized. Screen passes, TE releases, quick slants behind blitzing LBs... JT has already shown the ability to throw a pretty nice ball. A little better play selection and the offense will be in a position to succeed.
Do tell how I too can watch the Ohio State-Navy game tomorrow! I don't know if I can wait until Saturday!
Forget about scheduling marquis apponents like Oklahoma, _ichigan man's real question is, "What's the fireworks schedule???"