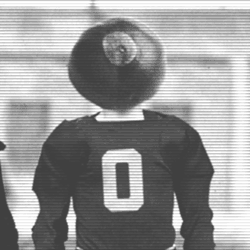 gnesq1
---
Member since 15 November 2012 | Blog
Favorites
SPORTS MOMENT: 2002 National Championship Game
COLLEGE FOOTBALL PLAYER: Archie Griffin
COLLEGE BASKETBALL PLAYER: Jimmy Jackson
NFL TEAM: Cleveland Borwns
NHL TEAM: Columbus Blue Jackets
NBA TEAM: Cleveland Cavaliers
MLB TEAM: Cleveland Indians
SOCCER TEAM: Columbus Crew
Recent Activity
According to Steve Wiltfong Cooper is rooming with Gary. https://twitter.com/swiltfong247/status/618498638193397760
Let's see. Going back always Cliff Belmer (mid 70's) went to OSU unfortunately broke his leg and was never the same, Obie Stilwell played there, Jamario O'Neal was a Mansfield product who ended up at Glenville his senior year after a few off the field issues in the 'field. There were others that played elsewhere. George Swarn played at Miami and had a cup of coffee in the NFL, Rudy Reed played at Syracuse. Hugh Douglas was a pretty good NFL player. Not a ton but there is/was some talent.
Fox Sports 1 carries a game.
Brutus said he would trust dr. Andrews opinion over that of OSU's. It also shows that a doctor might be more "conservative" when working for the university.
Doctor Andrews is Alabama's Team doctor. He is also the one that was not clearing the players for Alabama. Some of those players went elsewhere and played. So was he extra cautious for Alabama players or was he doing Saban a favor? It's called ,an opinion for a reason. Also if you haven't seen Jamel's tweet.....he was looking at meniscus transplant not repair.
I actually quoted my whole post.
Can we stop with all the hand wringing.....here is a tweet from Jamel on January 16. to Dr. Cole (Chicago Bulls team physician). He is asking about meniscus transplant not about meniscus tears. This was more than two weeks prior to signing day, and before we took the commitment of others to put us into an "oversigning" position. We can clearly see that the OSU doctors felt that his meniscus was beyond repair. Not yesterday, not a week ago, but even before signing day.

We also need to remember that there are liability issues that the Physicians must be aware of, and that they owe a duty to their patient. But but Gnesq1 Dr. James Andrews says he will be okay.....to which I respond,. the same Dr. Andrews who is team physician for the University of Alabama? You know the ones everyone is citing as forcing players out for medical reasons. So he was wrong in his diagnosis for Alabama players, but spot on for Jamel? Or maybe Doctors have differing opinions..

Unfortunately, the OSU doctors concluded that his meniscus was shot several weeks ahead of signing day. For the coaches to take additional commitments, to me, indicates that the Doctors told the staff that they would not clear him to play,. The staff acted accordingly and took other commitments.
@BrianColeMD Dr.Cole I am student-athlete OH and I was wondering if you can give me info about the meniscus transplant from your perspective

— Mr. Ohio State (@jamel_dean15) January 16, 2015
So when he tweeted on January 19, 2015 to Dr. Cole (Chicago Bulls team orthopedic surgeon) about his thoughts on meniscus transplants it was because the wheels were already in motion to get him out of Ohio? Is that what we are saying? Two weeks before signing day? Before we were ever over signed?
Can't post the tweet from my phone but if you look at his Twitter around January of 2015 he is asking a doctor (Chicago Bulls team orthopedic surgeon) on his thoughts on a meniscus transplant.
Well that is one way to interpret the story. The other is that they wouldn't "take" another running back. They could have easily told him that we have to offer others just in case you don't commit, but we wouldn't accept a commitment if you come.
Can we first at least wait for him to ask to be let out of his Letter of Intent? To our knowledge he hasnt.
Not sure why we should care about what a Cass Tech coach says......if you listen to some Michigan fans he is not a good coach and the players are overated.
http://mgoblog.com/mgoboard/edit-weber-osu-weber-moves-his-announcement-1030-am#comment-3023492
(Reply to #34)#49
HarbaughorBust
[HarbaughorBust's picture]
Joined: 11/30/2014
MGoPoints: 172
Why? Cass Tech is by far
Why?
Cass Tech is by far the most overrated high school for football talent. The coaching is beyond bad there. Most kids enter college 2-3 years behind where they should be from a technique stand point. Heard Kevin Koger talk about this 2 years ago.
Come home Jimmy
Top
Login or register to post comments
http://mgoblog.com/mgoboard/edit-weber-osu-weber-moves-his-announcement-1030-am#comment-3023766
February 4th, 2015 at 12:28 PM
(Reply to #50)#50
UMxWolverines
[UMxWolverines's picture]
Joined: 03/01/2009
MGoPoints: 15355
I'm sorry but I have to
I'm sorry but I have to agree. Who have we gotten from Cass Tech that has played up to expectations?
Michigan Stadium:
The hole that Yost dug, Crisler paid for, Canham carpeted, Schembechler filled and Dave Brandon emptied
Top
Login or register to post comments
February 4th, 2015 at 12:30 PM
(Reply to #50)#51
Baughlieve
[Baughlieve's picture]
Joined: 11/22/2014
MGoPoints: 4510
I have to agree
Over the past decade, who's the best Cass Tech player we've had? Jourdan Lewis and probably Thomas Gordon. That's not saying much.
Top
What a scorching #hot take Coach Wicher....I agree that it doesnt look good for the Buckeyes, but until
1. he comes out and blasts Harbaugh for promising that they wouldnt take another back.
2. Blasts himself for not telling Weber that you commit to the university and not a position coach...
I think he is is just setting stage for Harbaugh....
Amen. Be happy with the ones we get. It's great to be a Buckeye!
Welcome to Buckeye Nation. We appreciate your work ethic and attitude.
If I remember correctly, one the reasons why we all felt that he would flip to the Buckeyes was that his girlfriend was going to tOSU. Maybe the reason for leaving is more "affairs of the heart", than the" affairs of fighting for playing time".
Meteor shower was a bit late and a bit wide for the IU vs UofM basketball game...
Damn S-E-C
saw on the twitters, that the OSU Class of 2013 will have graduated without ever seeing a home loss to Michigan in either football or basketball.....and that in that Tressell Meyer and Matta are now a combined 27-4 against the wolverines.