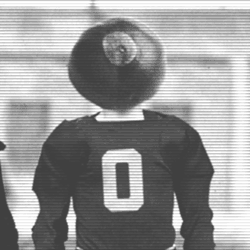 Gmac44135
---
Cleveland (via Ohio)
MEMBER SINCE August 01, 2018
Favorites
SPORTS MOMENT: Cavs winning the championship
COLLEGE FOOTBALL PLAYER: Beanie wells
COLLEGE BASKETBALL PLAYER: Aaron craft
NFL TEAM: Browns
NBA TEAM: Cavs
MLB TEAM: Indians
Recent Activity
Both he and Sermon couldn't find holes when they opened up.
I'm sorry it wasn't multiple, but 2 huge plays where Baron Browning messed up on. https://youtu.be/1kXg9wWQNSo Look where Baron Browning lines up when the play starts. As the field was developing, Browning vacates the middle of the field because of his over aggressiveness and then look where Trevor Lawrence runs through. The same spot where Browning vacated. https://youtu.be/ueS9C75_Ryc Watch him at the 7-9 second mark. If Baron Browning didn't over pursue and stayed in his zone, there was a good chance he would make the play. Edit: first link is the Trevor Lawrence run and the second link is Travis Etienne.
Athletic QBs run all over everyone in college and doing so in the NFL as well. As long as the other team doesn't score touchdowns, I'm ok with defenses getting some yardage. How many defenses out there will slow down the Buckeyes?
I predict we'll win but fans will be nervous in the 4th quarter. Penn State's defensive line is better than Nebraska's and we had trouble running against them. Part of it was on the offensive line and also the running backs, mainly Sermon, not being able to find the hole. There was one play that if it was JK Dobbins back there running, it would've been a 50-60 yard run for touchdown. Also think that there will be a little less time for Fields to throw so he may need to use more checkdowns. I expect another receiver other than the obvious 2 to step up. On defense, the Buckeyes need to slow down the QB run and also the Te. Need to make Clifford beat us through the air. I actually was impressed with Nebraska's offensive line and not sure Penn State's will be as strong. If the defensive line wins up front, then I can see Penn State struggle a bit.
Exactly this. The only linebacker who was a liability against Clemson was Baron Browning. How many times did Browning take himself out of the play by being too aggressive? Borland is not gonna be lining up when the opposing team is in an obvious passing situation with 3-4 receiver sets. Also be may not make the tackle, but he is a great team defender. Clemson had 3 or 4 defenders worse than Borland on their starting defense.
I wish we still had Brandon White on the team. I think Baron Browning is gonna struggle again this game trying to keep up with Penn State's TE.
Werner seems like a good tackler to me. We hardly seen the opposing te make any YAC last year because Werner would tackle him right there. His biggest issue is shedding bigger blockers.
We don't need a real "difference maker" with Olave and Garrett Wilson as our top 2 guys. We need a receiver who is dependable and can move the chains. Michael Thomas wasn't a "difference maker" with his speed either
I don't think we have one yet. As the season goes on, we'll see who is the true number 3 receiver by who Justin Fields feels most comfortable with.
I believe Penn State is better than what they played last week against Indiana. Turning over the ball multiple times and other costly mistakes hurt them. Indiana struggled moving the ball the entire game. We struggled running the ball last week and Penn State has a strong front seven even without their top guy. I don't think Justin Fields will have as much time to throw. Another thing is I don't think Penn State has an answer for is Garrett Wilson in the slot. He's gonna cause a lot of trouble for defensive coordinators to figure out. I think Ohio State will win by 2 TDS.
Evan Spencer had a really nice one handed grab that I remember. https://youtu.be/X-4VlPDSkg4
2020 has been an incredible draft class up to this point. There have been many big time rookies.
I am tired of seeing Sandejo out there. There aren't any better safeties around that can replace him? Has he made any big impact plays this season?
Exactly! Football is a team game and Burrow is playing as well as can. He hasn't been perfect of course, but still really good. I don't understand how anyone can deny that.
Baker had a better record and stats than Peyton his rookie year therefore Baker Mayfield>Peyton Manning -Sunbury logic
Mayfield definitely is an NFL starter and this was probably the best game I've seen him in the pocket. The Offensive line was fantastic for him and the Bengals only had one chance to get a sack and Mayfield delivered a good ball. I just think Burrow has a higher upside. Burrow had no offensive line and still performed this great.
QBs switch teams and the Browns blow out the Bengals.
I don't know what #23 on Bengals was doing. I thought he was gonna at least tip the pass. Both QBs were great.
He might be the worst NFL player I've seen.
Ugly defensive drive by the Browns. Dropped int and nobody wanted to tackle.
I think that was the best drive Baker Mayfield had all year.
Greedy cannot be counted on so they may need to find another player.
That was an amazing pass by Burrow. The talent difference between him and Mayfield is huge.
Pete Werner is 6 ft3 and 240. That's hardly undersized for a linebacker. I think out of the 3 linebackers, he is pretty good. I would like to see what the backups can do in place of Browning and have Borland spit reps like last year.