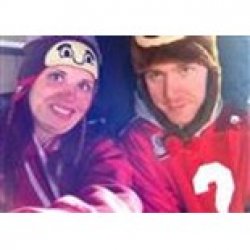 gm3jones
---
Columbus, Ohio (via Columbus, Ohio)
MEMBER SINCE January 03, 2014
I have scarlet and grey in my DNA. I honestly think I am the biggest buckeye fan of all time. I have been a buckeye fan from the day I was born and the OSU hospital. I assume Woody Hayes was the person who delivered me :-)

Second favorite memory is when I used to delvier coffee to the horse shoe grounds keeper pesonal. I was able to drive into the stadium and unload what they needed. They let me sit on the chairs and enjoy and empty stadium of 100,000 + emtpy seats and enjoy the smell of the fresh cut grass... amazing. To make it even more memorable, one time when I was leaving I ran into Coach Tressel and Troy Smith. I actually got a pic with them!! It was incredible, will never forget it.

~Win, lose or tie buckeye til I die.
Favorites
SPORTS MOMENT: My favortie memory has to be the 02 NC game. The goal line stand...... I felt like I was invisible. It was the greatest feeling in the world. I put it up there with my kids being born!



COLLEGE FOOTBALL PLAYER: Troy Smith
COLLEGE BASKETBALL PLAYER: Mike Conley
NFL TEAM: Ugh-- bungles
NHL TEAM: Blue Jackets
NBA TEAM: If I had to choose- Cavs
MLB TEAM: Reds
SOCCER TEAM: Dont watch, but guess Crew.
Recent Activity
In other Buckeye news, Sam Hubbard is doing really well for the Bengals in OTAs. He's looking like a starter opposite of Dunlap.
Yep. And once Fellows settled in, he was really good. Really tough to win with walks and the other pitching heating up. Still a good game. Vandy just has better players top to bottom. But we got like 3 freshman pitchers valuable experience. We held our own vs them.
Luther "Got yo Ankles" Muhammad anyone?
"I find that the harder I work, the more luck I seem to have."
-- Thomas Jefferson
Seeing Thomas beat them on the same route over and over shows just how good he is. Even if you have a good idea of what he's running, you just #cantguardmike. I don't think I've ever seen a WR do so much consistent damage on an in-route so many times.
So is this like the friend zone of that hot girl you like?
He also recruited Harrison while at TTUN. Now he gets to play for both coaches he liked! Wonder if Day filled him on this?
He said a big reason why was coach Davis. Bet that means they'd have to keep him for Cade to stay.
This is so sad. I'm going to miss coach Meyer so much. Hopefully he hangs around the complex next year to have a hand in consulting them some.
Wonder why they didn't do a full search for his replacement? Realize there's not another Urban Meyer to come in and help us win, but wonder why they decided to give it to Day without a hiring process?
Must admit how quickly we all changed our minds. Roughly two weeks ago a lot of people were saying they didn't deserve it. After one week they do?
A sCuM fan was buying 8 tall boys at the gas station. I said a beer for every OSU TD huh? I love being right
A sCuM fan was buying 8 tall boys at the gas station. I said a beer for every OSU TD huh? I love being right
They did have a pass interference make up call and I believe a holding call. But yeah, officiating was bad on both sides but don't believe they blatantly favored sCuM. Meyer was about to suplex them after the Haskins no call. Pass interference after that
They also have the advantage of getting more looks at guys in the south, where there's proven to be more talent at. They have the luxury of being able to take extra looks at guys. Not defending our lack of depth, but just saying they have a higher probability of not missing like we do.
I am really pulling for Ruckert to add another needed dynamic to the offense. Would love to see the TE used a bit more.
Great bench play, guys finding guys and hustling.
JT was pacing after a few trying to find said wall. Gotta love it.
Earthly
The thing that relates confuses me is they moved bama up after losing their last game. I just cannot understand how you can reward someone for losing their last game vs a rival to not make championship (them that team lose in championship). Not saying OSU was THE choice, but I also cannot see how Bama was either.
Very sad, prayers to his family. To think he caught Tom Bradys first touchdown pass.
Thanks for the breakdown. Would love to see one with Tuf.