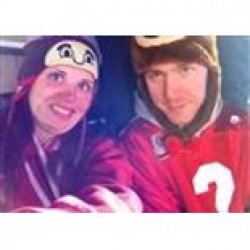 gm3jones
---
Columbus, Ohio (via Columbus, Ohio)
Member since 03 January 2014 | Blog
I have scarlet and grey in my DNA. I honestly think I am the biggest buckeye fan of all time. I have been a buckeye fan from the day I was born and the OSU hospital. I assume Woody Hayes was the person who delivered me :-)

Second favorite memory is when I used to delvier coffee to the horse shoe grounds keeper pesonal. I was able to drive into the stadium and unload what they needed. They let me sit on the chairs and enjoy and empty stadium of 100,000 + emtpy seats and enjoy the smell of the fresh cut grass... amazing. To make it even more memorable, one time when I was leaving I ran into Coach Tressel and Troy Smith. I actually got a pic with them!! It was incredible, will never forget it.

~Win, lose or tie buckeye til I die.
Favorites
SPORTS MOMENT: My favortie memory has to be the 02 NC game. The goal line stand...... I felt like I was invisible. It was the greatest feeling in the world. I put it up there with my kids being born!



COLLEGE FOOTBALL PLAYER: Troy Smith
COLLEGE BASKETBALL PLAYER: Mike Conley
NFL TEAM: Ugh-- bungles
NHL TEAM: Blue Jackets
NBA TEAM: If I had to choose- Cavs
MLB TEAM: Reds
SOCCER TEAM: Dont watch, but guess Crew.
Recent Activity
This will soon be apart of the NFL Draft...
This might top his 1984 choke job.
He flew to Nebraska, so you he did this for a reason. And McBuckets wouldn't comment on it if there wasn't some sort of interest brewing from both sides.
Sounds like a great guy. Besides age difference, I would imagine the recruiting being one of the harder things to adjust to from the NFL to college. However, he is wearing that Block O, so that sells itself, but I wonder if at another school recruiting would be the bigger challenge?
So there's no correlation between being mentally weak and inconsistent? I never said they didn't have pride, either. Pride is what won that game last night.
They weren't playing for anything. Team is mentally weak I would say
This team just doesn't seem to play well together, for whatever reason. And the lack of focus is really troubling.
Why did nobody proof read his letter? He says "of" when he meant "off"
How exactly does Tulane "enhance" our non-conference schedule?
Because so many teams can claim they've been to the POs the last 5 years and 7 in the ML era (just above a 50% clip for his career here). The PO failures suck, but I would much rather have a chance at winning the Super Bowl than none at all.
All good. Guess we can continue to blame AD for everything.
Are we watching the same games? The D has had 1(!) turnover last four games. I think they have had less than 5 sacks as well. They've given up an average of 130 yards or so on the ground. They got beat by TJ Yates. Last year, god love him, Boom Herron busted all over them. I mean I could go on but I think you are dead set on placing all the blame on AD. He's been bad, but so has the team as a whole. We have not scored a TD in the second half of any of the last four PO games. Given up something like 50-60 points on top of that in the second half. So put some fingers at coaching as well.
And the defense getting torched each and every game had nothing to do with it?
Yep. I mean its not like he wasn't apart of the first PO/Primetime shit-shows.
The object is to get over the hump, so we sign a guy back that couldn't help us with that the first time around? Are we still building a fun, family atmosphere in PBS? I bet Mike Brown puts a water slide in the Bengals practice field this year. Maybe have one practice a week to have everyone tell everyone else how much they love each other. Then proceed to get their teeth kicked down their throat when the lights turn on.
Squirrel is the man! I seen you at the baseball a little while ago.... pretty nimble on your feet!
Bryce Petty,Sean Mannion,or even Shane Carden out of East Carolina..anyone please. I'm so sick of Dalton it hurts. He makes it almost impossible to watch a full game without at least puking a couple times.
Wow, here I thought I was the only one lol...For some reason, I let the Bengals get me in bad funks (mainly when the lights are the brightest) that it makes me sick also. There is no way I have any type of hope for this team for the for-see-able future. You can point to the 40 win seasons in four years, but I get flashbacks of the Browns and playoff games. Not sure if any of those QBs will be better, but I am pretty dang sure AD is not the person that will lead us to the Super Bowl.
WC - love Matta, and I agree. But the fact that he has yet to figure out how to "coach up" a good offensive team is a bit concerning. His lack of adjustments are also very troubling. I don't doubt his coaching in regards to development because I like what he did with Diebler, Sully and Turner although they was pretty highly touted recruits (but still got better each year for sure). I think some of that comes down to potential. I don't see how Matta didn't tell Slam to hit the gym every day and perfect his shot. Just hasn't been as good as we thought it would or should be.
But I am a Bengals fan so I like at it this way: who out there is better and would come here to coach? Very few in any.
Bringing back memories from the military days! Package store was the place every sailor, jar-head etc knew about!
Lee is one of my favorite players. Watched him in high school and you can tell he was going to be special... but I don't think anyone would of guessed he would of been this good, especially with a position change. Amazing. The speed....boy the speed he has is absurd. Get that man some more game experience and let it slow down even more for him.... he could be something extra special to go with Kwon (who is also a freak of nature). Boy does the future look bright.