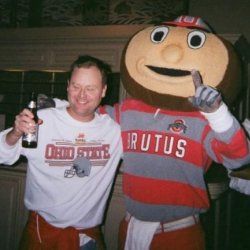 Glendora
---
Seattle (via Glendora, CA)
MEMBER SINCE July 11, 2017
Alumni and adjunct professor teaching one on-line class a year in the College of Engineering.
Favorites
SPORTS MOMENT: 2003 Fiesta Bowl & 1997 Rose Bowl
MLB TEAM: Cincinnati Reds
Recent Activity
Can never have too many scorers.
I wish that I could have upvoted the reference to embarrassing more than once.
The 1968 Super Sophomores were the most special of classes because they went into the season without any game experience. While unfathonable today, freshmen could not play back then. As freshmen they legendarily beat the varsity team in practice. However, we all know that many good practice players never quite pan out in real games. To their credit, the Super Sophomores from 1968 were just as good in the games as everybody hoped and anticipated.
If Michigan fans are seeing red now, wait until Mattison rolls into Cass Tech wearing the scarlet and gray for the first time.
Best San Diegan to wear the scarlet and gray since Michael Wiley!! Go Bucks!!
Great to see a name like Lorenzo Styles. His dad was one hell of a linebacker for us
Keep those glue fingers away from your nose.
Rather than black alternate uniforms, perhaps we could pay homage to the 50th anniversary of the 1968 national championship team with black numbers on the sleeves (not shoulders).
Sone may remember that the 1993 team wore 1968 throwback jerseys the entire season to honor the 25th anniversary of the 1968 champs. I am disappointed the program is not doing more during the golden anniversary.
Close and let's hope that 82 years (1936 was the last ND win) becomes 96 years!
You are right. It is as if the only pre-1980 players that were honored were those who were visible as ring of honorees.
Sensibaugh was the clear choice.
Hey Shaquille - Great name! How are you Gold Bond buddies doing?
Great pick, but it could have just as easily have been Kurt Coleman.
Not only was Braxton magical with the ball in his hands, his immense talent is likely a big reason that Urban Meyer chose to return to coaching after only one year rather than two or three. Go Bucks!
Antoine Winfield was one of the greatest regardless of jersey number. He and Archie are the best pound for pound Buckeyes in the last 50 years.
Damon Moore and Antoine Winfield defined the Silver Bullets of the late 1990s. Moore was a beast!
Good point Left Coast Buckeye. Not only was Rob generous with his time at Sport Restaurant in Seattle, he would show up in his Buckeye jersey just like any one of the other guys.
Like we did in 1993 when I was a student, I'd like to see the football team wear 1968 throwbacks (with the black numbers), all season. We did it for the 25th anniversary, so let's do it for the 50th anniversary! By the way, Vrabel, Finkes, and Fickle did pretty well in those uniforms.
The hay is in the barn for the Bucks and Bama. I like our chances!
It sounds like these pink-sleeved pull-overs aren't selling very well. Expect to see another, even bigger, discount after black Friday when these are still on the shelves.
Maybe we can grab a Lexington-bound basketball commit as well.
Spread should be Buckeyes by 6 1/2.