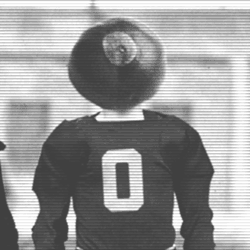 GlenBuck
---
MEMBER SINCE August 19, 2015
Born in Columbus on a Saturday in November an hour before The Game (you're welcome dad), and we won.
Recent Activity
Well this is going to be the longest offseason ever.
Doesn't getting all the recruits on campus on the same day help develop those relationships with other commits and recruits that you said are "what pushed the Buckeyes over the top"?
"Those relationships mean a lot," Hall said. "We are just coming out of this junior class and we are still young, still developing skills and all that. It is just crazy how we all have that bond and we are not even at Ohio State yet so when we get there it is just going to be great. We are just trying to win some national championships."
What's going on with Aherns? He has shown the ability to shoot well at times. Worth a try? Is he hurt or something?
With Fields, Olave, Wilson and many other talented players at the skill positions, Ohio State will have the potential to have an elite offense again in 2020, and that all starts with the returning talent it'll have up front.
Yup, I'm not very worried about the offense next year. My biggest question on offense is if Teague can step up to fill Dobbins' shoes. However, I think defensive secondary has to be the biggest concern about next year. Losing all four starters and the coach, and we seemed to have problems every time even one of the starters was out of the lineup this year. I'd expect 2020 to look more like 2018 than 2019. Lots of big plays, too many points allowed, but offense good enough to outscore most teams.
"We're going to get the best coach in America to go coach that position"
Urban is going to coach the DBs?
Wouldn't be our first quarterback from Centerville either.
Found the link:
https://bigten.org/documents/2019/12/11//2019_Fall_Academic_All_Big_Ten_Honorees.pdf?id=6658
Illinois 26
Indiana 19
Iowa 31
Maryland 23
TTUN 38
MSU 26
Minnesota 53
Nebraska 48
Northwestern 57
Penn St 28
Purdue 35
Rutgers 33
Wisconsin 34
I counted 21 scholarship players and the rest walk-ons, although I might have accidentally put someone in the wrong category. Would be interesting to see how it compares to other programs.
The Buckeyes are now 1-0 in what could be the most difficult four/five-game stretch in recent memory.
The best thing about being 1-0 is the chance to go 2-0!
I don't expect them to shoot 60% from the field every game, but that defense should keep them in most games.
I wonder is Urban is upset that he doesn't get to coach this juggernaut that he built. Been a pretty low stress season so far. Might have been a lot easier on his health than last year.
So you're going to tease a guy about spelling "onside" as "onsite" and then spell "know" as "no" in the same article?
True. 68% completion percentage with no turnovers isn't terrible though.
Not really expecting the players or coaches to do the marketing for Chase or anyone else. It's something the athletics department staff can handle. They do great stuff for recruiting and already help players create a personal "brand." This isn't that different.
Would be great to see OSU help campaign for Chase and/or Fields and/or Dobbins. I feel like they could have done more to publicize Dwayne's amazing season last year.
Shit, I vote we let Rutgers call our offensive plays for us. Let's make this interesting.
LOL, that would be more entertaining.
Oh, you meant '70s instead of 70's. Got it.
Northwestern comes out with a good defensive plan, like Sparty, limiting our first quarter production. Coaches make typical second quarter adjustments and offense takes off. I'm going with 48-6 Buckeyes.
Does this mean Notre Dame is bad too?
With kicker Jake Seibert grayshirting, the Buckeyes still have room to add a few more players to their class of 2020, potentially four or five.
I thought the NCAA capped the number of new scholarships per class at 25? If Watts is number 24, how do we add three or four more? Appreciate insight, 'cause I don't think I understand the rules.
Me too, but bye weeks can be tough sometimes.
OSU survives the bye week without any arrests, but one non-starter receives a three-game suspension for a "violation of team rules."