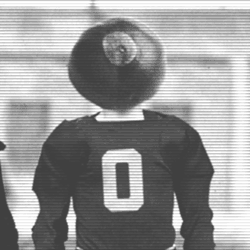 GirthBrooks
---
Tampa, Florida
Member since 19 April 2012 | Blog
Recent Activity
Donnie corley is from the Detroit area....and will be at FNL
Yes, just saw this as well on 247......must....have.....explanation.
"Stripes on the jerseys and Leaves on the helmets?.....NO WAY!"- people from 1968 probably
Why not? Woody always wore a black hat with a red block O. and I'm sure we all own some sort of black osu shirt/gear. They would look great. These look to be incomplete in some way though
Looks to be "incomplete" anyway. No buckeye stripes on jersey/pants & no logo or other wise on the helmet. Probably a rough draft. Could have potential
I believe he is a part of FBA, they do buckeye songs and perform on and around campus on gamedays.
by far the best buckeye anthem imo
Brb.......*Googles vitriolic*
Wouldn't worry too much about the Boykin announcement imo. Cornell & hilliard have talked about playing together. And with the info that cornell hasn't made a return trip to ND and even cancelled one, and possibly turning away full wood because of numbers seems promising. I think hilliard relationship with mcmillan and Damien harris speak volumes too where this is leaning
This has to be great news considering his cancelled visits
If I may add, I think he tweeted that he is ALSO visiting for FNL, not instead of. Huge if true
So excited nick conner is a buckeye. He went to the rivals challenge and won LB mvp over alot of talent and still camped because he wanted to earn an offer. Such a competitor
Me as well. Nice info guys
Fwiw I do trust the staff. They have their "virtual board" & know who they want and will or will not take if possible. All we can do is look at rankings and perceive. It is confusing though
I have to agree with 305, they passed on Henderson and barker as well to wait on watson. Both top 10 dual threat guys. Did the same with wimbush.
Travis waller says he talks to osu coaches(Tom herman) every week, yet no offer. Gibson hasn't talked to osu coaches in "can't remember when". Are they really pursuing another QB? If they are it's clearly NOT Gibson. And he doesn't even have the interest level to visit.
Thanks for Adding The link. He spent 4 days at Tennessee. Guess columbus was too far for a stop in? It's clear osu is not pursuing him anymore and are not offering waller. If They are happy with burrow, so am I
Until I start seeing crystal balls Flippin, I'm treating this story like expired milk............I'm not buying it
Any thoughts on a possible Nick Conner offer?
I thought that numbers were holding back his offer. With the possibility of hilliard, baker, and SKL. Now that Kilby - lane is out shouldn't this be a no brainer? What are we missing?
Seems like we should rename this class "lean15" lol sorry just upset
If he was their #1 choice, it would've been waller getting an offer Tuesday instead of burrow