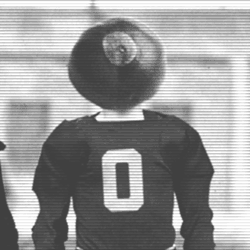 GH_Lindsey
---
Member since 03 December 2012 | Blog
Favorites
SPORTS MOMENT: Ohio State over Miami in the NCG
NFL TEAM: Believeland Browns
Recent Activity
Keep an eye out for the jump pass this week
He's got it as his twitter bio too
¯\_(ツ)_/¯
Missing an "e" in Berkeley up there DJ
Everything but the helmets is pretty good looking actually. They kept the stupid state flag pattern to a pretty limited area on the jerseys. The black stripes on the front of the pants aren't great either, but the bright, popping red looks good
Definitely a coaching issue. Since Urban's staff arrived, there are been absolutely no development at receiver. Devin Smith is still the same player he was three years ago. Philly Brown didn't noticeably improve his last 2 years either. There's not a single receiver on the roster not named Dontre who can create separation or beat a DB for a 50-50 ball. Everyone thought Zach Smith was a weak link at WR coach, but the recruiting success made us forget that the only thing he can effectively teach receivers is to block
I mean, the PAC has 3 legit national title contenders (UCLA, Oregon, Stanford) right now, two traditional powerhouse schools with the resources to compete with anyone coming out of downswings (Washington, USC) and a pretty solid middle tier (ASU, Arizona, Oregon State.
Compare that to the B1G — two legit title contenders (us and MSU), a traditional powerhouse mired in mediocrity (Michigan), and 3 good but never great teams (Wisconsin, Iowa and Nebraska). Penn State might be good again down the road, but the effect of recruiting penalties take a long time to wear off. The the PAC is definitely doing better than the B1G right now.
And the other conferences? ACC is super thin past FSU and Clemson, the Big 12 is essentially in the same boat as the B1G (OU and Baylor as title contenders, Texas as the mediocre powerhouse, Okie State and K-State as the good but not great teams). Looks the PAC more or less deserves the title of 2nd best
As a journalism student, good on you guys for actually paying your interns
Honestly, I think the one-two punch worked against us at times last year. Because it was so effective toward the end of the season, there was never much reason to execute the simple passes that get you 5-10 yards. The problem with that, however, was that Brax was essentially throwing cold when he was asked to convert third and longs or make other important plays through the air. I hope this season we have a better run/pass balance that will Braxton's arm involved throughout games so he can build a rhythym and sustain it into those pays where we have to be throwing
Saying Braxton had a higher average tells very little of story tho.
Everyone on this site has seen enough of Braxton to know he is often a feast-or-famine player who either gets TFL'd, gets 5 to 15 yards or breaks a huge one. Compare that with Hyde who was effectively never tackled for loss the entire season. When you need to get 1 or 2 yards (to go the the national championship game!), why go to your big play guy instead of your bruiser back who is 100% certain to at least get you past the line of scrimmage and 95% certain to get you 2 yards?
Brax really seems to thrive under the pressure. He has also been killer on half-ending drive to get us a score before we go into the locker room throughout his time here.
I think we're gonna be seeing Darron Lee kind of filling that "star" role next season. Sure, he's in with the linebackers, but the guy was a safety in high school and was recruited as an athlete. He could be used in a coverage role to cover the slot and TEs, but still have the ability to come up and make hits in the run game.
Well the 2013 season was the first under a new OC, so I'd imagine the decline in TE use had something to do with that. They also had 3 very fast receivers with TE height (6'3 or above), so that might've negated the normal TE role.
BUT if they are considered employees, don't they have to be paid at least minimum wage? Since they don't work for tips, it's not like they could be paid less and make it up with tips unless boosters get involved-- "hey Braxton, that was a darn good game there, lemme tip you $1000 here. Beat That Team Up North and it will be $10,000." Anyways, paying all of the varsity athletes would still impact the budget.
I doubt minimum wage would become an issue. For example, say these football players are working 50hrs a week for 50wks a year (which is probably more hours than they're actually working on strictly football stuff) and their scholarships amount to $35K a year (once against, a guesstimate, but 20K a year for out-of-state tuition plus 15K for room and board is pretty reasonable). With these numbers, the players are making $14/hour, which is almost double the federal minimum wage and still well above the highest local/state ones.
As for the other two items, the details are definitely tricky, but that doesn't mean they can't figure that out and find a solution that works better for the athletes and still protects the interests of the universities to an extent.
Is that really a bad thing? At the Kent States, Akrons and OUs of the country, the athletic are almost entirely paid for by student fees. Why should every student in Athens be made to subsidize a program that at most 5% of them even care about?
To everyone flipping out about the greedy players and unions trying to profit off the universities: please read the list of demands that Colter&Co. have put out. The only money-related item is a cost of living increase to the scholarships, the rest are about player safety, medical coverage and transfer rules.
http://www.sbnation.com/college-football/2014/1/28/5354718/college-football-players-union-pay-for-play
Amen. Edison publically eletricuted an elephant to death in an attempt to slander Tesla's AC current
It doesn't count as income, it's a grant-in-aid. Grants are tax free.
Of course the answer is money. But if they are employees, then the LOI is a contract - and they signed it. If they aren't happy to receive the compensation offered (a free education at one of the most respected universities in the country) then they don't have to play.
They aren't demanding any money from the university, just better medical coverage for injuries they get while playing and relaxed transfer rules (not having to sit out a season when transferring)/
Your assessment of the SEC quarterback situation leaves out a lot about the teams with new QBs. UGA, Mizzou and South Carolina's new QBs all have game experience, and not like the get-in-when-you're-up-70 experience, but multiple full games' worth. Thompson at S.Car has been getting rotational reps for the past two seasons. Mauk at Mizzou started 4 games last year (and went 3-1 with only the heartbreaker to S.Car lost). Mason at UGA started 2 games last year and threw for 299 and 320 yards in them. These guys aren't exactly starting from scratch.
I dunno if you've noticed, but Arkansas has been a dumpster fire since the whole Petrino incident a few years back
Wait so you're telling me a safety bit on play action against a team that ran the ball 60 to 70% of the time? Yeah, that's definitely just horrible defense and has nothing to do with the design, execution or timing of that play.
he's saying Cardale wasn't asked to pass in the FAMU game, not all games. Passing when up 50 against an FCS team like FAMU is dickish, but Purdue is a Big Ten team (although based on last season, they might belong is FCS), and that whole game was basically a passing clinic for the team, so it's easier to understand why they did it.
I think this article was a little harsh on Grant. He was our best corner for most of the year and would probably get a "B" grade for the entire season. I still have a soft spot for him from the time he jumped an out route and got an interception that ended up being the difference in the game against NW.
I like this move. I think Johnson's experience and maturity as a coach will help this relatively young staff a lot.
Amen. He's got size and power with good speed and he seems like a violent runner. I mean just look at this run.