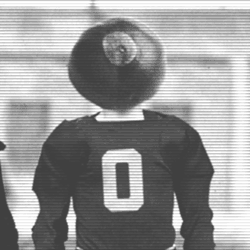 Geubux
---
from Dublin
MEMBER SINCE November 26, 2018
Lovin' the bucks because, well, yeah...
Recent Activity
Bandwagon jumping : Pure Michigan!
.....or, maybe they're not humble because they are secretly masochists.....they probably LIKE us beating their asses like a drum....
Quite a bushel of jokes for this Saturday non-game day....
....just for the record, David used Goliath's own sword to cut his head off.....guess this means a racket theft is upcoming....
ANYONE ELSE HATE THE TUN TALK?
There: Fixed it for you.
Dammit man! Get ahold of yourself! Try some whiskey!
Wouldn't the Whitesox and SMU like a word?-Wargor

This is more appropriate since it was the Whitesox scandal era when meat-chicken was last championship caliber...
...of course he runs his mouth like an idiot.....he IS an idiot!
....with Marcus leading a vigorous cheer and salute....

"Michigan- If we didn't suck, we could be good!".....you guys can use this for recruiting if you'd like....
When the Field's transfer was still speculation, I really liked Tate's "Bring it on" attitude....that's what I want from my QB! I was pretty disappointed that he didn't even TRY to compete....hell, even Joey toughed out Spring ball before he left. I would have had a lot more respect if he had given a bit more effort; maybe that's why he's not starting again.
I think I would drop scUM mascot a few more spots: I'd list ND and a few MAC schools above the skunk weasel since they give the big TEN more game than scUM gives us....
anyway, the mgoblow backers are on here running us down for rooting for our team: while their AMAZING coach steals a 3 star from the MAC while discussing a yummy ham sammich.....all we have to root for is another top 100 DB choosing wisely.....BOOM! (with a glass of whole milk!)
Can't throw worth crap, but the kid with whiskers sure can swim!
For his mentors, he chose........poorly....
It"s great seeing him drag his sorry butt out of Columbus! Don't let the door hit you where the good Lord split you....
Seeing that "Those who stay will go in the first or second round", I'd say things are ok
maine,
You always have good points. I would offer that JH has more critics because of a couple additional items>
1) JH gets too emotional and can't follow the game at the moment. Case in point: he got so upset in 2016 he threw his notes...ONTO THE FIELD! I know he wasn't aiming there, yet there they landed....along with a yellow flag. Then, he about wets himself because of the spot (which was good, btw). Let's face it: we've all seen the big ten refs adding a yard ,or two, or taking yards away on a spot. ANYTHING close on a 4th down, at the end of a tight game is going to be good. But jimmy gets so upset that he apparently forgets to call a defensive play, giving up 15 yds and a TD to the Brooklyn Dagger.
2) The QB whisperer: hasn't really developed any homegrown kids yet; how many transfers? Both into and out of the program. JF's teams at least seem to function with a qb and develop other talent as well.
"The Delusion never ends...."
...and it's a beautiful thing....
First game I took my parents to when I was at tOSU. I was so pissed when it was 24-0, I was going to leave. Mom said, "oh stay, they'll make a game of it." I thought, bull shit. Mom, you were right!
That scoreboard used to do "cheer emergency test" : "This is only a test"; "If this were an actual emergency, you would be directed to the nearest cheerleader,"during the first few games. When it hit 24-0, the scoreboard flashed,"EMERGENCY!"..."THIS IS NOT A TEST!"...
"THIS IS AN ACTUAL CHEERING EMERGENCY!"...then it flashed "cheer"....then "Cheer"....then "CHEER!". The crowd started to get louder, we scored, Swoope got ejected and the rest is OSU history.
Wasn't one of Illinois' all american DB's kicked out of that game as well? Seems to me, he punched at Byars while he was lying in the endzone after his first TD...gosh, they were only leading 24-7; no wonder the rage. Guess he knew what was coming.
If they allowed emotional support animals, the meat-chicken fans would look like they were populating the Ark this year.
Huh-huh, huh-huh....he said bottom.....
I don't see scUM getting rid of Jimmy since he's putting butts in seats. Even if he loses 3 or 4. I could also see them shanking their entire season and meeting us being under .500 just so we won't have a ranked team to end the regular season!...lol
probably one of the most entertaining beat writers on-line....no offense to anyone...