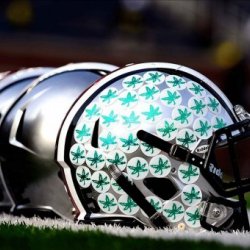 GetBuckedUp
---
Cincinnati (via Cincinnati)
MEMBER SINCE April 16, 2014
Avid Buckeyes fan who loves all things recruiting, its addicting. Very much a sports fan and I hate Meeeeechgican
Favorites
SPORTS MOMENT: Scoring 4 goals in a hockey game in high school. Being all time scorer at my high school.
COLLEGE FOOTBALL PLAYER: Braxton Miller, Raekwon McMillan
COLLEGE BASKETBALL PLAYER: Aaron Craft
NFL TEAM: Who cares
NHL TEAM: Vancouver Canucks, Anaheim Ducks, Avalance
NBA TEAM: Ha
MLB TEAM: Cincinnati Reds, Boston Red Sox
Recent Activity
Signed, Hudson Wolfe and JC Latham
Spoiler alert: you won't cancel
Assuming we get Pryor tonight, Ryan Day has to be telling Edwards and Henderson they have one spot left.

Unless they take all 3......
Stellato now 50/50 crystal balls between us and clemson. AE, I know you're confident. What do you think is tipping people to Clemson? Also, BG said he has him in this class but not inked, penciled. What's the concern?
Anyone want to provide the cliff notes of this article for us non subscribers?
-OSU is a hard offer to get -Donovan Jackson is his guy -OSU will be a top contender And......... CHILDHOOD DREAM SCHOOL
Mistake on Drennan, he hasn't done anything yet. I saw a graphic of him in ATM stuff.

He's down to USC and UK I guess.
Couple notable 2020 signings:

Former 2020 RB commit Darvon Hubbard is signing with Texas AM
Former 2017 QB commit and current Juco QB Danny Clark signed with Vanderbilt
Or maybe those players mentioned had a QB that could get them the ball after he left. That might have something to do with it.
What sounds more appealing?

Paying to fly across the country to visit Clemson in January or paying to fly across the country to visit Ohio State in January?

Scrolling through his twitter feed and he got offered by his "dream school" Clemson last night.

Not sure what Wilfong knows but it must be good.
Cornerbacks. We didn't recruit the position well in 2019 and after next year we could be very thin at depth and relying on this years class to step up.

Currently we have Amir Riep, Marcus Williamson, Sevyn Banks, and Marcus Hooker listed as CB on the roster. If Wade returns it helps next year but beyond next year I'm concerned.

So Tony Grimes or Jakailin Johnson should be a top priority.

Running back should probably be the next priority.
Not really geared to recruiting news for OSU but as we suspected, Tim Beck is on the move according to Bruce Feldman. He is expected to be named the new OC at NC State.
Dude I feel your pain. I elected to go Mike Boone over Kamara in my flex because Kamara hasn't scored a damn TD since week two. The week I don't lay him he goes off for 23 standard points. And before anyone asks why I chose to take out Kamara it's because I wasn't sitting Carson or McCaffery.

If I start him I win.

God I hate fantasy.
If we get Coombs he's likely to stay at OSU as long as Fickell is at UC. Once Luke takes a job I can almost guarantee Coombs is on the short list for UC.
I personally think Fickell has a different job by the end of next season.
Yeah, this is my 3rd or 4th and its usually around 70 percent Buckeye fans. I think this year it will be closer to 80-85.
Have a feeling we might be seeing Chris Ash on the Texas staff next year.
Almost had this happen to me last year for the BIG championship. Was going to meet up with a guy in Indy who had tickets. He sent me screenshots of them and everything. I'm a very cautious person and will question the hell out of you to make sure I know I'm not getting scammed. I wanted to meet at the fanfest so I could scan the tickets in to see that they work and he wasn't having it. So I called ticketmaster and gave them one of the codes off the tickets and he said yea, those don't exist.

People are really good these days with photoshop and such.
I called first dibs on his post below lol.
I'm calling first dibs on these.
Thank you, Niblick. Please let me know.
I'm looking for 4 tickets together. If anyone has any for sale or knows anyone for sale, please point them my way. Would be greatly appreciated.
Yea, if he's signing early it's completely different than not enrolling early. If he signs early it probably betters our chances because Bama and UGA are still going after bigger stars. Both want Evans and it looks like neither will get him at this moment. When they feel they're officially out both programs will likely turn up the heat on Gibbs. And i wouldn't be surprised to see that happen soon with Evans trending LSU.

The less time the better IMO.


According to Rivals Adam Gorney, 5* LB Justin Flowe of California is considering a trip to Ohio State.