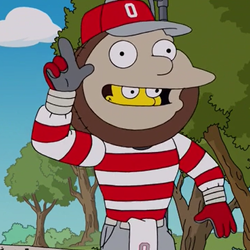 Geraffi
---
MEMBER SINCE November 21, 2011
Grew up in the shadows of the Horseshoe and developed a strong hatred for all things north of the border.
Favorites
SPORTS MOMENT: 2002 National Championship.
COLLEGE FOOTBALL PLAYER: Eddie George
COLLEGE BASKETBALL PLAYER: Aaron "smooth criminal" Craft
NFL TEAM: Bengals
NHL TEAM: Flyers
NBA TEAM: Cannot compute
MLB TEAM: Reds
SOCCER TEAM: Uhhh. NY Cosmos
Recent Activity
Couldn't escape the second bye week. Ugh!
Cool. So my sixth grade son will catch the home game his senior year of college. I'm in.
Was going to say the same thing, enjoy watching your son as he takes it all in.

Two more very important suggestions from experience:
First, take a few trips to the concession stand throughout the game and buy some treats for your son. The walk to the concession stand gives him a break, and a special snack back at the seat will pass some time. Soft pretzels, cotton candy, or a cup of hot chocolate will keep him occupied when he starts to get restless.

Also, if at all possible, get seats in the first row of a section so your little Buckeye can see! It's really boring when your stuck in a canyon of tall people and can't see what's going on around you. The alternative is holding him up for the entire game. Being in the front row also gives the feeling of more space (although it might feel colder).

Good luck and enjoy the game! Let us know how it goes!
It's Snickers all day every day. Get that chewy fruit candy out of here (except sour patch kids).
After snickers it's Twix, then Reese's. Baby Ruth rounds out my top four.
Also, go Bearcats. I'm always a fan of coach Fick.
I won't downvote you, but Gus Johnson is a gem.
Like I said. I ain't scared. And neither is Chase Young,
I don't think extra motivation makes up for the difference between these two teams. I ain't scared.
True, but you have to admit, that was awesome!
I'm in this camp. This is a game I wish both teams could lose.
However, as much as it pains me to say it, is like to see our rivals win this round because it will be better for the Buckeyes in the long run.

I think they're both mediocre teams who get way too much credit for historical success.
The committee hasn't released a ranking yet, so we have no clue how much love Oregon will get. The current rankings don't really matter. We'll need to wait until Nov 5 to get the CFPC take on Oregon. That said, when you stack them up against the other one loss teams, they might be a little low at 11. But I think 7-13 are probably interchangeable.
I first read this as Mick = THREE MEN
Both are true
It's Scarlet. The color is Scarlet.
That would make me unhappy.
But so many of the Bowl games aren't relevant. There are 40 bowl games this season. Thats 80 teams all in bowl games that, while meaningful to those players and maybe those schools, they mean nothing to the majority of college footbaall fans. That's why nobody watches them. That's why nobody attends those games.
Expand the plays offs to eight and remove the stupidity that is the selection committee by placing 5 (or six) conference champs and the next three highest rated and you'll have eyes on those games.
Frankly, I think the bowl system is part of the problem. If we didn't have the bowls (each their own financial institution), we would have had a twelve to sixteen team playoff ages ago, just like all the other levels of college football.
I love the rose bowl. I love the traditional match-ups, and I love that the Buckeyes will be playing in the Granddaddy of them all on New Year's Day, but college football needs to evolve.
It's all in the narrative. I definitely believe Ohio State was held to a different standard. Just look at how the playoff committee addressed the differences between OK and OSU.
Ohio State defense bad.
OK offense so good it makes up for it's weak defense.
I can't help but feel that our defense is the reason haskins has been overlooked. The ineptitude of our D at times overshadowed some great performances by Haskins. Look at the MD game for example. Haskins stays were amazing, but we almost lost that game, and many in the media say we should have lost that game. That near loss, although unfair, gets hung on Dwayne. Or st least it overshadows his great performance which becomes a bi-line of a bi-line.
Please don't get me wrong, I'm not trying to bash the defense, but I can't help but think that Haskins would be in better position had our defense held inferior teams in check.
Go Buckeyes! Beat the Huskies!
Agree with you 100%. Hopefully the committee does too.
I'm frustrated too, but I don't feel spoiled because I'm not frustrated with the Buckeyes, I'm frustrated with the system that continues to be broken. And it will continue to be broken as long as humans decide who the best teams are rather than actual play on the field and the outcome of games.
Every conference should have representation in the playoff, and ND should either be in a conference or they're out of the system.
The reporter asked him, would "you care to comment on that?" To which Urban replied, "No comment." I would agree with you if the reported had asked an open ended question. Like, "are you planning to leave at the end of next season?" and Urban responded with No comment, but I'm not going to read into it too much when the reporter gave Urban the out by asking if he wanted to comment.
Aso, he's answered the question before and stated that he plans to coach, so, stop asking already. He'll let everyone know when he's ready to step down.
If Alabama loses, then both Alabama and Georgia get in, along with Clemson and ND, then the PAC 12, Big 12, and B1G would all be left out. This would be the fastest way to an expanded playoff. It's still so subjective. Sure the controversy makes for great TV/radio (I guess-I actually get tired of the hypotheticals and whatnot) but this system is still highly subjective, and it will be so long as it relies on humans to make decisions about who should be in, and who shouldn't.d
Agreed, which is uncomfortable because the silver bullets haven't exactly lived up to their name/reputation either.