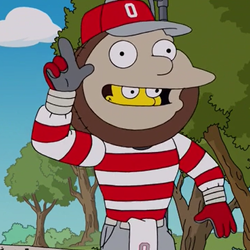 Geraffi
---
MEMBER SINCE November 21, 2011
Grew up in the shadows of the Horseshoe and developed a strong hatred for all things north of the border.
Favorites
SPORTS MOMENT: 2002 National Championship.
COLLEGE FOOTBALL PLAYER: Eddie George
COLLEGE BASKETBALL PLAYER: Aaron "smooth criminal" Craft
NFL TEAM: Bengals
NHL TEAM: Flyers
NBA TEAM: Cannot compute
MLB TEAM: Reds
SOCCER TEAM: Uhhh. NY Cosmos
Recent Activity
LOL-TTUN .310 win percentage. That's just slightly better than Pitt's.
Please tell me you're not joking.
Thanks for your dedication and effort.
I should have mentioned, nothing orange this week, including underwater. During TTUN and PSU games, we cover our blue sectional with scarlet and gray Ohio State blankets. It's a huge sofa, so it's a good thing we have like 20 Ohio State blankets. This method is undefeated
Go Bucks! Beat Clemson!
I keep it low key. I have an old gray Ohio State T-shirt from Homage that I wear under a solid black, nondescript, 1/4 zip. This combo has been extremely successful. I was not wearing it during our last two losses or the blocked field goal vs. Penn State. I'll never let that happen again.
My daughter has a lucky Buckeye bracelet that she wears. Very powerful. My son varies his jersey choice and this year the #17 has been quite good.
With his fingers crossed behind his back.
I guess he didn't specify what they are more talented in. Obviously it's not football. Maybe he meant, they're more talented at making stupid comments after yet another beat down. I'll give him that one.
1. Nike needs to hire a new design team
2. Ohio state needs to bring back the Block O as the primary logo.

Sorry for your loss, Scott. I hope your/CR's family finds peace during the holiday season. I love the idea of spreading some of his ashes at Ohio Stadium. Maybe sprinkle a little in Buckeye Grove to nourish the trees that will soon be planted for the newest lot of All Americans.

And consensus All American!
Admittedly, I wasn't able to be as closely tuned in to the game as I usually am, but I remember saying to my brother, "how are we winning this game 31-21?" I guess, despite the lead and consecutive unanswered scores, I still had this feeling that we were losing the game. I wasn't truly comfortable until Coan took that hit on 4th and goal. Still, I wouldn't call it a squeaker. If Coan would have scored on that last offensive play, maybe I'd go there, but Proctor took care of that.
Congrats, Kevin. Good work.
My wife is hosting my 50th tonight. The game will be broadcast in multiple rooms and I'm going to do my best to attend to both the game and my guests. Fortunately, most guests will be tuned In to the game as well. Hoping Kevin's prediction is right and I can start to relax once the second half gets underway.
Chryst is so Wisconsin. Like mild cheddar.
Hey 1020. There are a few other threads here asking similar questions, so check them out.
The thread asks for Meyer's worst game. That would have been one of his best, only he was wearing blue and orange at the time. Worst for the Buckeyes for sure, but not Urban's worst game as a Buckeye coach.

To me, it's the Purdue game followed by the Iowa game. neither should have ever happened. The team was poorly prepared and they were unable to adjust despite the massive gap in talent. Out coached and out played in both occasions. The fact that a blowout loss on the road to an inferior team happened once was awful, but to have it happen again the following year in a game that everyone saw as a potential trap game was inexcusable and inexplicable!
I disagree.Dobbins has been the more consistent, better back.
Herky the Hawk, Iowa's mascot, is to the right of Harbaugh.