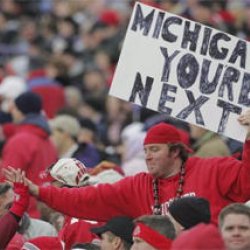 geoffrsc
---
MEMBER SINCE March 28, 2012
Favorites
SPORTS MOMENT: 2002 Nat'l Championship
COLLEGE FOOTBALL PLAYER: Archie
NFL TEAM: Browns
MLB TEAM: Tribe
SOCCER TEAM: lol
Recent Activity
Good luck, CJ. Thanks for your service, past and future.
Don't mind alternates but not a fan of the Color Rush look.
Boy, tough crowd. I like them. I wouldn't have picked the gum sole but I can live with it.
I don't mind it. If you don't want it, don't do it. It would be kinda cool to run out and grab the kicking tee after a kickoff. Maybe not $200 worth of cool. But for somebody who wants to, great.
If he comes back he has to play us again.
To paraphrase Churchill, "At the time it was very effectively disguised".
I was debating whether $50,000 for a suite was worth it. No question now.
In general, screw Brian Kelly and ND. But he's doing the right thing here.
Just ordered size 12s from Nike.com. Got shut out last year. Very happy to get these.
Reliving the Cooper years is just brutal. Amazing talent on those teams and constant disappointment. I still don't know how he kept his job for so long.
"No. 1 Purdue". There's something you don't see everyday.
Meet the new boss, same as the old boss.
Love the boxing analogy. Reminds me of the quote from Max Baer- "Fear is standing across the ring from Joe Louis and knowing that he wants to go home early."
Hopefully they'll be available for more than 30 minutes.
This. He was doing color on a game last Saturday. It was painful to listen to him.
Surprisingly entertaining. I would love to hear that guy do a Buckeye highlight reel.
The only surprise here is that Howard didn't pick M*chigan to make the playoff. Besides being an idiot he is a blatant homer.
I didn't know Bear Bryant was black.
Will Allen having picks to end games against Cincy and TTUN during the 2002 Championship run.
it's good to be the king.
And you'll still get to see #5 in the backfield. It'll just be Raekwon in the other team's backfield.
I thought it was "A cloud of Ducks".
Good luck, my friend. With time it will get easier.