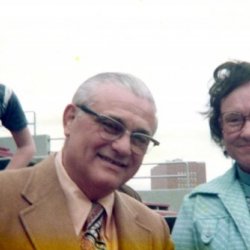 GeneralBuckeyeWayne
---
Indianapolis, Indiana (via Dexter, Michigan )
MEMBER SINCE September 08, 2014
Favorites
NFL TEAM: Seattle Seahawks
NBA TEAM: Cleveland Cavaliers
MLB TEAM: Cleveland Indians
SOCCER TEAM: Portland Timbers
Recent Activity
Haven't logged-in in awhile, but thought i'd help you out.
Game seems to be at 6:30, so if you are planning on bar hopping your best bet is to stick around the Broad Ripple area if you want a cheaper Uber to Hinkle Field House. Broad Ripple has plenty of bars and restaurants that can appease all types of drinkers and types of life. Bars to check out: Alley Cat Lounge ( Check out both the front room and the back bar), Brothers ( more traditional sports bar feel), The Egyptian ( a hookah bar, but still cool to just pop in for a drink.)
Downtown can be fun but i'd stick to the Mass Ave area if you want to venture closer to the heart of the city. It's a great spot to hit up multiple bars that are within walking distance, and all things considered still not a bad uber or drive up to the Butler area. Bars to check out: BurnSide Inn ( A cool multi-level bar that was an old house in downtown indy), Krugers (A good spot to grab dinner), Libertine ( A speakeasy basement bar with craft cocktails and microbrews).
Hope this helps! Go Bucks
Was at the game this evening ...
I don't follow men's volleyball enough to comment if they are championship contenders, but they put the beat down on Fort Wayne. Nice to cheer on the Buckeyes no matter what the sport.
It still amazes me that before UFM came to Ohio State, he never had a 1,000 yard running back. Hyde, Elliot, Weber and now Dobbins. AMAZING
Washington is for real this year. I know the PAC12 is down, but Washington is legit.
I gotta say, Lovie Smith is nothing but honest about his football team. I like where the Illini are headed with him as HC.
Wow, those Clipper teams were just horrible!
Great read Ramzy! The end of this coming season will be truly amazing!
He'll probably end up on the damn Steelers
I actually don't mind Barrett as a girls name.
Damnit! This is so Cleveland.
In theory that sounds good, but honestly Urban probably wants to pick a starter sooner than later. That way the #1 QB gets the most reps with the ones
North of Lima and south of Toledo
right on I-75
it's the D-league. What are you expecting?
I usually enjoyed what he had to say. I'll miss him
HOW DOES A POST BY REMY HAVE ONLY ONE COMMENT?!
I wasn't that impressed with JT when he was offered along with Cardale. I had very low expectations at the start of this season.
I live in Northern Indiana, and my Father is good friends with a Notre Dame booster. He told us over dinner just after the championship game. He's still salty because Urban was almost on the plane that Notre Dame sent to Gainsville.
He drives a Mercedes-Benz
When Urban was handed the keys to Notre Dame, he wanted to take the job. It was SHELLY who said " We are never going back to South Bend"
Long live Shelly Meyer!
Well it IS because of "Mad" Anthony Wayne.
I was just explaning the picture.