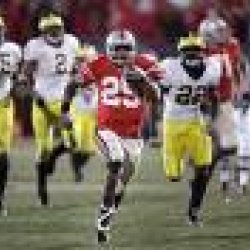 Gcbuckeye62
---
Member since 22 November 2012 | Blog
Recent Activity
-1 yard ! First play, we knock him out of the game.... so we can drill that cocky freshman quarterback!
51-34? DJ you're disrespecting our defense, more like 51-10. Go Bucks!
What a weak case you present, about the only three things you write about and if that's all you got, I'll take itI
Looks like another championship season is on deck, you can feel it!!
Can I get a HELL YEAH??!!!
Dammit! Just made me watch the rest of video to the amazing Teflon Wizard touchdown! Why do you do that all the time? Geez!
Best play of all time! Down the throats of the south!
Simply WOW!
Hats off to you guys at 11W, that video was epic!
Can't for next years National Championship win recap of The Grind!
Don't be surprised if Urban Frank Meyer signs both Guarantano & Wallace!
It's 9:26 pm & *ichigan still sucks!
Love this three headed monster! This should be the Buckeyes banner theme!
Got it right, no doubt that was the best catch of the season, the extension, focus & awareness was spectacular from Michael Thomas!
Good read Michael Citro!
Imagine next year shattering more records, along with a Heisman trophy winner, it will happen, we are destined once again!
Nice work EW team!
Love it so much, you should have a permanent "click this link" (of this video) on your homepage for the true diehard Buckeye Fan daily fix!!
What a way to get your day started....ELEVEN WARRIORS and your National Champions!
Go Bucks!
IMO, Zeke's 85 yard touchdown against against that team down south should be #1, not #2, it was a thing of beauty!
Torrance Gibson at the celebration also? If not, he has a twin.
Imagine the memories for next year's Buckeye National Championship WIN and our three headed monster quarterback, will be difficult for teams to match up of who's starting or multiple quarterback attacks. Meyer's genius will shine even brighter!
We force turnovers, we win
56-17 SCARLET, blue shit loss, beat MICHAGAIN !!