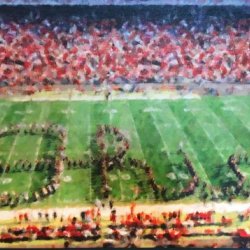 GA Buckeye
---
Member since 18 September 2012 | Blog
Recent Activity
Bingo! CTBuckeyeFan is spot on!
Exactly! On 1st & 10 (or more), OSU Rush/Pass was 22/8 (excluding the final 2-minute drill drive). OSU did not win on 1st down often, and was left with 2nd & < 5yds only 5 times vs. 2nd >5 yds 23 times. Of those 23 2nd & long downs, the Rush/Pass was 4/19. 3rd & long was similar at 3/12 Rush/Pass. Since the Buckeyes mostly passed only on obvious passing downs, PSU was able to dial up the right defense according to down and distance. The Buckeyes need to be more balanced Run/Pass on 1st down to keep the defense guessing.
Nice, Ramzy! I grew up in Washington, DC, so the Redskins and pro football were my religion until 1985, my Freshman year at Ohio State. I was transformed into a 'I bleed Scarlet & Gray' fanatic sitting in Block O on November 2, 1985 as I yelled and screamed with my face painted as the second 'O' in OHIO and watched the goal posts come down and get carried out of Ohio Stadium.
Go Bucks!
Did anyone else notice that Craig Fada was listed as a captain in this week's Game Notes? Typo?
Great way to get pumped for Saturday AND Craig Fada sighting in the trailer... nice!
What a great story about a kid who chose the hard path and never gave up. Kudos to Meyer & Co. for recognizing and rewarding him and Fada.
For the strength of the Pack is the Wolf, and the strength of the Wolf is the Pack.
Excellent story of an outstanding young man
The young bucks won't remember, but my Freshman year (1985), Zantigo's reigned like the Iron King on the corner of 15th & High (where Jimmy John's is now). Zantigo's was a cheaper (and better) version of Taco Bell with all items on the menu priced at 99 cents or less. Zantigo's was replaced by All In One, a YUM Brands concept that had Taco Bell, Pizza Hut, and KFC 'all in one' restaurant. You could order a taco, a personal pan pizza, and fried chicken at the same time! All in One was a sight to behold!
Mr. Nail, allow me to introduce Mr. Hammer
142 Yards of Rushing in losing effort for the Hoosiers. Bucks win 48-24! It's a dupe, but that is what it's going to be.
I would love to see this updated for the 2015 season!
Many pundits promote JT Barrett's drop in completion percentage when he is under pressure. I wonder how those numbers break down game by game. I would bet that JT improved under pressure as the season went along and the Slobs starting playing as a unit.
I think that JT gets the start, and Urban does the exact opposite of what people expect. Buckeye start out throwing a few short passes and screens to get the Hokies on their heels. Slobs & Silver Bullets help the Buckeyes roll to 1-0, 42-17!
The Silver Bullets are back and don't allow half as many 3rd down completions as last's year's game. The Slobs & Eazy E wear down the Hokies enough to break some big plays in the running and passing games. Buckeyes win 42-17.
Oh come, let's sing Ohio's Praise...
Now that was funny! I wish I had enough HS to upvote you.
Cooper was a fabulous recruiter, but seemingly lacked the ability to make in-game adjustments.
The first time XBrax lines up wide and drops back after the snap is going to be a major Oh $nap! moment for that CB.
I respectfully disagree about TTUN. Every season I want TTUN to be undefeated until they play the Mighty Buckeyes, because I want that team and their fans to feel like their hearts have been ripped out after they lose to the Men of the Scarlet and Gray! I vividly remember the '95 & '96 seasons and the agony of defeat, and I want TTUN to suffer that heartache EVERY season at the hands of the Buckeyes. #crushing_hopes&dreams
I believe Greg Oden has my stapler...