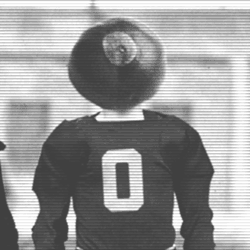 G.
---
MEMBER SINCE November 05, 2015
Favorites
SPORTS MOMENT: 2014 National Championship/2016 NBA Finals Game 7 Cavaliers victory
COLLEGE FOOTBALL PLAYER: Raekwon McMillan
NFL TEAM: Cleveland Browns
NBA TEAM: Cleveland Cavaliers
Recent Activity
Ha! Maybe he's taking a break.
He's legit.
Well he told me in a dream that all he cares about is impressing the cheerleaders.................
When I think worst case scenario, I'm thinking our 2-deep at every position becomes unavailable due to academics, injury, arrest, alien abduction, selective service, etc.
Garrett Wilson looks like he's been around for awhile. What an impressive player.
But man he can sling it too... It's gonna be another fun year.
Great, ESPN giving Cincy more ammunition with which to gun down my conspiracy theory. FUCK!
Go visit the Vipper, the Vipper of Vipp.
Mad respect to the kid who nailed those free throws.
What about if Nike bribed Zion to go to Duke? Of course, there's no way Coach K would have any knowledge that it happened. He's only the coach of the team. Coaches don't have anything to do with recruiting and they never know anything about these kids or their families. Coach K probably only knew Zion because of his film, and probably didn't meet him until the day he showed up to practice for the first time.... Of course I could be wrong, and he could have known everything and be a total douche.... But probably not. I mean, he's a West Point grad, and his book doesn't contain anything about him being a douche.
Seems like a true Michigan man...
Everyone dies, for once.
TL;DR = O H Y O disagrees
TL;DR Coach K is a douche
Zach Smith probably also has herpes that won't go away... (Oh shit!!! Will he call me out now too!?!?)
Lol preach
Agree to disagree
The whole dream team might be running with the first team on Day 1
It's on Houston as a place, Just like Cinci... #ThugLife
We are Dahntay Jones to their Chris Paul.
Now who is Brady going to throw to?
Time to retire.
We need to make more baskets than the other team...
I think the idea is to teach them subtraction.
There's probably an asterisk