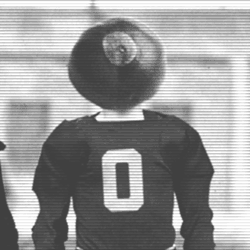 G.
---
MEMBER SINCE November 05, 2015
Favorites
SPORTS MOMENT: 2014 National Championship/2016 NBA Finals Game 7 Cavaliers victory
COLLEGE FOOTBALL PLAYER: Raekwon McMillan
NFL TEAM: Cleveland Browns
NBA TEAM: Cleveland Cavaliers
Recent Activity
I'd love to see a "please DO NOT respect my decision at all!" ...just once.
God bless all the soldiers, and the families of all the soldiers who served to defend the world in that horrific war. While it's impossible to know all the stories, it is imperative to remember the courage and will of every single soldier who gave everything they could to protect freedom everywhere. And God bless all who've done it since, and all who ever will.
I just noticed your name is Weave... Commenting on the hair is very fitting.
I bet that candle smells like victory. They just don't know what that smells like.
Yep. It's just what I expect to see from all (one) the media outlets (ESPN) in response to anything negative about the university.
I have no opinion on the man. I just report the news as other people hear it.
I heard that Prez D wanted to institute a new University policy whereby all athletic staff, but mostly just the football staff, would be required to wear body cameras and be under constant surveillance when on university property, public property, international property, private property, while in confessional, and while breathing, and all footage and audio recordings would be continuously transmitted to the NCAA and stored by both the university and the NCAA for the entirety of remaining human existence. Apparently Gasser is a supporter of spousal and child abuse, and [insert "-ism" here]. Can't have people like him affiliated with the university. We'd better get ahead of this and take a ten year bowl ban and vacate all wins since Woody Hayes took over.
Check out Wim Hof ... His breathing stuff is legit. I also find that doing burpees for about 5 minutes straight helps eliminate some stress and rejuvenate the soul. https://m.youtube.com/watch?v=nzCaZQqAs9I
20016..... That's a hell of a prediction. I hope someone digs up this thread when Ohio State pulls off the W that year.
Nobody knows... I'm pretty sure Jaqen H'ghar plays every character on the show. And apparently Yara is just chilling at some island resort, and Tormund is drinking cocoa waiting to go hunt down the night king, who... let me guess... is probably already dead or some crazy shit like that, while everyone else is fighting to put House Baratheon back on the Iron Throne.
Where is Tormund? Where is Yara? Whatever happened to the Sands?........ I'm lost.
Time to win another.
I call him by his government name, Billy Chrissy Swinney.
If it was OSU, Prez Drake would already have Robert Mueller conducting a special investigation into the matter.. the entire coaching staff would be on administrative leave, and Urban would have been fired last week.
Damn. Good shit.
Ha! Maybe he's taking a break.
He's legit.
Well he told me in a dream that all he cares about is impressing the cheerleaders.................
When I think worst case scenario, I'm thinking our 2-deep at every position becomes unavailable due to academics, injury, arrest, alien abduction, selective service, etc.
Garrett Wilson looks like he's been around for awhile. What an impressive player.
But man he can sling it too... It's gonna be another fun year.
Great, ESPN giving Cincy more ammunition with which to gun down my conspiracy theory. FUCK!
Go visit the Vipper, the Vipper of Vipp.
Mad respect to the kid who nailed those free throws.
What about if Nike bribed Zion to go to Duke? Of course, there's no way Coach K would have any knowledge that it happened. He's only the coach of the team. Coaches don't have anything to do with recruiting and they never know anything about these kids or their families. Coach K probably only knew Zion because of his film, and probably didn't meet him until the day he showed up to practice for the first time.... Of course I could be wrong, and he could have known everything and be a total douche.... But probably not. I mean, he's a West Point grad, and his book doesn't contain anything about him being a douche.