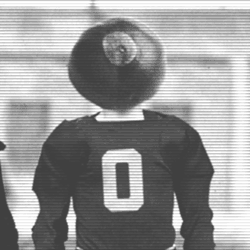 G.
---
MEMBER SINCE November 05, 2015
Favorites
SPORTS MOMENT: 2014 National Championship/2016 NBA Finals Game 7 Cavaliers victory
COLLEGE FOOTBALL PLAYER: Grand Master Teague
NFL TEAM: Cleveland Browns
NBA TEAM: Cleveland Cavaliers
Recent Activity
He's just gonna have to stand up straight with his head held high and thrust onward.
Harbaugh's salary kills me every time...
I'm with you... He can go right ahead and whoop that ass all day but when it's time to go he can take a fat ass L all the way back to that shit hole up north. Fuck em.
You gotta solve for x.
Almost there times the turnovers? University of Michigan mathematics degree ain't what it used to be I guess...
Beer Olympics in my own backyard
Mormons?
That game is the only reason I even know of Wichita State's existence. I fucking hate those little shocker sons of bitches, and their stupid as fuck little hand gesture that those dumbass fans wave around like a bunch of high school freshmen fucking morons.
Well then I'm not sure if that's even possible anymore..
5...
That's how I rolls
Betty or GTFO
She looks better with straight hair
Context: person says obvious thing "No way...?!? ----pauses for dramatic facial expression---- WE LANDED ON THE MOON!"
If it were a buckeye defender it might not be called on the field, but the replay official would straighten that shit out real quick.
Federal criminal charges filed.
Idk, but if you factor in actual bye weeks wouldn't it be 15? Fuck it. We get the idea.
He may have been interviewing Burrow, but he was thinking only of Trev <3
I bet Herbie was on cloud 9 getting to interview his favorite qb.
I'm including the ACC championship.
Joe Burrow is the fuckin man. Also fuck Clemson... That shit is what happens when you don't earn your way. Fucking arrogant piece of shit Swinney. Enjoy the off-season and your 13 bye weeks and try again next year.
Few things I love more than watching the Ravens lose... Few things I hate more than listening to commentators root for the team I hate.
So, he improved his average then right?
I hear you man... I'm all for getting rid of Ryan Day as well after losing to Clemson. The buckeyes should just let Jimmy Haslam make all their hiring decisions. He doesn't fuck around......................
I wish our bball team would get over the football team's loss to Clemson and start playing good basketball again. It's obvious they're still upset about it.