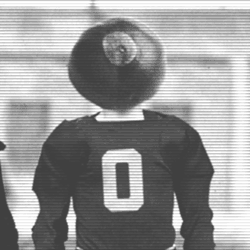 Fuzzynut
---
MEMBER SINCE July 11, 2015
Recent Activity
Towers. No bettter way to start college. Survival training for Life. .
Maple Heights and Youngstown have little in common other than they are located in the same state.
The attractiveness was playing time
Some here are missing the point. What is Harbaugh supposed to be known for? What position does he keep filling via D1 transfers who started elsewhere?
Do we keep filling the same position, the most important position, via transfers? No.
Pitt Buckeye- rarely post but please get over yourself and let this thread be what it was intended to be.
That is a polite way of telling you to shut up.
Yawn. Tradition is not grass and leather helmets?
Elliott does not come here under JT.
Meyer got him and Eze won us the title.
How did JT fair in National Title Games? We're talking real football, don't give me this high school stuff.
Sucks that for some on this forum, the only way to defend Meyer is to contrast against JT. We are lucky to have both.
What state are the linebackers from? I think we need more out of state linebackers.
I saw Joe Bauserman play against Nebraska.
Boy that really went over your head. Snarky fail.
That 06 loss to Florida really killed recruiting. LOL
The reaction when we faked the punt inside the Shoe was priceless. As if everyone had just been hit with a taser.
4th and 5 where they converted- loudest I have witnessed. Overall game, 2002 was louder IMO.
A ichigan site referred it as a "sprained AC Joint" in Non-throwing shoulder.
Don't. If the cost is lower, there is a reason. Only buy with credit card or PayPal.
Off topic but have not seen this anywhere. Urban in the past has looped one song over and over at the WHAC for ichigan week. Is he doing it this year?
This is why it should be 8 teams
this is why is should be 16 teams
this is why is should be 32 teams
on and on. No more participation trophies. You lose and you lose control of your destiny.
Our pace was too slow. We had one TO and once the clock went under 2 min and we were not even at midfield, our pace dictated that we would only throw the ball - thus PSU played pass only.
The idea of us playing for a FG has to be a joke.
Injuries?
(Was Barrett hurt coming into this game)? Not himself
Why no RB chipping and helping our Tackles? - Like Eze used to do. You cannot leave them on an island if they are struggling. Help them out
So it was only the BG game that made you optimistic? have you missed the entire season?
So many pathetic fans and comments here. I rarely post but I didn't realize there were so many children on this board.
Mentioned on another site - there is no buyout if he is fired for Cause.
I never knew Maroon and White was a Nation.