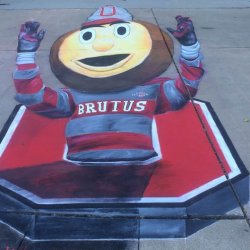 FutureIsBright
---
MEMBER SINCE April 03, 2015
Recent Activity
Why 4 speakers instead of 5? Front left, center, front right, rear left and rear right. Also, why a sound bar if you plan to use speakers?
I was there and I'm still haunted by "Timmy, Timmy, Timmy...". It sucked.
Some of the best slot receivers in the NFL:
Jarvis Landry
Cooper Kupp
Julian Edelman
Adam Thielen
Ju Ju Smith-Schuster
Some guy named Tyreek Hill
If Wilson is successful and joins a list like this it will a good thing.
Didn't Michael Thomas play slot for the Buckeyes?
ECO - thanks for sharing this. Dude is awesome! I watched the video where he reacts to Cold Rain and Snow from Farm Aid in Buffalo. It was my 3rd Dead show!
!
I vote Yes for this idea.
That's the thing that stood out to me. I hope he thinks OSU is the right place for him but I don't like the chances.
Does anyone else think the first 2 videos show the same plays?
Beat me to it because I procrastinate. I was contemplating starting a similar thread about Clemson karma. The touchdown that was taken off the board because of offensive PI was more karma.
I'll definitely watch it because it has two of the best college football teams going at each other and it's an excuse to drink beer. I won''t root for either team since I can't stand the idea of Clemson winning another title and I don't want the SEC to claim the #1 spot (though I like Burrow).
I think Clemson will score one more touchdown than LSU because their defense will stop LSU one more time than LSU stops Clemson 42-35.
Nut - you and everyone else is right about the commercial breaks. Way too long! Fortunately they're shorter at home lol! +1 Go Bucks!
As a long time lurker and one who posts infrequently I signed in to reply. Thank you for defending the in-stadium experience! It IS magical - not just for the big games but all of them. The collective roar and high fives with a dozen or so equally passionate fans when something good happens is an unbelievable rush and can't be replicated while sitting at home. In fact, it doesn't even matter if it's a roar due to a positive play for our beloved Buckeyes, a crowd groan because something negative happened or group outrage for a bad call, it's all a rush. The brotherhood, as DuckBuck called it, is intoxicating. So is the beer and whatever gets smuggled in - by others, of course.
I'm in my 50s and I confess I spend too much on attending OSU football games. And it's a lot of work; prepping, packing and setting up the tailgate, then tearing it down to go into the game. I get there hours before the majority of the crowd does so I can get a good spot. I stand for a majority of the tailgate and most of the game. And I love it!
I still get goose bumps when the band comes out of the tunnel. Actually, I have goose bumps now just from getting this rant out on the interwebz. Live is better than TV!!!
Seriously, everyone is entitled to their opinion and I get that watching college football on TV is satisfying. I watch a lot (too much?) from my couch and enjoy it. It must be that I took a major swig of the magical elixir that is Buckeye football in the 'Shoe and want more of it, every game, every year.
Who's with me??????
IB - thanks for helping out but I know OOC means out of conference. The title says OCC and I knew it was a mistake and my post was a lame attempt at humor. I'll go back to being a daily lurker.
What's an OCC game? Ohio capital conference?
I was going to post the same question but you beat me to it .No way he's flying commercial airlines to Hawaii and back .
I'm surprised and disappointed. It was the only sports radio worth listening to.
Two thoughts:
Could it be that they're taking this long in order to have a good explanation for firing Gene Smith?
Does anyone else think that Drake looks just a bit like Gus Fring?
I haven't been there in a long time but ate there many times when I was in school. The last time I ate there I realized the food wasn't that good, really. Back in the day we called it the blown dube.
Totally free and legal:
https://archive.org/details/etree
Mostly jam bands - Grateful Dead, Phish, String Cheese, Umphrey's McGee, etc. but you'll find others. ~ 181,000 songs - free!
Also, I buy used CDs, rip them using iTunes and sell them back. The net cost is $1-$2/disc.