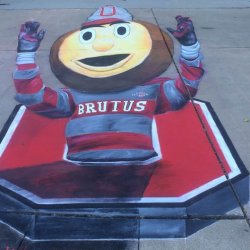 FutureIsBright
---
MEMBER SINCE April 03, 2015
Recent Activity
IB - thanks for helping out but I know OOC means out of conference. The title says OCC and I knew it was a mistake and my post was a lame attempt at humor. I'll go back to being a daily lurker.
What's an OCC game? Ohio capital conference?
I was going to post the same question but you beat me to it .No way he's flying commercial airlines to Hawaii and back .
I'm surprised and disappointed. It was the only sports radio worth listening to.
Two thoughts:
Could it be that they're taking this long in order to have a good explanation for firing Gene Smith?
Does anyone else think that Drake looks just a bit like Gus Fring?
I haven't been there in a long time but ate there many times when I was in school. The last time I ate there I realized the food wasn't that good, really. Back in the day we called it the blown dube.
Totally free and legal:
https://archive.org/details/etree
Mostly jam bands - Grateful Dead, Phish, String Cheese, Umphrey's McGee, etc. but you'll find others. ~ 181,000 songs - free!
Also, I buy used CDs, rip them using iTunes and sell them back. The net cost is $1-$2/disc.
This could end up being a trivial rule change for QBs. For the 2018 Buckeyes what are the chances that there is a blowout big enough that there is playing time for 4 quarterbacks? Wouldn't you want QB2 to get a bunch of mop-up time followed by the rest of it for QB3? Playing time is so precious and hard to come by for QBs I can't imagine playing QB4. Of course, I could be wrong. At other positions I can see the benefit.
[Edit]: LSMG you beat me by 3 minutes...
I have a buddy that is a Buckeye fan but moved to Georgia about 10 years ago. In the time since he moved UGA has become his second team to cheer for. As a result, I'm in a predicament. On one hand, I don't want to see an all-SEC NCG - especially one with Alabama involved. And I have to work tomorrow so my opportunity to drink is very limited. On the other hand, my buddy is very pumped and will be texting me and fully expects that I'll be watching and rooting for UGA the way he roots for tOSU. In addition, I'm a huge college football fan, it's the last game of the season and last year's NCG was great. I'll probably end up watching; maybe not the whole game but some of it (unless it's a really tight game like last year).
Don't tell my buddy but I think 'Bama is going to stuff the UGA offense the same way they did to Clemson and overpower the UGA defense. It might be over by mid-third quarter or earlier.
I don't agree with you but your post didn't deserve DVs, IMO.
No way I can root for Bama or Clemson, it would hurt OSU recruiting. I don't mind UGA except they're SEC. OK has Mayfield and he's a douche. For me, I hope the winner of OK/UGA stomps Clemson after they blast Bama. I want it to look as if the committee made a mistake in the #4 slot.
Does it truly "open up" the playbook? It's not cut and dry but essentially playing Haskins adds some passing plays and removes some running plays such as the zone read and RPO.
I logged in to +1 this comment, that's funny stuff there.
I'm not sure who DVed you but here's a +1 to make up for it.
But I guess it comes down to is that feeling REALLY worth $300+ in tickets plus parking plus $8 beers plus lines getting in and out?
That sums it up pretty well.
I would agree the atmosphere is something special to be there during pre-game and the excitement right when the ball is first kicked off.
For me it lasts longer than pre-game and the first kickoff. In any case, enjoy the game and Go Bucks!
Watching from home is the superior experience by far.
Hey BB,
I respectfully disagree. Though everything you said is true (and I truly enjoy watching from home with my giant projector in the man cave, beer and clean bathroom with no line about 20 feet away, etc.) there is nothing that can replace the atmosphere of being in The Shoe. There is electricity in the air along with enthusiasm and excitement from 100K+ fans. I don't get that from watching on television. And the explosions that took place in The Shoe at games such as UM last year and PSU this year were truly remarkable and not something that comes through the airwaves or cable or whatever. Add to that TBDITL and there's no comparison; I'll take live and in-person over televised every day and 2X on Saturday. Plus, I really like $9 beers.
Go Bucks! Beat MSU!
My view:
12:00 start - Leave for the stadium @ 7:30 (ouch), set up complete by 8:00, begin drinking, put away complete by 11:30, head into the stadium. 3.5 hours of drinking.
3:30 start - Leave for the stadium @ 9:00 (easier), set up complete by 9:30, begin drinking, put away complete by 3:00, head into the stadium. 5.5 hours of drinking.
8:00 start - Leave for the stadium @ 12:00 (easiest), set up complete by 12:30, begin drinking, put away complete by 7:30, head into the stadium. 7.0 hours of drinking.
Clearly 8:00>3:30>12:00. Case closed.
Didn't Bosa make a similar play vs. Michigan in 2014? Strip sack then Darron Lee to the house.
I was going to post the exact same opinion...
...and the heat come round & busted me for smiling on a cloudy day. - One of my favorite GD lyrics.
Dead & Co. played The Other One on July 1st and rocked it.
Reading the comments is a waste of time.
Commenting is a waste of time.
Ironic, isn't it?
Yes, that's awesome! I have 5 other best friends so I'm really looking forward to a 6th.
FIVE THINGS NOVEMBER 25TH​


The last time the program played on this date was 1995. No. 2 Ohio State lost to No. 12 Michigan 31-23 in Ann Arbor.
The Buckeyes have lost the last three games played on Nov. 25.
Confession: My birthday is November 25th. However, there is no way that has anything to do with it.
What are the chances that UFM has multiple #s and there is staff in place that does all the texting? We all know that the social media activity is done be the staff, why not the texts?
I'm fortunate enough to have tickets to the show Saturday at Wrigley Field. The final stop of the tour!