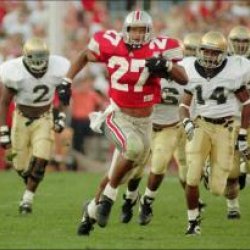 Furious George 27
---
Member since 02 July 2013 | Blog
Favorites
SPORTS MOMENT: 2002 OSU NCG
NFL TEAM: Browns
NHL TEAM: Blue Jackets
MLB TEAM: Cincinnati Reds
Recent Activity
Pretty much if you don't give a sample it's dropped.
McMurphys original story was false and he did not acknowledge that it was it was wrong. He changed it without posting edits. He silently changed it. Seems BS to hold Meyer accountable for a false story posted.
Meyer already admitted to reporting, thought the issue was October 2015. Not what CS & ZS texted each other. Meyer can only control what he knows
Yeah, that's pretty annoying. Come to media days to talk football, someone asks about 2015 and someone not prepared to talk about it misspeaks. You'd think the world was ending.
What are they going to say? The coach reported what he knew and didn't fire someone when the police found the evidence not sufficient to arrest or prosecute. He allowed due process to run its course.
Devils Advocate is what did he know? It's easy to say Smith is a PoS by what we know now. Families getting divorced are an ugly affair that 3rd parties are best to steer clear of. I'm not going to crucify Urban for not doing more, because we don't know what this relationship was between the Smith's. It may be feasible to say that they were two toxic people that should have never been married. How do you approach a situation where one denies wrong doing, and the other refuses to press charges and when asked says "everything is fine"? We're playing judge, jury and executioner with limited knowledge. If he gets fired, fine. Let it be because OSU did an open investigation and found more wrong doing over making a knee jerk reaction because people are upset about a story published 24hours ago. As you said divorces are contentious and it gets especially nasty when children are involved. This wouldn't be the first time people have been dragged through the mud by the other. Just allow everything to play out in the courts as it should have happened in 2015
These are all police reports, what is Meyer telling them they don't already know?
The point is in the greatest team rankings that ranks a team that went 14-0 and beat a defending champion that was I believe 24-0 coming in with all the NFL talent gets last place seriously devalued the team that went 14-0 and beat the team with all nfl talent. The list is basically not giving credit to the team. Again what's the criteria? College accomplishments because that team did it. If it was about nfl talent ok, but it wasn't the worst. Quit being butt hurt mark may
You agree with their rankings which is based on what exactly? Alabama/LSU was the Worst NCG ever. You have a division runner up, have a rematch against a team that already played them. USC was more deserving based on talent and actually winning their conference. That fact makes this list nothing more than opinion garbage. Just admit you're Mark May with a troll account, you're literally defending the indefensible with watching all the games comment. Lol
Who said conspiracy, I said they made their analysts look like asses. I seem to remember the predominant analysis was OSU would get destroyed due to Miami's vastly superior speed. That's great that teams are fast, OSU also had a very physical team, and fast skill players. The Big 10 was also a lot tougher than the Big East. If lazy analysis is what you like, then I see why you love ESPN so much. What exactly is the criteria for the list? Is it combined players, is it the in game drama, the David vs Goliath aspect? It's a very random scale. The ending from 2002 is still a heated debate. Quite frankly if you're not giving a team at least top 10 for beating a defending champion that was 24-0 then it's a joke list. A great team doesn't have to have nothing but all stars. OSU found every way to win and went undefeated which is more than most ahead of them. Even 2014 was much better than they're ranking. It was a team that lost 2 QBs en route to the first CFP title. All that ESPN did was compile a list with basically zero consistency in evaluating teams.
Nah, you've always been an ESPN apologist. Does it surprise me that ESPN would rank OSU that low? Not really, OSU basically made everyone of their analysts look like asses giving them no chance. I consider this 16yrs of trying to justify a wrong prediction by saying they were a boring team with less talent.
Many people outside of Bama put an asterisk next to two championships won without even winning their division. The flaw would be believing teams are unbeatable. OSU lived on the edge all season, but they still had a great team that knew how to win many ways. Miami was clearly a team that hadn't played anyone close to OSU's caliber to simply out talent them.
Most highlights are due to defensive breakdown downs..... A normal play is not a highlight, extending a play is always going to have someone getting open. See Aaron Rodgers for an example. The difference will be how they prepare as a QB in the pros. I don't know how Mayfield will turn out, but even their college game was different. I didn't see mayfield throwing a lot of jump balls. It's kind of lazy to say they're the same.
I like Mayfield, he's been completely professional since being drafted and he's a project of his own hard work from being a two time walk on. If you think that is what Manziel was, then you you totally forgot what he was
Don't you have to be on the team before you say they lied to you about playing?
My point was OSU always had all of that, a great OL, RB and good WRs. They limited it by running a RPO under JT. His arm was not accurate enough to hit the deep ball, so he couldn't even get it to a 50/50 ball consistently. Teams didn't have film on Jones, however that doesn't necessarily mean they couldn't shut him down. The biggest thing Jones did was take off running when his 1st read wasn't there. He killed Bama really by pulling the ball down in certain situations. A strong armed QB can get the ball down field to give a WR a chance to make a 50/50 ball, removing a QB run will put the ball in the hands better runners. JT was a great athlete, but was limited as a QB. Why force someone to run when he's not remotely as good of a runner as Zeke, why force someone to throw deep when they cannot throw deep accurately? OSU would have been better off handing the ball off and concentrating on short passing with an occasional deep ball. They forced JT to do something he wasn't great at. Keep in mind his best year included a bunch of touch passes that were no more than hand offs that go down as passing TDs. The problem with Jones was they forced him to run JTs offense in 2015. I'm hoping they don't force an offense on a QB that doesn't play to their strengths and the strengths of the team
Lol, Jones' mediocre numbers.... 60.9% 860yds 7TDs & Ints. That's primarily playing against Wisconsin, Bama & Oregon after he spent the majority of the season on the sideslines. Zeke exploded because there was no longer a QB taking 10-15 carries away. It's funny how this elite WR and OL play emerged out of nowhere considering it had been there all year. OSU basically simplified an offense and was much better for it because it took away the predictablility that was there under JT. They allowed a Stud RB be the stud. Allowed the QB keep the play book simple against 3 top 5 teams and forced the Opposing D to respect the pass instead of cheat up on the line. I'm actually hoping to get away from the RPO. OSU has two RBs that can carry a team alone, a QB that is a pro style QB that should focus solely on passing.
The Browns lost 6 games last year by 6 points or less and they were dog poo. The optimist in me says Tyrod with Landry, Njoku a Clean Gordon and Calloway. Can win 6 with an improved secondary
Agreeing that mock drafts are 99% wrong, SF was poised to take him at 9. They weren't trading with the Browns. Trading back works as long as your guy is still there.
Browns need DB help, and OSU is DB U. No guarantee he's there if you trade back. Garrett and Ogbah are good. Take what you need
Comparing two vastly different rosters and saying one manager is better than the other is not fair to Price. Dusty has been given great teams to work with and has come away with nothing.
Dusty had World Series talent that were picked to win it all in one of the years he was there, that's what was disappointing about Dusty. He was always out managed by teams with equal talent.