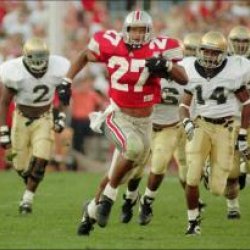 Furious George 27
---
MEMBER SINCE July 02, 2013
Favorites
SPORTS MOMENT: 2002 OSU NCG
NFL TEAM: Browns
NHL TEAM: Blue Jackets
MLB TEAM: Cincinnati Reds
Recent Activity
I'd also say convincing a former 5* QB recruit to transfer is also a part recruiting.
One of the big reasons why Meyer hires coaches is based on their ability to recruit. So I doubt you're knee-jerk reaction is an accurate portrayal of his ability. The negative on Day is he's an unknown coach and the D was utter garbage last season. Every established program will use that to negatively recruit against OSU when it comes to elite prospects. Day just needs to win. As long as his offense is still dominating and the D turns around he'll do that. For perspective, Dabo was a relative unknown and didn't really turn Clemson into the power it is until 2015 and he's been there since 2008.
And here we are navigating the new frontier of the transfer portal. Welcome Gunnar Hoak
Look fucktard you clearly don't understand. You asked why people don't like Cincinnati. I gave you multiple examples and you argued against the facts I presented. I don't care if you agree with the Cincinnati tourism board I was stating a fact of your city douche bag. I'd ask you how dumb are you, but you've proven to be retarded.
Like it or not, this is why he left to prepare to be the top pick in the draft.
The pieces in the machine last year was a terrible defense. Probably one of the worst defenses I've ever seen in my life at age 40. I never said JT was not a good leader. But I think after last year we can admit he was not the best QB on the team. Again I pointed to the fact that Jones was a better deep threat QB than JT in the championship stretch which opened up Zeke to run wild. We followed that up with trying to make Jones a read option QB which failed. For as great of a coach Meyer was he was reluctant to change his offense to fit a QB that didn't run what he wanted. Keep in mind, UF had a history of losing games they shouldn't of as OSU did because the offense was what it was. At some point everyone figures out the game plan. We as OSU fans knew what the game plan was under JT. Talent alone we should win 90% of our games.
Exactly, Jones forced teams to respect the deep ball and nobody could stop OSU. The next season they tried to force Jones to run the read option which failed. I think Day did a great job preparing Haskins to run an offense completely different than the one he waited behind.
Perhaps he shouldn't have played because he had a bad knee. Maybe we should place the criticism on the Coach. A healthy Haskins for a little over a qtr was far more efficient than an injured JT in nearly 3 qtrs. I was also not a fan of starting him against Wisconsin after less than a week having minor surgery. The last 3 games were definitely games that should have been blowouts had a healthy QB had been playing. I didn't understand the reluctance to use Haskins or any QB when JT was hurting. Cardale proved the offense was dynamic once the deep threat was established, and Haskins shattered passing records in 1 season. I appreciate JT, but he was not the best passing QB on the team. I feel like there was some wasted opportunities running the same plays over and over because of what our offense was limited to.
So this is fake?
look douche nozzle you asked why people may not care for Cincinnati. I gave you a pretty good reason why people may not. Never questioned your OSU allegiance, just stating a fact as a city as a whole. It doesn't really follow OSU in sports and that's that's fine. So how bout you quit crying about an answer you don't like to a question you asked.
Calm your tits guy. You're all butt hurt that "northern Ohioans" are not that into Cincinnati. I'm a reds fan, I'm not making shit up about the Cincinnati USA ads. I really don't care who the Cincinnati fanboys root for. Just stating a fact that most gravitate towards UK for Basketball, ND for Football and Cincinnati which is fine. It's not like the city really follows OSU and that's fine. So quit crying about it, if you wanna find a dbag look in the mirror.
I think when the Cincinnati board of tourism calls themselves Cincinnati USA in their ads, that's them saying they're not really apart of Ohio. And we'll gladly let you be, as you said it's geography. More follow UK, UC & ND combined than OSU. That's fine. The rest of Ohio will let Cincinnati do their own thing since the rest of the state has little in common with them sports wise
Was Baker Mayfield operating a vehicle intoxicated or caught running again? I seem to remember a few OSU players get disorderly conduct at the bogey inn and basically get punished during practice. But sure running and a DUI that could have resulted into injuring other people are totally the same thing
He had an excellent season with the only real weapon on offense being Landry and only playing 13 games. 5 of which he was hamstrung by Haley and Jackson's ineptitude. You set a record with Rookie and 2nd year players along with a brand new OC..... You're pretty special, the team is pretty special and they just added a legit elite WR and good defensive pices on the DL.
Why would a self respecting buckeye fan be more mad about a player who showed up and lit us up than at the horrible defense on display by OSU? If you don't want people to plant a flag, don't get your ass beat.
I've seen MSU do it, I've seen a few teams do it actually
OSU fans complain all the time when Cowherd makes his typical troll comments. Also it wasn't his ego, he was calling out cowherd who said OBJ didn't want to be in Cleveland. I think Mayfield has a right to call him out, he feeds of the doubters.
Ward was drafted because they figured Garrett was within a step of making a sack at least 5-6 times. Clearly Ward paid off as Garrett set the Browns record for sacks. Ogbah disappointingly didn't make an impact despite Garrett drawing attention on the opposite side. As far as a rotational DE you have Zettle and Thomas as your depth DE currently on the roster behind Vernon.
With everyone that's left the Ravens D, I find it hard to believe they are still a contender for the North.
This might be the dumbest fucking statement made. The Giants decline has been terrible coaching followed by inconsistent QB play. Not because of OBJ, he is no different from most top WRs having egos, so please don't make believe he's the only WR out there like that. Sorry dude that was flat out stupid on your part.
You do realize he missed two seasons due to injury right? 2015 & 2016....Saying someone is good to go doesn't mean they're not suceptiple to re-injury which I believe was the point of the OSU medical staff saying he has a high likelihood of re-injury
Lol why, because he ran a 4.31 on an 8-5 team? What makes you believe his talents wouldn't have been wasted this past season? Good lord most people say the combine is a glorified track meet and then buy into the hype of a guy running a 4.3. I'm not against the guy, but the best thing that happened to him was going to Auburn as OSU continually recruited elite CBs that weren't dealing with injury issues.
Are we really comparing OSU and Auburn? Dean out two seasons due to injury in 2015 & 2016. How buried do you think he would have been with the talent of Lattimore and Ward moving up among others. Auburn is not on the same level and wasn't a full time starter till last season. Congrats to him for sticking with it, but not sure he could have cracked the starting lineup at OSU. The medical hardship was probably the best thing that happened to him
I never had a problem with him planting a flag. He's not the first person to do it and he won't be the last. If you don't want it to happen don't get beat. As you want to critique Browns fans it's really humorous that the only people calling it immature are OSU fans that That should have felt more disrespected by the LB play that night. OU felt disrespected the year before. Suck it up and play the game. They did and he backed it up.