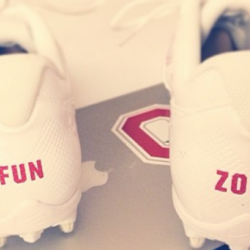 FunZone
---
Cbus (via Cincinnati)
MEMBER SINCE August 12, 2014
OSU '14
Rutgers '16
5 years in TBDBITL

Favorites
SPORTS MOMENT: Hugging my dad when Vince Young found the end zone on 4th and 5.

Beating Iowa to go to the Rose Bowl my rookie year.

Attending the 2015 Sugar Bowl

COLLEGE FOOTBALL PLAYER: Major Applewhite/Vonn Bell
COLLEGE BASKETBALL PLAYER: Deshaun Thomas
NFL TEAM: Dallas Cowboys
NHL TEAM: CBJ
NBA TEAM: San Antonio Spurs
SOCCER TEAM: Newcastle
Recent Activity
Exactly. Urban's way more Johnson than Switzer. This is why it A. won't happen or B. won't work.
I believe it is asking you to pay $360 for the right to purchase tickets at face value. I'd skip this one.
Why the fuck would you listen to Clay Travis
The Iron Bowl is probably the most intense intrastate rivalry but the best rivalries are interstate, in my humble opinion.
I've paid between $60-70/mo for decent at&t internet the last 4 years
Sorry that a Doctor from California whose job was to grow the medical center isn't as big a fan of the local team as you are
For reference, we allocated 90.71 points to Michigan on knowrivalry.com
Since it's senior day, try to be in your seat by 11:30 to catch ramp, script and the introductions
If the program ever consistently fields a .500 team, that stadium will be rocking
Michigan could be scary if they ever get a QB like the one Illinois has...
Well, I hope she flew coach on Spirit
That is the case but I'm not sure if you have to be a season ticket holder to rent them. Those are the ones with seatbacks though. Ohio Staters sells the but cushions in a few booths outside the stadium.
Can't believe you have the cheerleaders in over the band. This is why we need an expanded playoff
Thank you for bringing us along on your journey of discovery. +1
Chase Young for Heisman #CJK5H
Damnit, this only encourages them!
Thank you for linking. My search for "black serval" yielded no returns and I thought you had used your MOD powers to scrub the evidence before the DOA comes knocking.
Yup
Duron Carter also never saw a patch of pavement he couldn't park on