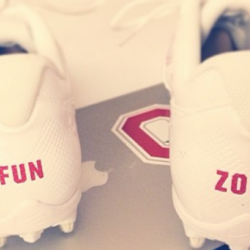 FunZone
---
Cbus (via Cincinnati)
MEMBER SINCE August 12, 2014
OSU '14
Rutgers '16
5 years in TBDBITL

Favorites
SPORTS MOMENT: Hugging my dad when Vince Young found the end zone on 4th and 5.

Beating Iowa to go to the Rose Bowl my rookie year.

Attending the 2015 Sugar Bowl

COLLEGE FOOTBALL PLAYER: Major Applewhite/Vonn Bell
COLLEGE BASKETBALL PLAYER: Deshaun Thomas
NFL TEAM: Dallas Cowboys
NHL TEAM: CBJ
NBA TEAM: San Antonio Spurs
SOCCER TEAM: Newcastle
Recent Activity
Yup
Duron Carter also never saw a patch of pavement he couldn't park on
Urban knew that in order to motivate his guys to win another championship, he would have to resign, become a studio analyst and pick against them.
Next level psychology, people- the kind only undergrad psych majors from UC can even begin to comprehend.
If the car had #1 painted on it's roof and sides, then it would still be the #1. Joking aside, I like your boxing comparison
And neither opponent has a bye week before facing the Bucks. Time to take full advantage
Would love to see this for The Game
LSU
Ohio State
Alabama
Georgia
Clemson
Oklahoma
Notre Dame
Wisconsin
Penn State
Auburn
If Texas had a healthy secondary, they'd be #10.
That's not a fair comparison. If Justin Fields' gif coach would let him take some chances and open up playbook, I think he'd be just a good as Barf
1-9? Gonna have to start calling you Clay Travis
Not a shame they were left out. They looked like ass the entire season minus six or seven quarters of football in the last two games.
284
As native of Greater Cincinnati, this has been the perfect off-season series. You are the man, Remy!
Stop the presses!
I think it'll still be a few years before you see an esports "#BOOM" on our front page, but at this rate, it's gonna happen. And y'all are going to click on it.
Me: No, I won't!
Narrator: He will.
Another scarlet out against a team with red as one of its top colors. Who the hell makes these decisions?
I believe they're still in the GMC. West appeared in the 70s. I expect Princeton and Colerain are still to come. Maybe Fairfield and old Lakota?
Bearcat Matt has a point. UC @ OSU is more intriguing than two, maybe three of the other non-conference matchups.
I'd be interested to hear that for sure. A lot of people drag FOX's major coverage but their pro tracer is normally reliable, they've got mics EVERYWHERE, and they have a wall-to-wall broadcast. It's great not having to use an underdeveloped app (PGA) to stream or wait until 3pm for a full broadcast (Masters).
Nevermind, I see that you said "will be."
Logged in to upvote and call attention to your very, very important comment
FYI, two separate situations can both be super shitty.
:(
Are they sure they didn't mean to tweet this 12 days ago?
Sounds like we're in the same boat. Here's my short list:
Ask for help (and be so proud of yourself when you do this)
Feel all of your feelings
Therapy- talk, pharma, whatever- requires patience and persistence
Find a new or forgotten hobby, set an easy goal, and then achieve it
Get offline and get outside
Feel free to shoot me an email if you have questions. I'm always happy to listen, share, and compare. Good luck and Go Bucks!