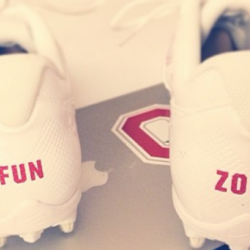 FunZone
---
Cbus (via Cincinnati)
MEMBER SINCE August 12, 2014
OSU '14
Rutgers '16
5 years in TBDBITL

Favorites
SPORTS MOMENT: Hugging my dad when Vince Young found the end zone on 4th and 5.

Beating Iowa to go to the Rose Bowl my rookie year.

Attending the 2015 Sugar Bowl

COLLEGE FOOTBALL PLAYER: Major Applewhite/Vonn Bell
COLLEGE BASKETBALL PLAYER: Deshaun Thomas
NFL TEAM: Dallas Cowboys
NHL TEAM: CBJ
NBA TEAM: San Antonio Spurs
SOCCER TEAM: Newcastle
Recent Activity
Just like coaches switch schools and leagues to maximize paychecks.
*let's not pretend this dude couldn't recruit His ability to develop talent was always heavily questioned throughout his tenure at Ohio State.
Here's to silver linings!
It's kind of terrifying if you think about the success Ohio State's had at developing wide receivers the past few years (shoutout to Brian Hartline)
And a big fuck you to Zach Smith
This is the correct order
They're #3 in goals against and are also ranked low in goals for. They represent B1G country very well
That is a nice, hot offseason take! However, I can't even retrospectively trust that 2015 team with all that has come out about the coaching staff. I also don't want to let them off of the hook by saying the season was lost because of an October game in which Ohio State didn't even play.
My reasoning for the punt fumble being #1 is that Michigan has a much more disrespectful attitude towards MSU and they'll have to see that play every single time those two teams play for the rest of their lives. The games against Ohio State? Just more chapters in the book of what they perceive to be a more balanced rivalry.
Medium Take: the Sparty play should be #1
It's a fair question. Don't be an asshole, Chris
Look what you've done
Torts droppin bombs might just be the medicine I need right now
Because Earth is a giant infinity pool, duh
WiFi was great. All of my texts sent immediately so I'm assuming I received all texts immediately too. The only thing preventing me from keeping up with other scores was my cold hands. I never noticed the DJ, even as a cantankerous band alum.
Who hurt you?
Exactly. Urban's way more Johnson than Switzer. This is why it A. won't happen or B. won't work.
I believe it is asking you to pay $360 for the right to purchase tickets at face value. I'd skip this one.
Why the fuck would you listen to Clay Travis
The Iron Bowl is probably the most intense intrastate rivalry but the best rivalries are interstate, in my humble opinion.
I've paid between $60-70/mo for decent at&t internet the last 4 years
Sorry that a Doctor from California whose job was to grow the medical center isn't as big a fan of the local team as you are
For reference, we allocated 90.71 points to Michigan on knowrivalry.com