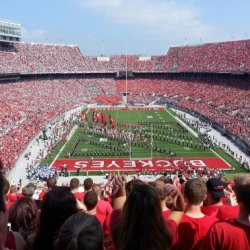 funtubs
---
MEMBER SINCE June 10, 2014
Recent Activity
Does anyone else not like these types of highlight videos? In more than half of those clips all I see is part of a tackle. I'd much rather see the whole play from an angle where I can see the blocks, throws, catches, coverages, pressure, and tackles all in one shot.
Did Tressel teach every class? Urban only teaches one day and the assistant coaches all teach a class too
Hey I'm in that picture on the left side! That was class this morning. Thankfully I know better than to wear blue in the WHAC.
Herman is still a member of MENSA
Can anybody tell what Urban is saying in the final video?
Does VT have someone else suspended?
My first college football game was in Beaver Stadium. It was very meh since I was in the nosebleeds behind the endzone. Then I took a trip to Ohio Stadium in the nosebleeds and realized how much better the experience was.
Maybe that's why Illinois is struggling. Their playcalling is terrible.
"Corners, just run as far away from the line of scrimmage as you can. Don't bother to watch the receivers."
Joshua Perry has an HTC One M8, that isn't an iPhone
They should be working on getting us fans another championship
What kind of school normally holds classes on Labor Day?
Virginia Tech is un-American
Since I can't get the imbed to work: http://i.imgur.com/TnMdYhE.gifv
That gif is about 50 frames, so really it's 50,000 words
Evan Spencer wasn't unsung. Urban said multiple times last year that he was the team's MVP.
1) We are currently sitting at 85 scholarships exactly according to 11W.
http://www.elevenwarriors.com/ohio-state-football/scholarship-grid
2) Enrolling early only matters if we plan on taking more than 25 guys in a year, then they count towards the previous year. Otherwise enrolling early does nothing to the scholarship count.
3) We realistically will lose 18-20 players to graduation/NFL so that is the max that we can enroll next year.
The ESPYs are a popularity contest and right now, even though there's a lot of OSU fans, the Buckeyes are very unpopular so I'm not surprised we didn't win any.
Hold up.... Where did the Playoff Championship trophy cake go? I swear I saw that on this page.
Having lived in SE PA for most of my life, Jersey basically boils down to boring or dangerous suburbs, the beaches, and a whole lot of nothing in between.
Best Twitterverse yet!
Good stuff Kevin
Not sure where to say this so I'll put it here.
I was driving home last night on I-76 near the Ohio-PA border and came behind a black Lexus with the license plate Devin9. I drove up next to it to see if it was Devin Smith but I couldn't see through the tinted windows. He was heading the right way towards Massillon, around where I live, but he wasn't coming from New York, or he would have used I-80. I was going to wave at him but I wanted to make sure it was him first but I lost him in traffic. Anybody think it was Devin?
Wait, there's a Dragon Ball and a Dragon Ball Z?
I haven't had any bad experiences with Maryland fans either, but from what I've heard, pretty much every ACC team hates them because of their fans