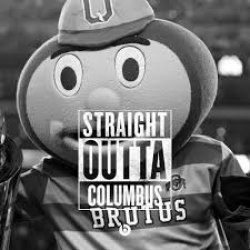 FTWinfrey08
---
MEMBER SINCE September 01, 2014
Recent Activity
*Buckeye Scoop has entered the chat*
Who cares how he talks if he's still able to get a lot of info out of whoever he's interviewing.
Edit...Whoops, mentioned below.
I wasn't correcting you lol. Just giving an update.
Deaths have already started to climb. Over 30% increase this week vs last.
Good point. A friend of mine recovered, is off the ventilator and was able to go home after a period of rehabilitation but is no where near 100%. Still can't walk and needs to be on dialysis and OT for the foreseeable future.
Think there must be a delay with the WHO site. I used this site for 7/7. https://www.worldometers.info/coronavirus/country/us/

You are dividing 8% by 0.004 to get the 2000x. Turn the 0.004 into a percent or the 8% into a number before you divide. I get why you chose 4/17 (Friday) but it's still best to compare a Friday with a Friday because of how deaths are reported.
I agree there needs to be more talk than just case count. Death rate is no doubt falling, however not anywhere close to the rate you list up above. The death rate trails more than a week (more like 2-3 weeks), especially since testing is being done more proactively. Also 4/24 was a Friday, 7/6 was a Monday. Mondays always have very low death numbers due to weekend lag and the holiday compounds this more. For example, see #s after Memorial Day and Easter and how deaths on 7/7 are back near 1000. Lastly, you forgot to multiply by 100 for the calculation of 6/30 CFR, its 0.4% by your numbers not 0.004%.
Dave Lackford talks about it here. 3* DB:
https://ohiostate.forums.rivals.com/threads/the-2021-class-is-about-to-lose-a-commit.107005/
Yes insane is the correct word. I'm thinking about the leap I took athletically from start of my sophomore year to senior year. Significant difference. 2018 is a long time to pass when evaluating developing kids, what does that have to do with ranking changes made this week? They can say his athleticism doesn't stand out on film but to use two year old testing figures as a reason is more than reaching.
The shuttle time 247 lists for Harrison is from 2018 testing and is insane to use as a basis for ranking. Harrison's junior year film showed a significantly more explosive athlete than his sophomore film.
NPF is in the whole second half here and outperforms D. Jones who everyone is high on. Physically he's becoming the prototypical tackle. Just needs experience.
Time will tell. Difference is Carman arrived at Clemson weighing 340lbs and NPF well under 300 and needed time to develop physically. I think both will eventually be first round picks.
247 names their OLineU:
https://247sports.com/LongFormArticle/College-football-teams-best-offensive-linemen-148182028/
Don't worry we will be out poaching too.
What's wrong with his thoughts on Hancock?
Just my opinion: Ohio State degree is more valuable than one from Bama. Vastly superior alumni network. Better environment for a black student athlete. Better strength and conditioning - they just lost their head guy and Marotti is best in the game. Proximity to home. Air conditioning.
I personally would love to have Wolfe in the class.
AE, is the Wolfe tending to Tenn a real thing or a we need a second school thing?
He said the Alabama pick was the real pick based on some convos and a gut feeling. Clemson was a troll pick made early on.
+10000 nothing but toxicity comes with Nevada.
I've defended Nevada in the past. Over the last year or so my tune has changed. He's a whole butthole and his insider knowledge has dried up.
There's also the baseball factor that's giving those two schools confidence.
The cameraman needs to clean his sensor.