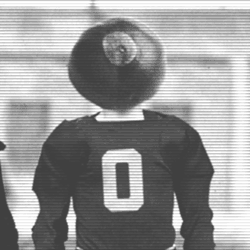 frustratedbuckeye
---
Member since 29 February 2012 | Blog
Favorites
NFL TEAM: Browns
NHL TEAM: Bluejackets
NBA TEAM: Celtics
MLB TEAM: Reds
SOCCER TEAM: Crew
Recent Activity
I wouldn't complain. We likely wouldn't beat Bama without Thomas one footer.
I'm in the just makes me sad camp. Could you imagine if the football program had to release a video ten years after losing in a national championship game to try to keep us interested?
It also underscores that if you don't have the recruits, good luck with that. Saw a stat the other day that the only top ten recruit in the entire Big Ten the last ten years was Sullinger. Think there is some relationship between that and no Nattys?
Oden would have been on the bench injured. We were lucky to get what we got.
First order of business is for either Price or Prince change their name. It's too confusing when criticizing them ;)
Are batted passes an official record? If so add it to JT's list.
Hey at least the Bluejackets are winning
Weber averaging 9 per carry? Fuck that lets run JT or throw into the turf
It's cold. Can't we just go home coach?
I HATE going to the well 3 in a row. Jesus. Change it up.
More uninterested than slow
We are witnessing why Cardale started last year
Am I on the wrong channel? Why are they replaying MSU game from last year?
Too much talk about how good this team and they are believing it. No fire. Piss poor execution.
They rushing to avoid JT running and force throws over the middle.
Michigan State is vulnerable to downfield passing.....sigh
Penn state is already penn stating.
Start the arguments. Best to lose early. Who has a better loss? Ohio State or Bama or ND? Not making the championship game will be the death knell.
Wow. Nice to see the team playing angry. Matters for shit overall. Bittersweet.
D is worthless today. I edit that. Pass D is worthless
Nice play Bosa. How about a holding call once in a while Zebras?