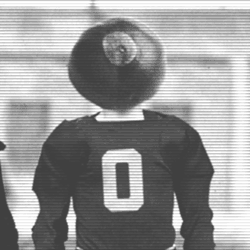 Frankmcdee
---
from Swanton Ohio
Member since 18 August 2014 | Blog
Favorites
SPORTS MOMENT: Ohio State wins the National Championship over Miami
COLLEGE FOOTBALL PLAYER: Eddie George, Troy Smith, Randy Gradishar
Recent Activity
That is crazy when presented like that..
I think some of what Barkley says is rooted in truth. The points that would bother me if I were Lebron were where he called him out for leaving Cleveland for Miami. The comments about wanting to compete, or battle with who he has really miss the mark because Barkley is completely being a hypocrite. He forced his way out of Philly to play with Phoenix and has admitted as much. He later forced his way from Phoenix to Houston to play with Olajuwon and Pippen. It seems Sir Charles did not wish to compete if his team had no other all stars. It is remarkable how any people forget how Barkley worked the system to bail on his clubs. Lebron never forced a trade. He fulfilled a contract he signed and signed another albeit elsewhere to play where he wanted to play and with whom he wanted to play. When that contract was up, he signed yet another to come back home. Cleveland was never going anywhere with the 21st pick in the draft every year with Lebron carrying them deep in the playoffs but without enough ammunition to win.
Although I disagree with his antics, AB is one of the top 2 or 3 WR's in the NFL. Teams will put up with his antics for as long as his value on the field outweighs the BS off of it. Chad Johnson and Randy Moss are two of the best examples of being jettisoned while their production was low. Sure they had some decent years after, and Moss even had a bit of a career resurrection. They will keep him because they want to win and their window is not closed as of yet. The Steelers are an edge rusher, a WR and a some DB's away from a super bowl and I believe, Big Ben can still get them there.
During the pre-game interview, Urban mentioned that he was confident in the game plan, coaching and all the preparation leading up to the game. At that point in time, I believe he thought they would win or, at the very least, compete well. I now believe that he didn't really realize the level of offensive woes until after the game against Clemson. There is a big difference in realizing there are things that need polish or worked up, and the realization that wholesale changes are needed.
The abject lack of an inside run presence was stunning to me last night. We have a pair of All Americans in the middle of the line, and we tried jet sweeps, and outside runs when our OT's cannot move their feet. I heard a long time ago that a good team will run their scheme, you will know its coming and you still cannot stop it. I thought we were a power inside running team.
Where can I find that jacket?
Born in Toledo, Ohio... In grade school, my backyard faced Rogers High School football stadium. Both my parents went to Waite High School. I graduated from Swanton High school in 1986. I have moved around a lot in my adult life especially after getting out of the Navy, and I currently live in Eastern Washington!
I have the opposite opinion of NutInPA. I think if Samuel is the HB and Weber is the starting RB, then a lot has gone right for the Buckeyes in the spring and we are getting two great players on the field at the same time.
I hate too that I am commenting on his behalf.... Maybe Coach B made Tom Brady instead of the other way around. Brady was hardly formidable in college and was certainly not well considered by scouts and GM's. Perhaps all his accolades as a QB are due to Coach Beli-hoody.
I think its Hardman OR Bruce at this point if either want in the class. I think King is on the hook pending Lawrence announcement much like Harrison was. I think both Fuller and Hamlin are a take if they want in the class.
I too agree that it is too early to put Curry on the all time best list. If one or two peak seasons is all that is required.. where is Johnny Moore. I think Kidd is ranked too low. I would put Gary Payton in for Walt Frazier. I am not that impressed with Chris Paul's body of work especially with the lack of championships. I think a case could be made for Allen Iverson and Tony Parker.
I hate to take the other side on this one, but there are a lot of dangerous jobs that do not compensate anywhere close to as well as professional football player. I have known of several accidents where union linemen have died on the job as well as other constuction craft related jobs. NFL players have essentially hit the genetic lottery and are being paid off for it. I have a fairly decent career, and it takes me a decade to make a million dollars or about 5 years to make the league minimum. There are risk in everything, including driving to work in the morning, sign me up for the fame and riches instead of this cube farm lifestyle.
Doug's mother is a retired school teacher in central PA. She taught kindergarten to 4 of my children. She is the absolute nicest lady, but her son is an ass hat. He is the Bill Walton of Ohio State Football coverage.
Roll out pass run option... to Nick Vannett for 5-6 yards
I logged in and waited in line electronically for a pair. Twice I got my shoes to my "cart" and there was an error with checking out to pay for them. Back in line for the third time, and 10 minutes later I get the out of stock popup. Of course the customer service department knows this happens, but cannot do anything about it. As soon as I gave up, I checked ebay and they are selling for double the price.
I wear my Ohio State Zubas for every game I watch from home along with my buckeye necklace. I tell my kids they can wear blue or yellow, but not blue and yellow at the same time. My kids usually wear their jerseys to school on the friday before games.
Andrew Norwell is certainly paying off for Carolina as an undrafted free agent.
If Troy Smith's 3-0 record vs. TTUN is impressive, perhaps we should include the only other Ohio State QB to achieve the same feat. I present to you: Tippy Dye. Ohio State greatness did not start in the 70's, nor did their passion for playing against and beating TTUN.
Are we brothers?? I come from a dinky town where I was hot shit, and found I was big fish in a smal small pond.
I guess it's a regret of sorts. I did'nt always treat women the best of ways. I have never struck a woman or caused intentional harm, but I viewed them as sort of temporary play things until I met my wife. I do not know what seperated her from the rest, but I am sure I had some girlfriends that were way more invested than me and I ended up hurting them. I am also 100% sure that my actions have directly resulted in me having all daughters. :(