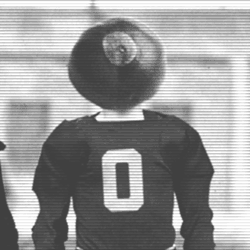 FortMeyer
---
MEMBER SINCE January 31, 2012
Recent Activity
Nice sentence structuring there FortMeyer. Dumb a whatass.
He is being touted as one of the best EVER to come out of OSU. That's saying something. He will be top a 5 pick.
They act like the long grass will only make OSU slower. They sure are dumb at Northwestern...
They should put Stanley in front of Iowa's stadium on a pedestal. He made a great statue in the pocket all day. They should be sure to take his cement shoes off first.
Iowa runners are like I've never seen from them. None are dynamic and they run timidly.
Watching Iowa is like watching a team playing with cement shoes. They are not good.
It would all be good until after taking another job Urban would begin signing 5 star recruits that would otherwise be linked to come to OSU. It would not end nicely.
Picked by most sportswriters to win the Big Ten...
They can give them an extra week to heal up. Not needed this week. Hope they can all play soon.
Yep. It all matters in time. Positioning throughout the year in the polls matter now.
Like I said in the coaches poll comments Herbstreit will soon be campaigning for three SEC teams in the playoffs.
Herbstreit will be campaigning for three SEC teams in the playoffs here soon.
Yeah that is something I simply will not stand for either!
Harbaugh has historically taken the low road on several occasions. Why would this be any different?
They are now crystal balls o'plenty for Knighton to FSU. The visit must have been a good one.
Just another preseason with TTUN winning all their upcoming games and getting all the headlines. The greatest joy is knowing they will shit the bed at some point while also losing to OSU as we then listen to the annual season ending excuses afterward. BUT YOU JUST WAIT...NEXT YEAR WILL BE THEIR YEAR!
Jameson Williams will be taking many crossing route catches for TDs in his career. Then taking many deep shots for TDs as he is the next OSU burner. It seems like there is always that one guy that can just terrorize defenses. Defenses meet Mr. Jameson Williams.
I seem to remember plenty of TTUN players in trouble one way or another. Other schools, ttun included, get passes for the same stuff OSU gets hammered for. STFU Hairbrain.
You are right Mhennin, the Angulo guy is who it was said to watch his prediction. When he said Bijan to OSU you could bank it. Hope it all rings true.
Could very well be the postal employee info Zach Smith had that mail was in going and out going from USC to Urban?
The LSU folks are saying Elias Ricks' family is planning on relocating to Baton Rouge. Any truth to that or is that just rumor. If it is true then Ricks is simply playing the game and getting free trips.
They believe this is just a fairy tale. Never happened. Maybe one day they will get it.
That's a great gif. Welcome to the good guys Joe!
The fact is the majority of the UC players would rather be playing at OSU but were not offered. There lies the mentality they have. The fans are in basically the same boat. Live in UC country, cannot sport OSU gear without negative feedback, must root for UC. Must hate OSU because of all the mental gymnastics that has to be played.