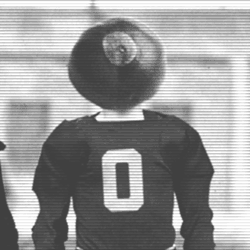 FortMeyer
---
MEMBER SINCE January 31, 2012
Recent Activity
Yeah that is something I simply will not stand for either!
Harbaugh has historically taken the low road on several occasions. Why would this be any different?
They are now crystal balls o'plenty for Knighton to FSU. The visit must have been a good one.
Just another preseason with TTUN winning all their upcoming games and getting all the headlines. The greatest joy is knowing they will shit the bed at some point while also losing to OSU as we then listen to the annual season ending excuses afterward. BUT YOU JUST WAIT...NEXT YEAR WILL BE THEIR YEAR!
Jameson Williams will be taking many crossing route catches for TDs in his career. Then taking many deep shots for TDs as he is the next OSU burner. It seems like there is always that one guy that can just terrorize defenses. Defenses meet Mr. Jameson Williams.
I seem to remember plenty of TTUN players in trouble one way or another. Other schools, ttun included, get passes for the same stuff OSU gets hammered for. STFU Hairbrain.
You are right Mhennin, the Angulo guy is who it was said to watch his prediction. When he said Bijan to OSU you could bank it. Hope it all rings true.
Could very well be the postal employee info Zach Smith had that mail was in going and out going from USC to Urban?
The LSU folks are saying Elias Ricks' family is planning on relocating to Baton Rouge. Any truth to that or is that just rumor. If it is true then Ricks is simply playing the game and getting free trips.
They believe this is just a fairy tale. Never happened. Maybe one day they will get it.
That's a great gif. Welcome to the good guys Joe!
The fact is the majority of the UC players would rather be playing at OSU but were not offered. There lies the mentality they have. The fans are in basically the same boat. Live in UC country, cannot sport OSU gear without negative feedback, must root for UC. Must hate OSU because of all the mental gymnastics that has to be played.
These lists are ridiculous. Something to write about in the downtime of a year. The 10 year old neighbor kid could make a list and put it in print. The amount of actual football acumen some of these guys have that are writing this stuff would floor us all if we actually knew. Most are based off who the writer likes and dislikes or which fanbase he is trying to please or fire up.
Lists from people that have most likely never played a second of the sport they are making lists for are what we live for....am I right?? Just like watching ESPN on a daily basis...
Pollack would change his tune if his talented ass was looking at sitting the bench for his entire college career. So Joe Burrow is afraid to compete? Sounds like sour grapes for the home team losing one of their best players. This vitriol will be coming out of his mouth time and time again this fall on Saturdays. Yeah...
Remember the Shane Morris threats of what would happen to OSU when he would play them and the other lineman that said there would be blood on the field? I cannot remember her name. How'd that turn out?
Yes but they have the Red Rocket. All you ever say when watching him play is "Wow" especially in big games. Mike Brown is very satisfied with the Red Rocket. He is awesome...
The NCAA is a bunch of stuffed suits without a brain between them making huge money to amaze and astound more with each passing day. God bless that young man and his mother.
We are starting an era where if you have a decent QB as a #2. You may not have that QB very long. Must try to find a local long time program loving type of player that is serviceable that will not leave the school he loves. Tough thing to do. This situation will cost a team at some point. Hopefully not OSU this season.
Give the starting QB the other actual starters to go along with him and it would change things dramatically. Spring games with full team rosters along with the fact of all the guys not available from injury that are usually playing sort of skews the all around view of things. All is ok.
They need to STOP TALKING about next year and just DO IT NEXT YEAR INSTEAD if they feel they can. What will they say after another trashing in 2019? Boy, I have harder, bigger badder feelings than I did last year and so on and so on and so on. After so much of it there is no point and it becomes comical. Put Partridge's coaching history against Mattison's if you want a real laugh.
Think Mattison isn't expected to be at OSU more than a couple years unless things go really well. Maybe that compensation reflects that.
He has done it before and he will do it again. Not much of an example for a coach. Makes you appreciate the OSU coaches much more.
Will forever say that was completely planned from TTUN dirtbags. Eight guys circling an opposing teams player like that doesn't just magically happen. That was a desperate football team trying anything to win the big game. The funny thing was that was what helped to inspire OSU to win the game.
He will not drop that far. QB's are too valued for teams to not take a chance on a potential gem.