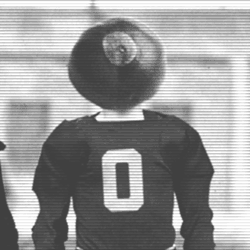 Fong
MEMBER SINCE December 29, 2014
Favorites
SPORTS MOMENT: https://www.youtube.com/watch?v=JXNz6tTp5Ng
COLLEGE FOOTBALL PLAYER: Mike Vrabel
COLLEGE BASKETBALL PLAYER: Matt Terwilliger
NFL TEAM: Yawn
NHL TEAM: Huh?
NBA TEAM: Nope
MLB TEAM: Hardly
SOCCER TEAM: LOL
Recent Activity
Wolverine Soup served on a plate ... because it doesn't belong in a bowl!
I wish this sort of luck translated into my lottery picks, lol!
Lol. Well, numbers with 70 in them have been pretty lucky for me. I already took 170, but I would suggest 70, 270 or 370 if they are available!
Well, I've ordered the 85 Yards shirt and the Brooklyn Dagger shirt with my past two wins ... I wouldn't mind getting my hands on the King Right 64 shirt so I can complete the "play diagram" set!
My suggestion to everyone? Pick something with a 70 in it. But you can't have 170 ...
Well, I think I win again.
I hope so! It looks that way based on the stats I saw. I just guessed between 500-600 yards, then added on 70 because that was my nephew's jersey number when he walked on the Ohio State football team!
Why is Brian Rolle in italics for not earning a varsity letter while wearing No. 36?
I look forward to grilling you at "Meet the Candidates Night" in the Troy Junior High School gymnasium this fall. Come strong, my friend.
While playing for Troy High School in 1956, Ferguson was a 1,000-yard rusher after the SECOND GAME of the season. He rushed for 529 yards against Kiser in the season opener and 475 the next week against Monroe.
In 2015, I secretly hoped enough defensive linemen would get hurt/suspended for my nephew to start one game. Not seriously hurt or suspended for anything major ... just one game, one start. #whoisfong
I am indeed "that Fong." Lol. I'm still in Troy, still doing the sports writer deal. Thank you for your kind words!
I know Archie's NFL career doesn't compare to many former Buckeyes, but what he accomplished on the field at OSU is enough to keep him on my list. I also add in what he's done for OSU athletics as an ambassador and administrator.
But yeah, for sure arguments could be made for his spot. I think the other three are locks at this point.
Kyle Snyder has forced me to completely rethink my entire Ohio State Mount Rushmore.
It's now (in no particular order): Archie, Jesse, Jack, Kyle
He is allowed.
https://www.washingtonpost.com/sports/colleges/college-athletes-cant-be-paid-for-their-performances--unless-theyre-olympians/2016/09/02/45ae7c36-7123-11e6-8365-b19e428a975e_story.html?utm_term=.dd9bdbc1bef3
I mean, it was on your old Twitter account, but I'd like to nominate your "Piqua has them right where they want them" Tweet at halftime of the Troy-Piqua game.
Final score: Troy 33, Piqua 0. (Mostly I'm just glad none of my bad takes made the list ... this time).
We should get a beer or 12 some time.
That rookie took it in the Butt.
(Sorry. Had to be done. Can't believe it came almost 40 comments in).
Weird at all that I got a little choked up reading this? I guess it was just so heartwarming to read of this young man's passion to be a Buckeye. Best of luck to you, sir.
Dude in the back row still rocking the "Who Is Fong?" t-shirt, lol. :)