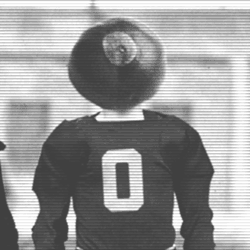 Floyd Stahl
---
Member since 05 May 2013 | Blog
Favorites
SPORTS MOMENT: January 4, 2003, of course
COLLEGE FOOTBALL PLAYER: Archie
COLLEGE BASKETBALL PLAYER: Jim Jackson, Jared Sullinger, Kelvin Ransey
NFL TEAM: Browns
NHL TEAM: CBJ
NBA TEAM: Sixers
MLB TEAM: Tribe
SOCCER TEAM: Tottenham Hotspur
Recent Activity
I don't know if I'd trust sushi from Tuscaloosa.
Kinda funny (and surprising) that they went with Rudolf on the Midwest cover over Baker Mayfield, but I guess it makes sense since they have the Pokes at #4, although that's really a stretch.
This is hilarious.
I know it's still early in the series, but so far there is a southern Ohio bias in the picks. Coincidence that the writer is from southern Ohio? I say this with all lightheartedness.
"We don't have assistant coaches, just more (future) head coaches."
What is it with Ohio State players and Dodge Chargers?
Hope this works out better than Giomi or Funderbueke.
I think it says a lot that they tried to negotiate a settlement for eight months but it didn't come to fruition. The lawsuit was the last step that Spielman wanted to take.
My thoughts exactly. I believe the quality of opponents was greater during the nineteen game streak. And Tressel did it again later.
He's obviously in his right mind. Prayers for a complete and speedy recovery.
Love it. One of my favorite Basketbucks.
I like turtles.
This is spot on.
Definitely would be happy with this. The best candidate outside the home run hires.
I love #25: Music at NBA games When do you listen to the most music? In the car? Doing yard work? During monotonous periods at your job? Sitting by the pool? Working out? Cooking? Chores? In other words, music is often played to enliven boring activities. Side note: NBA arenas play music during NBA games.
Kevin, Evan says that they come cheaper than walk-ons, so it makes me wonder if these guys get paid and if so how much, and/or if they receive any other benefits.
Impressively, the duo that won the tennis doubles national championship (DiLorenzo, Kowase) is on there.
Shouldn't Jimmy be taking his own Biblical advice: Mr. "I'm bitterly disappointed"?
Well said.
Baylor doesn't deserve our money or attention.
Who is that?
Beat TTUN.
Though the article is fake, the quote in it from Habaugh is not. "I'm not an economist, merely a blunt instrument who only knows football," he said at a recent practice.
This was an experimental stage of the NFL to try to make the game more exciting. For instance, if an extra point or field goal went over both goal posts, the kicking team would receive twice the amount of points than normal, i.e. two points for an XP and six points for a FG. Also, to encourage passing, if the QB threw a pass that went over the first goal post, i.e. it was caught between the two goal posts, the scoring team world receive nine points instead of six for the touchdown. In addition, if any player ran into the goal post and was knocked unconscious, the opposing team would receive two points. This led to strategies where teams would try to run or lead opposing players into said goal posts. This is also where the term safety and its subsequent two points was derived from.
Typical Lions, couldn't punch it in from the one yard line. Thanks for sharing, that was awesome!