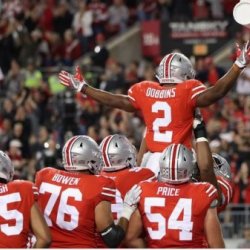 Floridabuckeye25
---
from Groveport
MEMBER SINCE November 02, 2017
I work and live in the Gainesville, FL area. I continuously defend the Buckeyes and Urban Meyer, as the sad gator fans still have a sour taste in their mouths from Urbans departure.
Favorites
SPORTS MOMENT: 2014 championship win over Oregon.
COLLEGE FOOTBALL PLAYER: JK Dobbins
COLLEGE BASKETBALL PLAYER: Jasean Tate
Recent Activity
Epic win! This team has no quit and I love it. Go buckeyes!!!
So nice to actually be able to turn my tv up at home and hear the basketbucks make some noise. I am really impressed by the job Holtmann has done in such a short period of time. The defensive intensity has been the difference, not to mention KBD being back healthy. Excited to see the rest of the season. Go Bucks!
Great win for the buckeyes today. SUCK IT SPARTY!!!
Love seeing the fight out of this team. Holtmann knows how to bring the fire out of the guys and it is great to see! Go Bucks!
Not much has changed from the past 4 years. This will be another long and frustrating year of Buckeye basketball. Outside of jasean Tate and keita bates diop, the talent is really lacking.
cj Jackson also tends to hog the ball too much. Hoping that things will turn around, just not looking very promising so far.
As long as the buckeyes stick to the running game, they should not have any problems. Looking for the Ohio state defensive line to dominate as well. Going to be a great week, Buckeye basketball against Gonzaga on Friday and the game on Saturday. Go Bucks, stomp *ichigan!
Tuff is too good not to be on the field. Dante booker has struggled all year, other than a few big plays against penn state. Tuff is an excellent tackler and exactly what this defense needs in the middle. I like Worley and baker on the outside with a rotation of Harrison when either gets tired. We will see what happens Saturday. Go Bucks!
So freaking enjoyable. Suck its sparty, go Bucks!
This will be a tough one. Hoping to see some heart and fight out of this team. Time to show that you are proud to be buckeyes. This is a talented roster, just need to bring the attitude to win these tough games. Go Bucks!
Excited to see the new basketbucks take the court. Thankful for Thad Matta and all his great accomplishments. However, all great things do have to come to an end. I am excited to see what coach Holtmann will bring to the program. Go buckeyes!
Proving the passing game has become too much of an obsession for this team. Wilson has got to be more patient with his play calling and trust the run more to open up the pass. This team is far too talented to only be scoring only 24 points against Iowa. Three 3 and outs in the third quarter is also unacceptable. I believe that a few slight changes could really help the offense. Did I mention we should RUN THE BALL more?