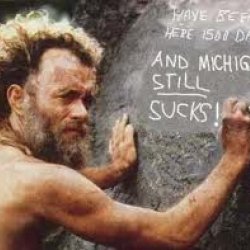 flippin_nuts
---
Oakland, CA and Boulder, CO (via Sidney, OH)
MEMBER SINCE January 21, 2015
Favorites
COLLEGE FOOTBALL PLAYER: Joe Germaine, Eddie George
NBA TEAM: Golden State Warriors
MLB TEAM: San Francisco Giants
Recent Activity
Thanks for ruining my day. The was my freshman year at Ohio State. It was awful.
What do they say about those who forget history? The day we take this game for granted, will be the day we lose. You might be there, but hopefully the team is not.
Any fan who lived through the Cooper years would never offer a guarantee. I feel pretty confident that we have the better team, but despite our recent dominance in The Game, it's still a rivalry game and anything can happen. Also throw in the fact that there's snow in the forecast for Ann Arbor and we've historically played crappy in bad weather, makes things even more unpredictable.
I almost felt bad for the Skunk Weasels for a fraction of a second until you had to bring up that Tim guy. That was my freshman year at Ohio State and it cemented my hatred of TTUN forever.
Thank you Kevin. As someone who went to Ohio State during the Cooper years, I often worry that the younglings don't understand or appreciate the importance of The Game. Thanks for reassuring me that that's not the case. Long live the Vest!
Thanks for that Chroxe extension! Love it!
This will be xy first Xichigan in person in 20 years and I'x so nervous!
If we're really honest, it's not a small part.
What is this TBT? I've only ever heard of it on elevenwarriors. Lol
No offense but Darnold has one of those faces you'd just like to punch for no reason.
This. Ok, now I know it's not just me.
I copied JT's stats, threw out the high and the low and took the average, and this is what I got. I was going to guess this, but you beat me to it. Just curious if you did that too or if you just randomly picked this number.
I think Ohio State should have a good chance in this game, but it worries me how unworried so many people are. Hopefully the team is more fired up than the fans.
Well, the colors are hideous.
Still, it's impressive how the university orchestrates 10,000 graduates getting their diploma. I don't understand how they do that.
I didn't realize how impressive this was until I left Ohio State. I've now been to three other universities after graduating from OSU, all of them were smaller than OSU, and they were all a mess. And none of them actually give you your diploma. They mail it to you later.
I think the thing we really need to root for is TCU over Oklahoma.
I'm not so sure it matters. The only way a 2-loss team gets in is if they are a conference championship, so either way either Auburn or Georgia gets eliminated. No matter what, Alabama's loss isn't going to look that bad and the committee might prefer to have 2 SEC teams who haven't faced each other than a rematch.
Thanks! I think that's why I got confused. That sucks then. Now I think the only way we get in is if Clemson loses to SC and again to Miami. And also if Alabama wins out.
Interesting note: Miami and Clemson can't both win out as they play each other the last game of the regular season. I think we have to root for Miami to beat Clemson twice to eliminate Clemson.
There are some interesting scenarios here. Clemson and Miami will have to play each other twice, once as the last game of the regular season and then there will be an immediate rematch in the ACC Championship. If Clemson wins twice, Miami will have 2 losses. Those two losses will be "quality" losses, but Miami will clearly not be the best team in the country. Do they get in? Maybe, maybe not. If Miami wins twice, Miami is definitely in and I think Clemson, with 3 losses, should be out. If they split, then maybe they both get in?
I don't know. The whole thing is crazy. If the playoffs end up 2 SEC teams and 2 ACC teams, that'll suck but it could happen.
I just moved to LA last year and was *really* hoping the Bucks would make it to the Rose Bowl. Still clinging to hope! CHAOS!
We had the Trojans (-3) at Arizona State, and while many thought this was going to be an upset special, USC handled the Wildcats with ease.
FYI, Arizona State are the Sun Devils and the University of Arizona are the Wildcats. USC beat the Sun Devils last Saturday and plays the Wildcats this Saturday. ASU and UofA are bitter rivals. Referring to ASU as the Wildcats is about as offensive as referring to OSU as the Wolverines, yet people do it all the time ... and every time, my husband, who grew up in Tucson and is a big Wildcats fan, practically jumps through the screen to strangle someone.
I was at the USC and V Tech games, but I'm staying away this year in case I'm bad luck.
That said, we should've won that USC game. This was called a touchdown even though his knee is down and ball has not crossed the line. I'm still grumpy about this. I also find it a coincidence that the author of this article refers to the "legend of Matt Barkley". There was the most annoying USC fan sitting behind me yelling, "WHO ... wants to be a legend?" for the whole game.
Apparently some people don't see a reason for this article, but that story about Lee Corso is hilarious! Also, I'll take any excuse to relive the glory of that Cal game. I live in the Bay Area and I waited 7 years for that game and it was amazing to see all the Buckeye fans represent.
Arizona is a better job both currently and long term. Anyone who says otherwise doesn't know anything about Arizona basketball. Arizona is a huge basketball school with tradition and history.
So many great memories at those places.