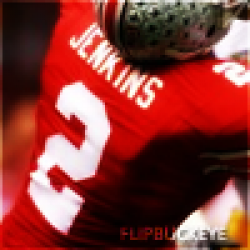 flipbuckeye
---
Cleveland, OH
MEMBER SINCE August 30, 2010
Favorites
COLLEGE FOOTBALL PLAYER: Offense - Troy Smith // Defense - Malcolm Jenkins
NBA TEAM: Cleveland Cavaliers
Recent Activity
Akron looking like Shredder.
Needs more Facebook...
Greg Oden in a friendly game of volleyball... YOU WON'T BELIEVE WHAT HE DOES NEXT...
I feel you there. We had 3 false alarms all within a week. We got tired of constantly going into L&D with all our bags packed, so one day we spent the entire day walking around outside in an attempt to induce labor, and sure enough, by the next morning it was baby time. Not sure if it was just coincidence but it's worth a shot if you're really getting impatient. Good luck!
We ain't come here to play TWITTER.
Good luck and hang in there. My wife's water broke 5:30 AM and didn't deliver until 9 AM the following day.
One more for Buckeye Nation. Say hello to Layla Belle, born March 17th, 2014.
Works like a dream so far on my Iphone 5 (Safari).
Technically 3 more weeks for my Buckeye baby to arrive, but we all have a gut feeling our baby girl to be an early enrollee. Somewhat nervous, but more excited than anything. Nursery is 95% done, car seat just arrived today and is going into the car this weekend, and we're pretty much set and just impatiently waiting.
Any sites for Buckeye gear you guys can recommend?
I can't even imagine how hard it would be to run this site and to implement a new site design on top of that, so let me just say that I appreciate everything 11W has done and continues to do, but I just have to wonder if enough beta testing was done. I think most people would eventually grow to love the changes (except maybe the super large, in your face pictures and text), but there are just so many glaring, sometimes crippling bugs that prevent a smooth experience on multiple platforms that I can't help but think it was released too soon.
The laggy, jerky comment scrolling on Safari (iOS7, iPhone 5) makes the mobile site pretty much unusable.
Another issue... here's what the hover dropdown from the top menu bar looks like in Firefox (Windows 7).
I was thinking this new look would be perfect if I had an iPad. Giant tap-able pictures to take me to my articles, large fonts for easy reading.
If it was strictly for desktop use, the layout would still be OK, but I feel like the large images and fonts could be toned down a bit.
Is it just me or is there really noticeable aliasing on the fonts? I'm on Windows 7/Chrome. When I use Firefox, it looks perfect. Maybe Chrome has always handled text that way, but with the fonts and sizes the site now uses, it is extremely noticeable.
EDIT: also... it appears that the resize tool in the image editor still doesn't work.
Click to embiggen:
11w, you had me at mobile website. You had me at mobile website.
This. He's basically admitting his team isn't very good.
Enjoy another dose of failure, Lewan.
Beth Mowins is the worst.
He did take a knee and the play was blown dead after Stave set the ball.
I'm gonna go ahead and shamelessly take credit for the video in Element #3, Exhibit A.
And I'm gonna go even further and shamelessly plug my highlight video for the Sugar Bowl vs Arkansas.
Wish I had the time to make more of these.
This is a great addition. Definitely enjoyed OHD.
11W was already at the top of the heap... this lifts them even further off the ground.
Just a great story. Dot the sh*t outta that i. Go Bucks!
Your username does not disappoint.