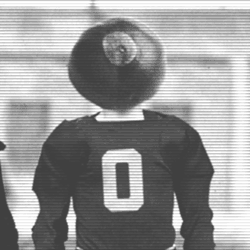 fishleehooker
---
Vandalia (via Vandalia)
Member since 02 September 2014 | Blog
Favorites
SPORTS MOMENT: AAU State Freestyle Wrestling Champ 2x, USA State Greco Roman Runner Up
COLLEGE FOOTBALL PLAYER: Eddie George
COLLEGE BASKETBALL PLAYER: Scoonie Penn
NFL TEAM: Browns
NHL TEAM: Devils
NBA TEAM: Cavs
MLB TEAM: Reds
SOCCER TEAM: Holland/ USA , C-Bus
Recent Activity
Only if I shit my pants near a Kmart
Helps us win. Hurts us in Voters eyes. Helps us in recruiting, I think.
I am sorry to hear that. Too many beers lead to this way too often. Not just at OSU and not just wrestlers. The Iowa dudes are notoriously rowdy too. OSU wrestlers are like any others. These two clearly crossed the line though.
If a trained fighter, even a wrestler, fights a non-trained fighter, it can be construed as assault with a deadly weapon. Wrestlers can do all kinds of things between the lies that they aren't allowed to outside the lines. Wiseguy :)
I think he used to develop them. Sure they were talented, but Conley and all the others simply got better and better, same with some other teams. But now that isn't the case. I suspect the assistant coaches keep getting poached. But something else is off. Maybe recruiting the wrong guys. Maybe culture. But those early years we recruited and developed. Now we don't do much of either. I do think our two high recent picks were developed pretty well, but would have been good most anywhere too. Either way, I suspect he gets this year to right the program at best so its probably moot anyway. Its just so strange that things changed 180 degrees basically. Dr Evil stole his mojo or something.
I hope you didn't think I meant it was. The way I wrote that does leave it hanging though! Once you assault someone or hurt someone, there is NO excuse, particularly for someone so trained as an OSU wrestler. And two on one is just hateful.
Its really embarrassing. Two wrestlers vs one dude? I suspect booze was involved. If they were sober and did that: no room for you in this program. Ask yourselves, "What would Logan or Kyle do?"
If paying AAU coaches and crap like that is what it takes to do it in NCAA BBall then, F that! I know OSU deserves better, but we dont' want anything funny hurting the other programs of excellence, particularly Football, and for me, wrestling. Perhaps the problem isn't just Matta. The bigger problem is that competing in NCAA basketball take borderline unethical stuff.
But this does suck. I don't see how it could have changed so much. Thad's teams were really good for an 8 year run or so and now they look like reserve units of those teams at best.
I wonder if some of this has anything to do with Matta and LeBron's relationship? As long as the King keeps stamping his approval with the free shoes and other things, Matta may have a shot at retaining his job and getting back to where he once was. I hope.
Go Bucks!!! Great job.
RIP Larry Mayer.
As are most things associated with ESPN these days.
These guys need to realize that college is about making yourself the best you can be, It really isn't about starting. Tom Brady started 2 years at TTuN and anyone would love to have his talent and career, even us Buckeyes. Plenty of great pro QBs only started 1 college season. That is all these guys need to get to where they need to be: 1 good college season. Heck even a sort part of 2 seasons like Cardale had will work. Braxton, and Cardale got drafted. Jt will get a chance...so 3 QBs on one team can indeed make the pros. This competition will make these QBs better.
My money is on Martell being the best eventually. He would be too hard to defend with his legs, accuracy, and will.
And don't hang out with anyone that doesn't show you respect.....IMO
The first one was great though. I still love it. Jack is still the best Joker to me.
Back to The Future
Mad Max
Jaws
Rocky
Police Academy
Austin Powers
They were unofficial Olympic team champs with 4 medalists. They always have one or 2 world champs and are likely pound for pound the no 1team in the world.
Overall I rank the world teams like this (this is all-time and not just current)
1 Russia
2 Iran USA or Turkey
5 Japan
6 Azerbaijan
7 Cuba and the Koreas
9 Romania and Bulgaria
Currently though it is more like a toss up between Iran and Russia, with Azerbaijan at 3 and USA following closely. I think moving forward USA may be no3, but that is highly debatable. Aszeris have at least 4 Gold medal threats.
PSU's David Taylor pinned the Iranian Olympic champ and beat another World Champ and went 3 and 0. He was one of the main reasons we had a chance to beat Iran. Molinaro could have done more but was right there too. The one Iowa guy absolutely stunk though.
FIrst off: the Iranian fans were off the Chains. It was insane. By far the best fight or wrestling environment I have ever seen. Potentially the best pound-for pound crowd I have seen in all of my life. The travel or the schedule may have gotten to Kyle in his match with Azerbaijan. He wasn't really shooting, when he normally does left and right. He had a takedown at the end of the first period that at the minimum could have been a pushout but he didnt challenge or act too concerned. Then he got multiple pushouts to go up 4-1. But he wasn't really pushing the pace like he normally would. At that point he normally smells blood and pours it on. The Azerbaijani gets a lucky single and has Kyles leg up in the air. They were going out of bounds and Kyle kind of let up and tripped. They called it a 4 point move, correctly so Kyle was down 4-5 with the oher guys holding criteria due to the 4 point move in should Kyle tie with a pushout. Kyle still got in on a single, but the Azeri flicked his foot out. Kyle was better, was not really into it, and made a few mistakes. An Iranian Olympic champ got pinned by David Taylor, so its no big deal to lose at the beginning of a cycle, but it might make some sense to back off the schedule a bit for Kyle, which means perhaps fewer Dual meets moving forward. Just a guess though.
Nothing is more fulfilling than arguing sports with another man. It warms my heart.
How many games missed this season? Did he even want to play for the Aggies? LOL What a chump. I wanted him, but had reservations based on missed games this season. Now I'd rather draft Steve Urkle.
Now looking at his stats, they have gotten worse each year of college. Was he better in High School than he is now? The Browns need players that have gotten better and can contribute now. Not guys that get worse by the year. Trade Down Browns!
What did dogs do to you and why is it so cool to put them down?
I like Slater in the background in deep thoughts....likely pondering Martha Washington and her role in everything.
Brady is great, and obviously in the conversation, but as pointed out by others, his titles are as much to Kraft, Bellichick, and the organization. Also his championship record is behind Otto Grahams. It bothers me Otto Graham's career has been buried under the modern game. And had Peyton Manning played for the pats and Brady for the Colts and Broncos, I'm not so sure he wins many titles while Peyton wins tons. And Brady has some ties to multiple cheats, though those easily can be disputed. But none of that applies to Otto, so we need to keep Otto in taht conversation. Its like calling Colin Powell or Stormin' Normin the best general ever, and forgetting all the greats from WW1 and WW2.
You can actually be second....third....fourth....or anything. Last is last. Over-rated, underrated: who gives a #$%^