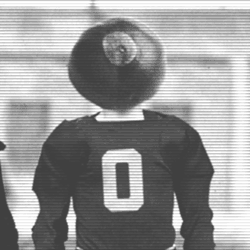 fishleehooker
---
Vandalia (via Vandalia)
MEMBER SINCE September 02, 2014
Favorites
SPORTS MOMENT: AAU State Freestyle Wrestling Champ 2x, USA State Greco Roman Runner Up
COLLEGE FOOTBALL PLAYER: Eddie George
COLLEGE BASKETBALL PLAYER: Scoonie Penn
NFL TEAM: Browns
NHL TEAM: Devils
NBA TEAM: Cavs
MLB TEAM: Reds
SOCCER TEAM: Holland/ USA , C-Bus
Recent Activity
Football is such a team game that you can't really assign too much meaning to losing players. It's all about those 11 players playing together, and then executing. Plus luck. I think too much is made out of "mismatches" in the game. Or coverage nightmares. It seems many championship teams were in many ways not as talented as the team they had the year prior. I think the Defense will be in year 2 and Day will be in year 2. Fields will be in year 2. The gains we can make up for having those systems be familiar, as well as the leadership and scheme knowledge that Fields should gain, should more than make up for any personnel losses. Plus we have tons of raw talent. A lot of teams lose a ton around the country too. So to me, it's all about year 2 for Day, Fields, Mattison, G Wilson and some others.
Champs+Burrow+New Orleans+ Cajun Food...I suspect they DID in fact enjoy it.
The hardest class I ever took, more than any at OSU or Wright St, was an online course (anatomy or something) at Sinclair. I've heard some are easier, but I concur that online course just make the student do more work in general.
Where the F___ are all these downvotes coming from? Brilliant man! And WTF to the chap who downvoted?
Yeah..point still stands but my years were a year early each. .I mean 95 we lost George, won the Rose Bowl in '96. Lost 5 star top 5 pick Springs after '96, promptly replaced with Winfield, who wasn't recruited highly. I think Proctor will be better than Fuller by season's end and I think we will be, bare minimum, pretty solid back there. We won a championship with a converted WR to DB with Chris Gamble.
1994 Buckeyes lost Eddie George, Rickey Dudley, Bobby Hoying, Terry Glenn and plenty more. Eddie was replaced with Pepe Pearson. T Glenn was replaced by a freshman talent D Boston. 1995 Buckeyes wound up being better. Tenn lost Peyton Manning, wound up better. Clemson lost whole D line last year and are back in title game. Losing star players doesn't always hurt as bad as it should. There are other factors.
Korey Stringer. My friend/ roommate was on the football team so I hung out with some of the players in 97ish. It was repeated a lot that Stringer was meaner and his pancakes hurt more than Pace's and he was nearly the prospect. Pace is easy numero uno, but Stringer was damn close and it was vocalized to me by people that played against them.
I think they lose at least half the oline. And certainly Etienne leaving seems more than possible. I think one of their' junior CBs ranks higher than Wade, so he seems as likely to go as any too. I believe another DB is gone as well.
But they will be very good. No question. And it looks like there won't be much in their way either. Our biggest one will be PSU by a mile.
I don't think it's THE best....that likely goes to one that had Winfield and Springs together...but it is up there. But I do think Fuller was really good. I think Proctor could wind up better though. And as good as our group was, they could have produced more picks imo. But damn...they were good.
I think the loss really hurts, but taking a step back, I think winning it all this year, and having that success would have made things hard in some ways for Day. I think this will make him a better coach and smarter and more driven if that is possible. I just really think a lot of greats have a very small roadblock before taking the next step. It's all about getting Justin to that next level and keeping him healthy next season, as well as getting the next QB ready.
I think its a very real possibility. He's gonna be fine financially. Plus, to be the all time great and win the championship AND still be a great pro; plus one more year with Alford?
I actually think Day will be a better coach in the long term for that for multiple reasons. Dealing with so much success in year 1 can be harder than dealing with some failure. I think he will coach better and Justin will QB better for it and for not having the success go to their' heads. Sat night sure did suck though. Hard to get over so many overturned plays going against us, but I still think it's gonna make us better.
I see your point. And some make sense. But I think Justin coming back and just being a Buckeye the whole season, not being an unknown performance or heart-wise, and taking that next step in the offense as a QB will make it easier to be more focused. The team follows the coach and the QB and this is going to make all of us, and most especially Day and Fields hungrier. Hopefully lessons were learned and we take the next step as a program.
That's not his point. I don't think the refs did, but I do think the replay booth did and had a double set of standards. If you play the play fast for the fumble, under review, then you should do that for the hits that are much more violent looking in slow motion. NFL films was built on that phenomenon. But his point still stands: we had a chance to both stop them and/ or to score ourselves and we did neither. So you have to tip your hat and get back to work. The refs stink but they always have and always will. We just gotta get better or play better/ smarter.
Really its all about getting Fields to that next level. As great as he is, he seems ready to take yet another step and be a bigger stronger L Jackson. He also needs to get healthy. But that was his first year starting and first year with the team. Burrow really went next level his second season with LSU. Now Fields has lost and is entrenched as a true Buckeye and as a leader and stud. He's ready for his Heisman. So it really is all about him taking that step.
Also on the D front clearly the DBs need squared away and perhaps Wade will stay. Maybe someone like Dobbins will come back too....that is a major thing for Day....seeing if this supposed new deal in the NFL will help rookie contracts more after this season. That might get someone to stay who isn't sure about leaving.
Need to finish recruiting strong by either getting a few to stay, using the transfer portal, or obviously with Martinez and/or someone else
Yeah....he'd be a top 15 pick after next season. He could go as low as the low second round...or lower this draft. Then again he could go low first round high second. Still, next season nails it down. It sounds like Okudah wants to come back, but knows that would be tough to do with the money (But with him being so high a pick, does the bargaining agreement thing supposedly changing after this season change his mind?)
I forgot to add its a win-win for us. We either had a valiant warrior's death against a dynasty that we could avenge next year, or we see Joe and Cinderella take home the trophy. I don't mind them having it down on the bayou. Either way...I think we should all remain proud. We are always good, and will just keep at it, like always.
I always say its better to be lucky to be good and its best to be both. We were really, really good this year. Great, in fact. But not lucky. We all need to up our voodoo mojo magic. We were hungry but maybe a little too hungry, like the Bulls pre championships, and the Big Red Machine pre championship run. You often see a team lose this and then take the title the next year. I think Clemson did it a few years ago. So this will make Day and co ready even more for next season. I hope anyway.
I upvoted you for the great gif and movie...but damn if I don't hate it when they yell their high school team's mascot (Starts with a W)! Of course, they all end up losing so maybe it's fitting.
So many guys are told they are higher picks than they end up being. Haskins is an example. But I don't see 3 runningbacks getting drafted in the first round. Plus there may be more $ in coming back this year, both with a more favorable bargaining agreement for the first and 2nd contracts, but also by being a first rounder by adding just a little more speed. Work on that and get drafted first. I suspect Taylor and Etiene go before him, or at least that part is a roll of the die. I bet being an all timer, possibly winning some awards and being on a team that could be favorites to win might sway him.
Looking at Joe Burrow's second year at LSU, gives me hope that Fields will be much much more comfortable in the offense and able to let his talent take over more. Plus, we really just need him healthy at the end. Had he been healthy, I think he would have been a much more dangerous athlete. I also think our receiving core will be outrageous. There seems a chance for Dobbins to come back, but if he doesn't, then I think Teague will get better and better with more reps and coaching. If he isn't then Crowley looks to be a good one too. Chambers could enter the mix as well. But I think it would be a better offense than 2018 at the bare minimum and actually it should be awesome. But the refs are a different story.
I think there is an outside chance he stays. I think there is a new deal that rookies can take advantage of next year, as well as having potentially higher draft stock.
ESPN is to sports, what MTV was to music IMO
My biggest worry is Clemson being tougher than we all thought in the trenches
But I'm confident our guys' will make plays.