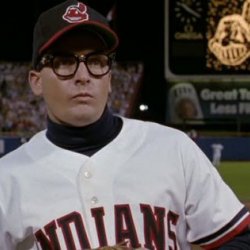 Firedup
---
from NW Ohio
MEMBER SINCE August 27, 2012
Favorites
SPORTS MOMENT: Best OSU sport moment Rushing the field after Wisconsin game and singing Carmen on the field.
Best non-OSU moment, attending the 2009 Men's National Championship in Detroit, seeing Larry Bird, Magic Johnson, Bob Knight and MJ all in the same night besides the game.
NFL TEAM: Cleveland Browns
MLB TEAM: Cleveland Indians
Recent Activity
Why can't you hear a pterodactyl in the bathroom?
The P is silent
Gosh I hate that dropped punt play so much. It angers me that the incompetence of the punter is what kept OSU from going back to back CFP Champions. Just catch the ball, or just go down and take a sack. They couldnt have kicked a FG from that distance and would have been forced to throw a Hail Mary. Yes I know take care of your own business and such, but without that play Sparty has a low level of confidence coming into that Nov Sat. IRR
Substitute Teacher Mr. Kitchens looked way in over his head and even forgot how to call plays. ( 3rd & 1 PA Bomb in the second half that led to a punt) Just give Chubb the ball first and then work from there.
Will be interested to see if more teams start going with more vertical routes like 4 Verts rather than horizontally attacking the edges. I hope our coverages evolve to include Cover 4 pattern matching that Chris Ash used in 2014. I still have nightmares of 2013 B1G Championship and a wasted trip to LA thanks to Sparty TEs running up the seam vs Cover 3
Super nervous about this game. Unlike playing TTUN where we have a chance to redeem ourselves the next year, there might not be a next time if UC wins tomorrow. Looking forward to Day opening up the playbook for some crossing routes to show off the team speed.
Hopeful Reyes' 2 HRs today get him going to take the place of Ramirez especially as a RH bat
Hopeful Reyes' 2 HRs today get him going to take the place of Ramirez especially as a RH bat
Looks Beautiful! Love the original State of Ohio is back and boldly painted where it belongs.
Two games back and we get to play the Royals. Hopefully by the end of the weekend there is a new king of the Central
If Warner isn't being pushed after last year performance. Yikes man. I thought getting rid of Davis was going to be impactful.
Happy Anniversary of Brexit 1776!!
Good for Coach Mick. He is the real glue guy when it comes to developing talent.
This will put UGA in the driver's seat for the Fulmer Cup
The fun classes I took
Physics of Sports with Dr. Lisa awesome class for science credit that let you do an experiment of your choice instead of a final. and he would check your math for you before presenting your project.
Food Science for lab credit which consisted going to the dairy lab and making cheese and ice cream and then eating it.
Spanish Literature-3306 or something. Reading Don Quixote in English and then having 5 movie nights with popcorn to compare different film adaptations to the book.
Dumb. Hate this. We are not the MAC
also will this limit the traveling Buckeye fans who would have to take off Friday to get to Evanston in time? Is this NW angle?
Did these other coaches even look at stats??
Lol James Franklin sidestepping his future because his in game coaching is seriously being questioned without Moorhead
Watch all those clips and watch Harrison chose wrong gap and Borland take 3-4 seconds to diagnose the play. Yet these two were " champions" and Borland player of the game. Give me a break.
As it should be. Every time there's a tornado watch, I hope it stills the Schottenstein