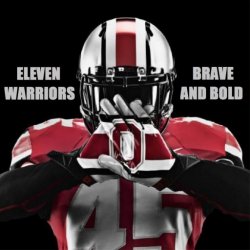 FIREBUCK
MEMBER SINCE July 06, 2015
Recent Activity
Please record any attempts and make a montage video featuring music by the Dead Schembechlers
"All you can be judged on is your record. What your record is overall. What your record is within your conference. What your record is with head-to-head matchups," Harbaugh said.
*Except when I judge Meyer for what other people within his program do and blame him for it. What a clown show this guy is lol
Is it? Show tenacity until you touch.
97 didn't mean anything before the Bosas came along or am I wrong? Joey was a 3 star I believe. So Noah is in the same boat without the pedigree. It seems like a lot to put on a young man to let him wear the number of 2 very established D-linemen though. That number isn't meaningless anymore.
"Your proposal is acceptable."
Snead is all over Buckeye Twitter liking random stuff I reply to and tweet. Other guys I talk to say the same thing. I love that about him and I think he really wants to be a Buckeye! Everyone I talk to is keeping a close eye on him this year.
Sucks he flipped but this is the best situation for it. He's going to a school that wont be in the playoff picture or compete with Ohio State. He's going to get the early playing time he wanted and it wont affect us.
Still cant smoke till he's 21 and its possible its not allowed because its banned by th NCAA. But I see your point. Hard to believe that had much to do with it as he committed when it was legal anyway.
My butt cheeks clenched up on seeing that
I don't see any players interested in winning. I see bad attitudes on the court and half-assed effort
Those jerseys were for sale months before the alternates were revealed. I just didnt know if they were legit or not.
Meyer needs to put his foot down and stop all the players talking. It makes it appear like he's lost control and that only means things start unraveling further. Weber needs to go if regretting his decision is what he's saying. This the second time he's said something. It's your life, just leave or stop crying. Don't be a cancer to the team.
Check my twitter Im the one who scooped this
Retail version of the 2016 alternative black Ohio State jersey. No longer for sale but I might be able to get them. http://t.co/PWMoimpgAf

— Brandon #GoBucks (@fierybuckeye) September 29, 2015
Here's what I've been doing for years. I have "Starter TV", Timewarner's lowest cable tier (channels 1-25, 25 is fuzzy and no audio but I watch the tribe) and Roadrunner. You get the major networks digital channels, ABC, CBS, NBC, FOX. Also wIth that "starter tv" package I can log in through my timewarner account to WatchESPN on PC, or watchespn app on tablet or phone and watch ESPN and ESPN 2 for free. You can buy BTN2Go monthly or watch it for free here http://www.stream2watch.me/live-tv/us/big-ten-network-live-stream make sure to use Chrome with the AdBlockPlus plugin. There are also tons of free live streaming sites. vipbox.eu realstreamunited.com gofeed2all.eu tgo-tv.com but these sites change their name often. Good luck and GO BUCKS!
Sounds like that young man has some growing up to do pretty quickly if he wants to play college football anywhere.
As my wallet will attest, L.V. doesn't have crap on me ( thank you UO ).