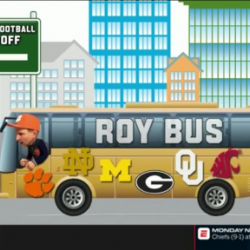 FieldsofJreams
---
MEMBER SINCE December 27, 2018
Recent Activity
Get over yourself, every major CFB team has it's fair share of addicts, criminals and jerks.
If he is trying to be some "MGTOW/false accuser" public commentator, as he sorta implies in his opening rant...I'll be out like a bottle of liquor at Zach's crib. Those channels and podcasts are a dime a dozen.
I'm subbed for now. Outside of a 5-min story and audio recording of a flight attendant Herman was screwing, not overly entertaining so far. He teased a few stories that I want to hear, Ed Warinner's incompetence and Adidas boosters on the West Coast.
He said 5/20 and he delivered. I am impressed he kept his word on deadlines, unlike George R.R. Martin.
I can make that observation bc a more evenly-balanced, semi-happy person does not do the things Zeke does.
I was going to reply prob not but then I googled Chris Robison, an Oklahoma transfer who started last year. Robison was suspensed from FAU a few days ago for sexual assault.
Dude is filled w/ rage, not as easy as just putting it behind him. Hopefully he doesn't eventually find himself in the wrong place at the wrong time. But then again, what one sows one reaps.
I bet Moorehead told him and his dad he will likely start. Franklin being mum on the starter is why Stevens transferred in the first place.
Nick Fitzgerald was a 3-year starter, and his backups looked bad in spot duty. Not sure why you think this move is outrageous?
Doesn't matter who started it, they are both running w/ it. My gripe isn't w/ ESPN per say, it is how anyone w/ a shread of journalistic integrity can stand by a title that misleading for a topic this sensitive.
A title of "Former OSU players allege abuse from Strauss" makes a world of difference in perception.
You are too intelligent to misspell Muslim twice. Bigotry and ignorance are alive and well. I find it scary how many likes this dumb comment got.
The ESPN wording on their main page "OSU football players allege abuse on, off campus", is a BS clickbait title at it's finest. I am as die-hard of a Buckeye football fan as it gets, and the first thought in my head upon reading the title was: OH BOY! here we go again; Tattoogate, Zach Smith/Urban Scandal Part III.
I did not even connect the dots w/ the old dead doctor and essentially assumed before seeing the full story, that current players were being groped in the locker room by coaches or trainers.
Most non-tOSU fans aren't even going to bother reading the article. In their mind, the Ohio State football is EVIL persuasion, is just going to grow stronger.
Meh, I am. He is a teenage boy, he was w/ her bc he has testosterone. There are thousands of hot girls on tOSU campus, game on Fleming.
Birds of a feather flock together, just wish they would find a coop on the other side of the world to play out their game. Sadly, we might eventually see these two on a Dateline murder mystery.
So in 2019 what does 100000000% mean to a teenager? Maybe like 60% lol?
That is a great contrarian pick. I found Mack to be awful at ESPN. It was also pathetic how he begged for the ASU job last year, and then this year tries to claim the only jobs he would have ever taken were the Bahamas, Hawaii or UNC.
They had really bad QBs waiting to challenge him
Ummm...have you heard of Jarren Williams?
What POV would convince anyone to join the Miami 2019 QB-battle?
If Baldwin actually thought he was ready to be the starter when Tathan skipped town, after watching his Spring Game performance, either him or us would have been in for a rude awakening. I cringe to think about how 2019 turns out w/ Baldwin at the helm.
They had the intestinal fortitude that comes w/ not being a millennial.
Hate is too strong of a word in this situation. At least from my POV, most of the fans I know realize sports are just a game.
Tate is proving that he is the scout team QB, I hope those rooting for Tater enjoy watching him on the sidelines w/ a headset and not a helmet this year.
Good luck Andy Dalton Junior, but I'm starting to now get agitated w/ him. If you just want to focus on winning games, why would you leave THE winning program to join a "could be a very winning program"? I wonder when he begins to realize that Patterson is kind of an asshole?
China Dynasty near campus just closed.
If a runner in your races had tripped going around the corner do you think they would have likely broken a leg?