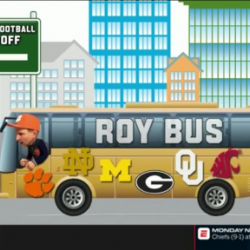 FieldsofJreams
---
MEMBER SINCE December 27, 2018
Recent Activity
This has been a long time coming.
They'll still win a couple games they shouldn't, when they get lucky and hit a bunch of 3's.
The media coverage of them this year was bizarre. In the preseason Clemson was the greatest team of all-time. Then after UNC they were overrated, and by the time the CFP rolls around, they were the most underrated team of all-time.
The truth is that the UNC-take was actually the correct one, Lawrence just beat up on patsy ACC-defenses to hide it. But of course now the cycle repeats itself, Clemson is the unanimous #1 for 2020.
I've been dogging Clemson for years, not gonna stop now.
I think in hindsight, Vegas would have us as a 7-pt favorite instead of an underdog. Their D wasn't the same w/o their NFL-DL. Venables was all smoke and mirrors this year, and he got away w/ it by playing in a G5-caliber league.
A lot of the Clemson players are Christian Fundamentalists, just like Dabo. They have quite the cult going on down there. The team truly believes they are winning for Jesus.
A RB losing 4 starting-OL. I would rather have an unknown 4* RB + 3 returning-OL and NPF than what Clemson has. Etienne is a great RB, but wasn't really a factor in the CFP (12.5 carries for 57.0 yards). QB's, OC's and OL win championships in this day and age.
Utter insanity.
Dabo should be ashamed of himself. Clemson has to lead the NCAA in 1st-round Locks going back to school. Ferrell and Wilkins were both projected Top-15ish and came back a couple of years ago.
I'm not sure if tOSU has ever had one come back in recent memory?
A lot of posters owe DaysBucks an apology.
I will be betting on Nebraska then.
BV is not HC-material. He is a head case, and has a dark background on DV.
Surprisingly, their Co-OCs hadn't garnered much interest. After 5 years of insane success, USF was the best Jeff Scott could do. Hopefully, Tony Elliot will go away next year too.
Has Kirby figured out that this is the 21st century yet?
We gonna make the CFP for at least the next four years in a row. We are now QB-U.
Bad take. The gap b/w tOSU and OU is massive. OU doesn't recruit well enough on D.
Neither does Tila Tequila.
Do you realize that Sparty is bottom-feeding now? Dantonio drove that program into the ground.
Dude responds to Twitter criticism like a teenage girl, I wouldn't be surprised if he comments on here. But JC if I had his net worth, my 11W account would be in the trash.
BV is stupid aggressive. He gets away w/ it playing in the ACC. I will enjoy watching Burrow drop a double-nickel on this psycho.
Whichever DB from the SEC gets the most preseason-hype.
Stingley will play in 4 games, have 1 INT and win the Thorpe.
Wade and Stingley have the inside track to the Thorpe. The South usually gets all of the nice things though.
Ohio State and rebuild, are totally incompatible.
We should be #2 regardless, since we beat Clemson and somehow still lost.