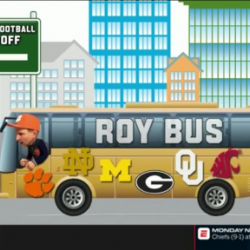 FieldsofJreams
---
MEMBER SINCE December 27, 2018
Recent Activity
Those envelops are just as square in Columbus, hence all fair and square.
What is the point in ranking 11 kickers, if come every update you drop them like rocks for position players?
To account for programs on the decline (like FSU, MSU, Oregon, etc.), the point system could depreciate in value over time. Like ND's 2018 playoff appearence is valued more than Oregon's 2014 title-game appearence. If Oregon had made the CFP this year, we would have to give them the benefit of the doubt. In hindsight, we now know that Oregon's playoff days have likely come and gone.
Shhhh...you have now summoned him to a debate!!
Yes, I understand that but who has taken their place...mainly JUCO transfers and 1st/2nd-year players, whom most are likely not yet ready to compete at a high-level.
Yes, it is really quite the social experiment they have going on over there. Supposedly, years ago, there was a Maizen poster on their board. He was eventually run off for being a "realist". Every few weeks, like a Phoenix, the troll rises again from the ashes w/ a "new" account and the cycle repeats itself. It is pretty much a Salem Witch Trial bc anyone giving too many "real" takes, is accused of being another "Maizen" and further more negged to oblivion.
Good advice, raise my daughter like Arya Stark and not Sansa.
I love the "mythical" Maizen poster on there. He is like a Viagra pill in a nursing home.
We all know that here, though try telling this to fans in State College. Ohio State steals their recruits by negative-recruiting Little Franklin, paying them and cheating at school.
I'm going to be taking tOSU side, whatever that will be (obv not 30-points). Vegas is going to have to even out all of the square money that will come in on Nebraska.
Winning a division: +1 point
Unfortunately, TTUN will still be stuck at 3 points.
Did I miss something, when the heck did Arizona make a NY6 bowl?
That is fair, I'm just saying all the Nebraska's back talk, is at least one year too early. His upperclassmen are all still Riley's lackluster bunch and JUCO transfers.
I hate Clemson, but they have put together their class fair and square. Just like w/ our WR's, the Clemson DL recruits want to get drafted in the 1st-Round.
PSU claims something fishy is going on w/ our class too. They say, "why does Fleming want to join a loaded WR-room w/ brand new coaches?", when we have the #1, #2, #4 and #8 guys in the last two classes.
Would anyone have noticed if OP had swapped TTUN's place w/ Western Michigan's?
I don't think that there is much to compare here, tOSU had the 26th S&P+ ranked defense w/ 6/7 top-tacklers returning, while Nebraska was 55th w/ 1/7 returning. Plus the new coaching staff and recruiting for replacements part...
I have learned to never incite a conversation about a stranger's childern/grandchildern, unless you are ready for a novel.
And...Here...We...Go
CincyOSU vs. ESPN Sucks Crowd, Take 10,002.
A friend told me 247 dropped him bc he live streamed a 2-hour long commitment ceremony.
DE McGregor, MGoBlow was beginning to claim him as a 5*. Their second-best player, S Morant, also took a dive; down 68 spots.
They had been complaining about Rivals under-ranking their guys, but now 247 hates Michigan too.
Yes on 247, but not a Composite-5*. The absurd ESPN ranking at #200 kills any chance of that.
Milton took a decent hit, down 21 spots to #44. The Buckeyes sure do know how to fall up.
Why will your D have improved enough to be in contention? You are replacing most of an awful unit, with even less experianced players. What remains of the RS-SO, JR and SR classes, is horrid. I doubt enough of your JUCO transfers pan out, nor are enough of the more talented RS-FR/SO class ready yet.
FPI thinks we likely could go 8-4. Apparently losses @Nebraska, @Northwestern, PSU and @TTUN. Whatever algorithm ESECPN uses for that metric is blatantly flawed. Bama and tOSU have had the cheat codes for about the last dozen years, there is no re-building; only re-loading.
We aren't going 8-4, even if Fields breaks his leg in fall camp (knock on wood).