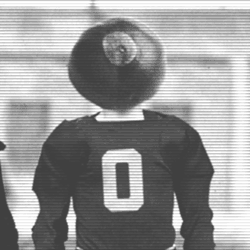 fear_the_nut70
MEMBER SINCE July 30, 2012
Recent Activity
Defensive players don't win the Heisman.
Say goodbye to your $10. Sorry, but it is true.
I don't think he is a franchise QB at the next round, but he is a great college QB. Comparable to JT, maybe a little better passer not quite as good a runner.
I know many around here love him ("once a Buckeye always a Buckeye"), but he is an example of the lazy modern day journalist that doesn't do their homework before reporting, because it is more important to be first than accurate. As soon as I read the blurb, I thought, "why would Ohio State expect 4 games" when there were examples of similar situations where the athlete got less? It's as if you are giving the NCAA license to give you 4 letting them off the hook. Only way you do that is if you think more more serious consequences are possible, but there was no data to suggest this. So from the get-go I thought Herbstreit was full of it. For those here that love him no matter what, it isn't gonna matter (and the ESPN conspiracy theorists have more grist for their fake mill). This is just modern day entertainment journalism, sadly.
Agreed. I keep an eye on them like I am scouting the competition, but it is everything I can do to keep from registering to jump in on the conversation. The "at least we do it clean" drives me crazy, as if Rashan Gary went there because they have the best General Studies Program in the country. While we are out recruiting them, most years it is within 10-15 spots, which tells me it isn't a drastic difference. Think how much of a homer you have to be to believe that these kids have offers for bags of cash at OSU, Clemson, Bama, etc, but they pass on that and go to UM, because why again? It's as if they can't wrap their brain around the fact that the 10-15 spot difference in recruiting could be fully explained by Ohio State winning at a higher level. The Chase Young stuff was comical too, as most of them couldn't grasp the difference between punishing the school and the player. The analysis was no deeper than "I hate Ohio State and they should suffer more,". I really only like to go over there when things go poorly for them so I can enjoy their tears, because it is a real cesspool (something a small minority of their posters even acknowledge).
This is me being honest, but I didn't think they really existed before the 2 games suspension because D players aren't seriously looked at. Now he is missing 2 games of stats and has a mark on his character record, something the foundation is supposed to give a shit about ***cough *** cough Johnny Football ***cough** cough.
He is the best player in all of college football. Recent history has told me that isn't really important in the Heisman equation. They wan't QB or RB with sexiest stats on a championship front runner.
What the suspension might have cost Chase is an invitation, guess we will see. But sadly, he was never going to win it.
Tua wasn't close to !005. 3 weeks off pretty significant surgery.
So obvious they can't separate their hate for OSU from appropriate punishment for Young. They keep framing this in terms of "how little it hurt Ohio State.' Well, no one is claiming Ohio State did anything wrong. So the whole narrative of "of course he misses two inconsequential games" misses the whole point. It wasn't the NCAA's job to stick it to Ohio State, but rather, figure out the appropriate punishment for what Young did. I guess 13 of the last 14 does that you.
Is it really a bias though? Have you looked at the number of players that have been drafted, the SEC record in bowls, or the way they have performed in championship games? Honestly, it's like people don't realize that Ohio State was also given the benefit of the doubt (at least according to some) in 2014 and 2016. I mean really, Ohio State fans need to stop this, it is not a good look.
I asked this question yesterday (and yes it is speculation), but how many of you honestly believe in your heart that if Minnesota and Alabama played on a neutral field, Minnesota would win? Ill bet the spread would be double digits.
I get it, I hate Alabama and am sick of them too. But let's not pretend like we can't watch the games and figure some things out.
I notice you gloss over barely beating Georgia Southern 35-32, and the general garbage OOC slate. They have 1 good win all year, that is it. I would love to see the reaction of some on here if a SEC team that was traditionally an also-ran with that kind of resume was ranked this high.
As Navy pointed out, PSU out gained them in total yardage. I am not saying Minn didn't deserve to win, just that it was far from a dominate performance at home.
Not sure if this is a typo, but the word you wanted was "moot" not "mute." I may occasionally be accused of making comments of the former type, but NEVER accused of being the latter.
Need a cup of Schadenfreude this a.m., so heading over to MGO Blow. The tears should be delicious.
Need a cup of Schadenfreude this a.m., so heading over to MGO Blow. The tears should be delicious.
Pull up results for Alabama's games this year. Sure it isn't a great schedule, but they have dominated most of their games. As was pointed out to you above, that Ohio State team struggled much of the season even though they won. You are comparing apples to carburetors. I think too many people are fretting about Bama right now. We will have to wait and see, but I can't see any way a one loss non conference winner Bama gets in over a 1 loss PAC 12 conference winner. Let it play out...
IT could matter depending on your schedule and who various contenders have left, because having more teams in the top 25 gives you higher odds that one or more of those teams might be left on your schedule. Honestly, i don't understand why anyone is fretting by Ohio State or Minnesota at this point, as each team controls their destiny. Being honest for a moment, would you rather have Minnesota's situation or Alabama's?
Minnesota OOC—Georgia Southern, SD State, Fresno, and a down Georgia Tech (and oh, they barely beat Georgia Southern).
Yes they beat Penn State in a close game at home (that if you watched carefully, PSU dominated for stretches of the game).
If you remember far enough back, people were saying the same thing about TCU and Baylor in 2014.
You want the benefit of the doubt as a team that has no history of winning and seems to come out of nowhere, you better schedule better than that. I know this bugs the shit out of people, but Alabama has been a dominate program for 7-10 years, easier to trust what you see. Minnesota, not so much.
Common man. Assuming for a second you are correct, and the committee is really considering past results and giving teams the benefit of the doubt, then can you really compare what Saban and Alabama accomplished compared to what Meyer accomplished at OSU? Mind you, I don't think any of this is going on (I can see with my own eyes that Alabama is probably the fifth best team in the country), but even if I were looking at it from your perspective, there is no way I would evaluate Alabama's recent run the same way I would Ohio State's. I think you aren't being intellectually honest with yourself here.
Terrible take. It is a fool's errand to compare situations from one season to the next as the circumstances change. If you are really comparing UGA's loss to SC to Ohio State's to Purdue (hint, start with point differential) then I don't know what to tell you. And who says Alabama has the inside track at the fourth playoff spot (all kinds of analysts came out and talked how Alabama needs all kinds of help). The people saying what you are saying are applying the old school linear poll analysis to the equation— at five, everyone will simply move up a spot when someone in front of them loses (seems almost a certainty at this point that LSU or UGA takes a loss)). Except, from what we have seen already, it doesn't work like this, because conference winners have not been factored into the equation. The irony is that you fret about this linear sort of ascension at the same time you complain about Ohio State being dropped in a way that doesn't comport with old school poll rules (a team that rose to number one under the old system and kept winning almost certainly wouldn't have dropped).
I said this yesterday but will repeat it again for your benefit. The only poll that matters is the last one, because the committee will have full information. Me and several others were warning people that this was going to happen (which just proves that what the committee is doing isn't all that random since this was predicted) in the hopes that people wouldn't lose their damn minds over the second committee poll. How about this—try being happy that we are two weeks into November and Ohio State has the inside track to a playoff spot.
The teams were very close, ranked within one spot of each other. number 2 beat number 3, while the other beat Maryland. I am not sure why the flip flop is so shocking to some.
Let me ask you an honest question. You think Minnesota would beat Alabama or Georgia if they played on a neutral field?
True. Probably still the case that losing early is better than losing late.
This is a terrible take because it is unknown what the committee will do for a 1 loss B12 for PAC 12 conference winner. This is what you aren't taking into consideration.
Same for Ohio State that one year. So what's your point?
Yeah except they put Penn State four last week (so two big ten teams) and PSU shit the bed. Need to stop with the fake SEC narrative.
You do understand that the situation is constant developing as we get new data points. LSU adding a win against Bama on the road changes the equation. It isn't any more complicated than this.