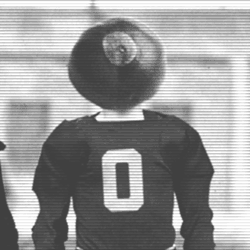 FasterBuckeyes90
MEMBER SINCE March 11, 2015
Mechanical Engineering-Class of 2013
Recent Activity
Lol I only view from my phone, but not surprised to see GM up there..
If our last trip to playoff proved anything, it's that Meyer will lean HEAVILY on what is working. No more preserving the body, if Samuel is having success he's going to ride that horse like he did Zeke. Or he'll ride JT's legs in the same fashion. It's go time and you know he's gonna empty the clip.
Once a Buckeye, always a Buckeye. Tressel was the coach while I was at OSU and he'll forever be my favorite. The guy really is a role model further proving that good people can make bad decisions. He handled being wrong with class, and thats something this world needs more of. Long live The Vest!
I 100% agreed in taking that game to OT. Was surprised at how many people didn't. Our D in the red zone is great and JT was having success late in the game.
Being part of this invasion is fantastic. I love buckeye nation!
Go Buckeyes!! From Norman Oklahoma! Can't wait to sing Carmen ohio with the team after the win tonight.
En route to Norman as we speak! That video propelled me past the speed of sound, thanks coach.
Neither was Sparty's last year and Tulsa wasn't exactly great either(against the pass). Historically we struggle when teams focus on the run and dare us to pass. 2014 Sparty was an exception, but we ran the ball extremely well that year. We have not proven to be a team capable of winning the games solely through the air, like Houston did. I absolutely think it's possible and this is the game I think we do it. I'm just letting out some nervous, devils advocate, thoughts.
Ahh I'm so pumped. Leaving tomorrow night for Norman!
Herman won't bite the hand that fed him. He'll help JT out the most in terms of what to look for in pre snap reads and who to target. Urban is smart enough to put a plan together without much help. That being said, it would be easy for stoops to say let's mess with ohio state, since I know they called Tom and do the opposite of what they saw. Tricky situation.
Our mid level passing game concerns me because it has been nonexistent.
Looks like Zeke, just in a different uniform. Gonna miss that man. Hope he kills it out there. Love how he picks up those extra yards when he hits the pile. Never stops driving and it makes a huge difference.
The dude doing pull ups on the traffic light? Yeah that's my old neighbor lol. Never thought I'd see him hanging from a traffic light in Cleveland but anything is fair game when a championship is finally won! Go Cavs!!
Mike weber?
I'm loving all the people hating on Chipotle. Shorter lines for me!
Both are horrible rides lol. I've never been on a less enthusiastic ride than when we went on rougaro. Everyone was dead silent, not a single laugh or scream from the entire train, it was actually funny. They can tear that and mean streak down for new ones imo.
Gatekeeper grew on me this year. I was EH at first, but after riding everything else, it is a fantastic ride and needs to be experienced in the front seat. Also magnum and mean streak are not top 10 coasters, I get the nostalgia of them but they are in no way better than the Gatekeeper. Means treat needs to be torn down. I basically piss blood every time I get off that thing
I mean, I'm not even mad about it. There have been far less talented qb-wr's trying to make plays for the Browns. I'll ride this Griffin to Pryor train any day!
Didn't ask for picture but I totally thought dremont was raekwon too. Saw him and his girl in line with us waiting for valraven
Right back where Urban likes to be. If this fires me up, it absolutely has to fire the team up. I wish we were listed as underdogs in every game haha. This team should carry one hell of an edge this year. I want to see all sorts of pissed off when we hit Norman
I think he is referring to him as a coach. He didn't get aggressive with his play calling, he didn't do his job
Gonna be an interesting year. Have a feeling we will lose a game at some point and we'll know exactly kind of team we have at that point. Do they stick together and get stronger like the previous years or do they let it get to them and break down? The latter can happen to such a youthful team but hopefully the grown men in the rooms can stop it. Needless to say, I can't wait!
100% agree. This is the most important group of this year. We have plenty of offensive playmakers, they need a rock solid line to make things happen though. The D line is the next biggest thing that needs to step up very quickly this year
As long as Samuel gets a shit ton of quality touches, I'll be happy. That kid has proven he can be difference maker, especially on well executed plays
I love how everyone says they moved on from the MSU loss.. we clearly haven't lol. I havent. It still gets me so damn mad thinking about that atrocious game. I'll never get over it. Hoping the 2016 team gels quickly!