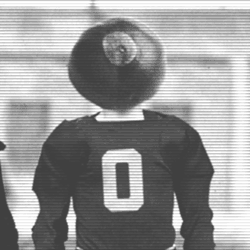 fanatibuck
---
Member since 08 September 2013 | Blog
Favorites
SPORTS MOMENT: 2002 Buckeyes National Championship.
COLLEGE FOOTBALL PLAYER: Michael "2" Doss
COLLEGE BASKETBALL PLAYER: Aaron Craft
NFL TEAM: Cleveland Browns
NHL TEAM: I don't do hockey. YAWN!!
NBA TEAM: Boston Celtics
MLB TEAM: Cincinnati Reds
SOCCER TEAM: I don't do Soccer!!
Recent Activity
"Out of sight" gif THEBADOWL!!! LOL!
SCUM's blood will be a portrait on our white unies!
Fabulous! Buckeye Nation is everywhere. I mad a trip to Cali this past July and visited San Diego and LA. ran into Buckeyes in both cities. O-H-I-O!
Does any of our fans watch any of the other conferences? The ACC and BIG12 are not that much better. We need to stop feeding into the negative stereotypes perpetrated by the media. Buckeye Nation is a part of the problem at some point.
Why do people keep saying Baylor will jump us? Wake up people. Baylor does not play a conference champ game. We do. We will have played one more gam and most like vs a top ten team. HELLO!!
WOW!!!! What a ultra dramatic write-up. That said, I don't believe Urban will mis-calculate and put the O in "burn the clock mode" any more this season. The strategy vs Wisky and his other coaching buddy was a mistake that won't be repeated again I would hope. The Bucks have to lay the wood the rest of the season. I'm sure Urb's is learning that nice guys have to prove just a little bit more than their counterparts. GO BUCKS!!!!
Wow that little girl fondling her dad's fake penis is highly inappropriate. I'd hate to see what goes on behind closed doors in that family.
Chitown I was thinking the same thing. There will be some angry coaches and fans in Champaign, Bloomington, and Ann Whorbor.
C'mon guys you are giving them too much credit for being ethical. It's not about them being lazy it is about them being corrupt and trying to manipulate a certain outcome. Wake up guys it is quite simple.
Boojtastic you are giving the media a pass by not recognizing their complete and total bias toward the Buckeyes and the BIG. Calling them lazy is being too kind. The media is corrupt and they are trying to influence voters to dismiss the Buckeyes as championship contenders. WAKE UP BUCKEYE NATION!!!
.........and some moms wish for their sons, but unfortunately Aaron is now engaged and off the market. :)
I love Aaron Craft as you can see in my profile he is my current college basketball fav. I will miss him just like I have missed so many other Buckeyes leaving the hardwood or grid iron. The reload train moves on though. Lets keep that in perspective.
Message to the OP. I would not consider President Obama being elected twice as "chickens coming home to roost." A lot can be analyzed from a statement like this. Covers unveiled and truths exposed.........hmmmm.
Great post.
Yawn!!!!!! We are taking these Rodents to the Woodshed.
I hope Urbs friendship with Wisky's new coach will not motivate him to play nice. We have a championship to win.
Don't be negative. We already know we won't move up in the polls. Teams ahead of us will have to lose. That goes without saying. Not our fault the B1G SUCKS!! That being said we are going to take Bucky Badger behind the F'en shed and kick his rodent *ss to Kingdom Come. Damn Ramzy has me all fired up. This article has got me breathing FIRE!!! LOL!
Stop with the Negative Nancy crap. We are going to win and win BIG. I have been predicting 51-17 for the past week. My sentiments haven't change. The Shoe will be a MADHOUSE!!!
Exactly. "F" the close *hit. Excuse my language, but its time for the Buckeyes to stop being soft and actually woodshed beat a decent opponent. I hope Urban has his team breathing fire and tells them that a 7 or 10 pt victory over Wisky will most likely ruin any NC hopes even going undefeated. WE must crush our B1G competition. IT is the only way national pollsters and pundits will give us any typle of respect. GO BUCKS!!
I wanted to go to the Gold pants Social, but I can't get off work. Lots of my favorite Buckeyes will be there and I would love to see the WHAC's player lounge. DARN!! :(
I am confused. As a new poster I of course read all the board rules. I thought politics were prohibited to be discussed? Or is it just a privelege for mods? Just asking.
Can I have an AMEN!!!
Thankyou 9-3 Earl. Woody says HALLELUJAH!!!!
Now this is the type of Buckeye I love. You restored Woody's spirit in this thread. scUM can fall off the side of a cliff for all I care. Cooper's infamous 2-10-1 record through the 90's is enough to motivate me to wish they go 2-11 every season and that is being kind!