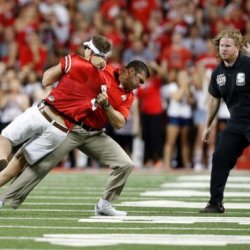 falconlax13
from Pittsburgh
Member since 16 April 2012 | Blog
Born in Austin, TX. Dad was an OSU alum. Born and raised a Buckeye fan
Favorites
NFL TEAM: Steelers
NHL TEAM: Penguins
NBA TEAM: Pacers
MLB TEAM: Pirates
SOCCER TEAM: Arsenal
Recent Activity
Parris Campbell has to be on this list. He is getting first round looks.
Another factor is that I feel that Ohio/midwest kids are multi-sport athletes more often than kids in the south. You can't play baseball or basketball at 300+ lbs. In the south it's all football all the time
That's accurate re: fisher. I switched from Engineering to Fisher College of Business after first semester freshman year and it took a while to actually get into the school even though I was taking pre reqs and some Fisher classes. So I was technically still "Engineering" or "Exploring" for a year and half or so after I decided to switch.
I've read most of the comments in this thread and was encouraged by what seems to be, at least in the 11W community, a relatively uniform and passionate feeling on the subject. As a current student and lifelong Buckeye fan, I hope to offer a few thoughts and perspective.
I completely agree with the comments about OSU games being too "corporate". Students feel that way about many other things around the university too i.e. university initiatives not being student driven (#SaveToos).
On the 'Shoe atmosphere, its a combination of issues imo. Students (especially upperclassmen like me) do show up late, squeezing every last minute out of pregames and tailgates before rushing into the stadium. Once we're in the stadium, it is more of a social event for a lot of people: taking pictures, talking with friends, etc., rather than going to watch the game and support the team.
Outside the student section, the college football atmosphere is certainly diminished from what it used to be. As a kid, I loved every part about hearing the band play all game and the fans going crazy no matter what. Now, like people have mentioned, the band is less a part of commercial break entertainment.
My biggest qualm about the atmosphere is probably the music. Students, and I imagine everyone else, is tired of "Seven Nation Army" being used as the de facto pump up song. That was cool like 10 years ago. This is Ohio State. We don't copy people. We're one of the premier programs in CFB and a huge brand. We should be creating traditions, not copying and pasting what others do.
I'd love to see a student, alumni, and fan panel/commission/focus group/whatever work with OSU admin to improve the overall fan experience. Music, fan engagement, noise level, atmosphere, etc. Saturday I saw the players on the sideline trying their hardest to get the fans going, and all I want is for the fans to give that effort back.
Go Bucks!
I swear I was typing my post while you posted lol. But I second everything you said!
Pardon My Take is the best, but its mostly NFL.
For CFB, The Audible, The Solid Verbal, Shutdown Fullcast, and Podcast Aint Played Nobody are all great general college football ones. The Audible is great for pure analysis, PAPN is hosted by SBNation's Bill Connelly, who's S&P+ statistics have gotten national attention. Shutdown Fullcast is mostly just goofy, funny cfb talk. The Solid Verbal is a good middle ground.
Dubcast is the only OSU centric one I listen to.
In non sports, I loved The Fall of Rome (history nerd) and Stacking Benjamins (business major).
I highly recommend all of them, and they can all be found for free on itunes! Happy podcasting!
Some kids from my high school played against Hooker in basketball. Said it was pretty much unfair to play against him because of how athletic he was lol. I think he will be an exciting player to watch and I can't wait to see what he can do.
It's a shame Bosa didn't get more recognition. He should be no lower than 2nd team DE on any list. I can understand why voters dropped him because he had far fewer sacks than Nassib, but honestly sack numbers aren't the be-all-end-all of DE disruptiveness. If these writers/voters actually watched the games (and didn't just look at the first stat they saw), there is no doubt in my mind that Bosa should be 1st team AA. His sack numbers are down, but that is because he is getting double and triple teamed every down. His QB pressures combined with the extra attention he garners and his versatility means he is a first teamer
1 B Victor
2. N Warrior
3. A Jackson
4. J Fuller
5. M Juarez
6. AJ Rose
7. T Butler
1. Ohio State
2. TCU
3. Clemson
4. Stanford
I think the ACC is getting in this year. Among the winners of Pitt/ND, Stanford/ND, and the ACC title game (possibly Piit/Clemson) will be in, if they go through unscathed. Pitt would only have one loss on the season if they run the table... To undefeated Iowa, who could possibly make it to the B1G championship game.
As far as the SEC is concerned, I just can't see any teams getting through unbeaten. If Ole Miss wins out, they go to the SEC chanpionship game, essentially eliminating LSU and Bama from playoff contention. Bama pulls off close wins every week; they're bound to lose one. LSU will probably lose at some point too
I know I'm late to the party and I am far too lazy to look through all the comments. This in mind, my guess is 113
I work there, and i believe youll be able to get into the ticket office (SE rotunda) and the apparel shop
Avatar. So hyped up but it ended up just being a futurized version of Pocahontus or Dances with Wolves. Didn't think the acting was spectacular, nor the writing. Special effects were amazing, but that didn't make me a fan.
That's the main reason why I don't like his movies. All seem like the same storyline
Ted-another case of it being overhyped
Any Tom Cruise movie (non Top Gun division)
Lamont Wade is a LEGIT talent. Has all the tools to be a star, even though he doesn't have ideal height. He went to a high school in the same region as my alma mater, so I've seen him play a few times. If I recall correctly he had 4 INTs in the WPIAL championship game and had a bunch of TDs as well. Clairton is a great program with great talent every year. Most recent notable former player is Pitt's Tyler Boyd.
Really hope we get Hamlin. He seems to tackle in open space really well and he comes from a great program too. Plus, its always nice to get players from my hometown; he dominated my alma mater in that video!
Staff-have you considered making a regular basketball recruiting write up similar to Birm's Hurry Up? I think that would really enhance interest in basketball recruiting. I even thought of a name for the piece: The Fast Break. Thoughts?