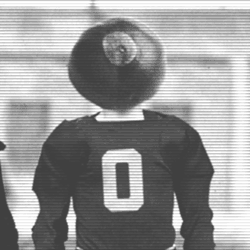 Fairport Buckfan
---
from Fairport NY
MEMBER SINCE October 17, 2019
Favorites
COLLEGE FOOTBALL PLAYER: Jim Otis
Recent Activity
Art, how do you really feel about them ?
Why would Hairbow run three plays in the last 25 seconds of the game?
A) Trying to get extra game reps for McCaffery but forgot to put him in.
B) Josh Gaddis needed more time to implement vaunted zone read and RPO package.
C) Trying to keep Najee Harris off the field.
D) Jim Harbaugh
Ahh....you're right, Beck and Warriner lacked creativity that entire year. Their subsequent departures were the only positives from the game. We missed Texas Tom that season and J.T. seemed physically and mentally exhausted for that game. It definitely didn't help that UM ran him about 150 times that year despite the past leg injuries he had. They clearly had no answers that night. I'm sure that Ryan Day will have them tonight.
He does but they're Clay Travis' soiled thongs !!
Shazier doing Dancing with the Stars might be the only reason I would ever watch it. I hope it's true. Especially if it runs between the Super Bowl and the Spring game.
Coaches' kids recruiting? Could there be some obscure NCAA rule against this or, is this too perfect and pure of a process for them to have ever considered it before ? I'm a little afraid!
I will go back in time and convince Urban to call a different play than the one that Braxton injured his shoulder on. He played hurt for a large part of that bowl game and after never played as QB again. IMO It has affected the mojo against Clemson since. I loved Braxton at QB and they took that away ! I'm fixing this rip in the fabric of Buckeye football.
From watching the Netflix show a couple of years ago, it was pretty apparent that Jack Harbaugh is also a total knucklehead. Clearly Jimbo inherited the whacko genes from him. John seems to be at the low end of normal compared to those two fully deranged Hairbows. What stood out most about Jack's on screen Vito Antoufermo rant was how the team just sat there and pretended to take it seriously. I wouldn't want to go to war with either of them. They'd shoot you while you were crapping behind a bush.
Why is he yacking about us when he's playing Bama in 10 days? Oh wait......he's probably sitting that out.
Thank God ! Etch his words prominently on the Stadium wall somewhere.
I stopped watching everything on ESPN except for games a couple of years ago. 46th is an outright insult. I guess I'll boycott the games now too !
Bama's season has already been a failure based upon their own standards and recent CFP history. As much as I dislike Saban and his team, I grudgingly give them some credit for their ongoing dynastic record. Should they win, it will be a minor achievement for them, quickly forgotten, with little to brag about. My distain for Hairbow and ttun has no bounds. Their faux dynastic arrogance as evidenced by their "all time winningest CF team" mantra, and their ongoing chronic superiority claims like "who's got it better than us" are reason enough to want to see Bama crush them like the bloated roadkill they are, Go Bama .......Roll fucking roadkill !!
Wait........Didn't he already just take Hairbow's lunch money. At the very least he should also be incentivized for beating the snot out of them. Call it a Rivalry bonus or something else more acceptable. IMO No Buckeye coach should ever be paid less than than a ttun coach if they beat them annually !
Glasgow had to Uber back from the next county. It looked like he was on his back a lot during the game. I would love to see a compilation of him getting trucked.
Nice......now get that bridge opened !!
Shea just wasn't excited.
The O line was fantastic. I especially loved how they crushed that weasel with the curly mop of hair hanging out the back of his helmet. He's really too small to play D line and probably too big and slow for linebacker but he was just right for getting crushed and pancaked a number of times. Great job coach!
Josh, Does Gerry Dinardo look like Sandusky in person or is it only on TV ?
Wasn't Howard one of their fab 5 that had its own academic or other type scandal happen complete with vacated wins and title? He's their new standard bearer ?
How long before we can know when to set the DVR for their shit ass bowl game? I can't wait to see how many Xichigan men opt out of playing which will result in another embarrassing loss to Florida State or Georgia Southern or some compass direction school.
I think he wears those glasses that automatically darken .....every time OSU scores. By the end of the game he's blind to final results.
I love watching room opening up in the big house for the Buckeye victory party !!
Can we please put 63 points on these weasels !
I love watching Hairbow fighting with his own coaches. Maybe he'll get disconnected from his little buddy who spoils out his telecom line.
Man, I totally agree. At home they always amp up the extra bullshit like crowding and bumping people after the tackle; leaning on helmets and backs when getting up from the pile, holding people down etc. They do it to every team but I think it's more planned and premeditated in this game. This year's targets I would expect to be DeMario, Fields, Mack, Wilson. Anyone they think they can get a reaction from.