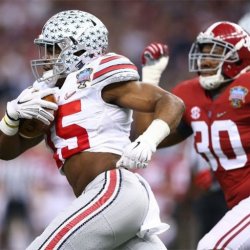 EZE4TD
---
Apex, NC (via Scituate, RI)
MEMBER SINCE May 09, 2015
OSU j-school grad, living in North Carolina.
Favorites
SPORTS MOMENT: Miracle on Ice; Steve Miller's pick-6 against Bama.
COLLEGE FOOTBALL PLAYER: Orlando Pace
COLLEGE BASKETBALL PLAYER: Jimmy Jackson
NFL TEAM: Team w/ most Buckeyes but no TTUNs
NHL TEAM: Boston Bruins
NBA TEAM: Used to be where LeBron was but can't root for LAL
MLB TEAM: Twins. Love Rocco Baldelli.
SOCCER TEAM: For 20 years it was USWNT, but not anymore.
Recent Activity
Did you say Yewts?
Why are you bringing basketball into this? (I'm not sure the acc is even the 6th best conference at this point. You could put an all-star team together from all the other teams and they still wouldn't stay within 14 pts of Clemson.)
Maryland's ranking was a pure gift to begin with, based on a thrashing of a completely overrated Syracuse. You don't lose to Temple like that and get reranked unless they go 10-2.
And Michigan's.
If Gene did go, I dont see Urban sliding into the AD role here. It's not a ceremonial role, it's a real job. And Urbs just learned OSU has a synchronized swimming team that wins the natty every year. To say he was hyper focused on football is an understatement. If Gene leaves, I think the job goes to TRESSEL.
Convincing win over a solid conference opponent. I'll bet we barely drop below Auburn and Florida in the polls this week.
Love Smith too, but saying he should start because he was top-100 isn't a reason. Coop was 5 star himself.
OMG, OMG, OMG! This is why we love hating those assholes so much. They are the gift that keeps on giving. Yes, they "dominated" the average yards per play, outgaining Army 4.5 yards to 3.7. Wow! Nice job. Funnier, the meme they made talks about shutting down the run. If just talking running plays, Army outgained them 3.3 to 2.4 yards per rush. Man, that offense is wide open running on almost 2 cylinders.
I'll give them career advice. Don't major in journalism. Mike, BA, Journalism, Ohio State, 1996
Teague is a flippin Stud. He didn't do the camp circuit so his rating was low, and then he got hurt early in his senior year so he never had the chance to rise up. In that limited sample, he WAS UNSTOPPABLE. I think his skills will land between Hyde and Zeke. (Sounds like a kid's game.)
How'd YOU get a downvote for that? +1 back at you, my fellow Raleigh-ite. Actually I live in Apex. Work in Raleigh.
Yeah... yeah... but Urban Meyer's not here anymore... and Zach Smith is a big jerk face... and Urban Meyer's not here anymore. And their helmets are cool! Stop saying the look like they have a cock and balls on them! And that team won in 1903, so they could totally do it again!!! And academics!
Ok, the AT BEST #2 team in the Big 12. The Big 12 that went 5-3 yesterday, with a loss to Coastal Carolina and wins over South Dakota, UTEP, San Antonio, Bowling Green and McNeese. I'm going to hold off being impressed just yet. Texas looked terrible.
Doesn't make sense. If LSU is undefeated, Bama already has a loss and doesn't play in the SEC championship game.
Lol. I literally just copied that to post in here. Yes, please. That's all anybody wants. OSU fans, MSU, fans, Bama fans, Cal fans, ETSU fans, junior college fans, soccer fans, people in China. We just want those _ichigan fans, for once, for the love of god, to just shut the fuck up!!!!!!!!
Cupboard is bare? Ohio State's cupboard? The most star-studded team in Ohio State history has a bare cupboard?
And you say that's not a knock? So bare cupboard is a compliment? I'm so confused. Did I log onto an Indiana site by mistake?
God, we get so worked up over what talking heads say. People used to lose their shit over Brent Musburger like his words actually influenced outcomes. One thing I'll say about Klatt, last year near the end of The Game, he said, "Harbaugh has to be bitterly disappointed with the team's performance today." Pure gold!!!! I will buy that man a beer any time.
Did I miss something? Why did they just reference the "state of Cincinnati " 10 times?
"Ha, ha, ha. Whelp, that's a funny story on how them there boys tested for them dumb ole things. High strength aspirin is all they are, really. Tell ya what, take a run down my slide, let's go to dinner, and then if you ever want to work in big-time media again you'll never mention those ugly rumors again." --Dabo
Our D line is so loaded, no way losing our "potential #1 NFL pick" edge rusher could adversely affect the entire defense. Oh, wait a second... sorry 2018, forgot about you.
I think the point is, instead of having 6 people tell the readers why the same guy is going to win, the more journalistic way of doing it, with such a heavy slant for one guy, would have been doing something like having you all vote a top-5, and tabulating it and then doing a story around that and talking about each of the consensus top 5. But that would have taken effort, so...
Never... fucking... ever.
Saying they will beat OSU and that they will compete for a playoff spot doesn't make him a liar if he truly believes it. It just makes him dumber than shit.
If beating Alabama consistently is the criteria, that gives us Clemson. And no one else. Then we can start building from there. Not talking about who deserves to make the playoffs in December. Talking about who "appears" to be loaded in July. Good lord, it looks like you have me defending an SEC team in here.