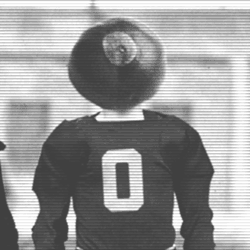 Extramedium
---
MEMBER SINCE August 12, 2015
Recent Activity
Bringing in top level talent is part of a coach's job, and also the result of potential recruits seeing the results of good coaching
I'm sure the reason Meyer waited a year was because he was too intimidated to take over after Gentle Jim Tressel
Dabo is anything but a savage and tough ass
How did his baggage affect the team in '15?
But the real talent is at WR, that's why they are WRs, and additional TE touches shouldn't come at their expense
but is he a TE or H at that point?
On Iowa, Wisconsin and other teams, their TEs are some of their best athletes,. That's just simply not the case here. It's in our best interest to roll Fields and throw to Mack/Olave/Wilson/Victor/etc/etc
Regardless, you can't argue that (pick any starting WR) isn't a bigger home run threat than any te in the roster
At a place like OSU the problem is always that there is only one football for all the talent and athleticism on the field at any given time. Considering the unreal and almost unfair WR corps we have, and the fact that you want the ball in the hands of the BEST athletes on the field, there simply won't be that many TE targets.
At a place like Iowa or Wisconsin, I think Berry or Ruckert would legitimately be one of the top receivers from an athletic standpoint.
Are there many programs out there that make the tight end a focal point of the offense aside from blocking?
I didn't check the article yet, but I would never consider the inability to distinguish there, they're, and their or saying things like "her and her friends went to the party" exciting and revolutionary
In a certain sense they are.. if only because it would be physically impossible for the NFL to listen and cater to the millions of individual opinions the average fan has
But 59-58 vs Maryland is not acceptable
Unless the cyst goes away I don't see him being for it either. He was in obvious pain quite often last season, and we all got to see it thanks to the wonderful television directors of every buckeye game.
The part of Forde's statements I take most umbrage with is the notion that USC is still a "Cadillac" coaching destination. I have a feeling the national media will have an even harder time letting go of the idea that USC is a football powerhouse than they do with Notre Dame.
It's really not that big of a deal
I think this clearly falls into the "talking shit" category and only means he does respect the rivalry. He even says we'll continue beating them all decade and it'll be electrifying. No one says it's electrifying when we beat Northwestern for a decade.
Yeah, they do it for everyone and it's not always tied to success. I still can't figure out why the media was so obsessed with pushing Lane Kiffin into the NFL or any open head coaching position despite extremely limited success at anything.
wrong, many of us listened and still trumpet you as the first to say it.
It's a funny coincidence that one character played for OSU and another character is named Martel, but it's a bit of a stretch to consider either situation an imitation of the other... unless you're saying Tate is his OWN antagonist, in which case I need more coffee to process the depth of this
He's only gotten an in-name promotion here but he's still doing the same thing. Is it still eating at him or did he just want to work with a better school/team?
Glad you added the "sad" at the end, I wasn't sure how to feel about it
It's hard to say, he must have been a fairy decent leader in high school . My biggest concern would be how he would bounce back from a bad performance and some negative press regarding his game. I could see him going into a pout-spiral
I was actually hoping to see him get a chance to play and see what he can do down there. Don't get me wrong, I didn't want to see him zone-reading here.. but I don't really understand everyone taking so much joy in him not getting to start for another team.