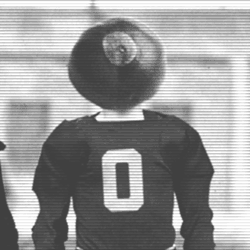 Extramedium
---
MEMBER SINCE August 12, 2015
Recent Activity
Concerning. We're going after the guys Dantonio usually sweeps up
Can't tell if you're being serious or not. You realize we're talking about recruiting for the OSU football team right? It's not like anyone's picking on the physique of someone coming to compete for the chess club.
If he was offered a scholarship to play football at OSU I'm sure he would.
Calories are calories, it's an energy unit. There aren't good or bad calories. If he's putting in the work and eating enough, he'll gain more muscle than fat.
It's a fair question. Do we want to be the next Michigan State?
He'll succeed until he gets drilled a few times by NFL defenses. He's not going to be able to run around like it's backyard football outside of the big 12
His ability to throw seemed to take a nosedive after Herman left as well and he moved to his third QB coach in as many years.
Making a decision to play at OSU vs sit behind Fromm for 3 years is very different from throwing your name out there to see who's interested when you haven't taken a live snap in 2 seasons and have one year as a HS starter under your belt.
Honestly, I'm not sure any of those three would have gotten us very far.
Fields left because not only was he not going to start, he was going to have to wait for Fromm to graduate and use all his eligibility, leaving Fields with one season remaining.
Fromm is rightfully ensconced as the starter, and I doubt he's leaving early for the league
It was hampered at times, but not because of Haskins. It was because we lined up in a zone read formation with a qb who was not a threat to run. If you remember during a good portion of the season we all wondered what happened to our previously impressive run game. This is part of the reason why Haskins passed for so many yards, he simply had to
what's being said is "holy shit I am not going to beat this guy"
we didn't lose Mathis, he was never here.
Burrow's situation is very different, and based on what we've seen so far, we dodged a bullet with Martell.
Over the past few seasons we've been very spoiled, having two, sometimes three guys who are extremely capable at QB. This is the exception in CFB, far from the rule. And honestly last season it was no different. We'd have been just as screwed if Haskins got hurt as if Fields is this season.
Neither of them looked great. And according to more knowledgeable people, this has been in the works for months. I just think it s funny that Fields has been with the team for a few weeks and we all expected him to look like Haskins did at the end of the season.
Day very clearly didn't make a pick yet.
Burrow left after three years on the bench and Haskins looking like he had the job. That's not the same thing as a guy who hasn't taken a live snap in 2 years and only started one season in high school
Just for the record he's still in the pros.
According to people who know more than us, it's been a decision in the making for months now. It makes more sense why we went so hard after Fields, and why Fields came.
You may have been sick of hearing it, but as a player on the actual team, I'd expect Baldwin had better sources than the media and fans.
Fields wasn't in a competition with Fromm, that guy is settled in, and he's not leaving early for the league.
Fields joined the team a matter of weeks ago, played half the number of snaps Baldwin did, against the first team D for most of it, and had close to zero protection for all of it. Truly impossible to tell anything from either of their performances.
I think we're mostly disappointed that Baldwin decided to leave the team.
Don't count out the Chuggster!
Also wish him luck. I don't blame him for wanting to play after sitting so long. But if he was named the starter I don't think he'd suddenly feel the need to be closer to home.
Again, if he was named the starter after the spring game, do you honestly think he'd be homesick enough to put his name in the portal?
And if he was named the starter after the spring game, would he suddenly want to be closer to family?