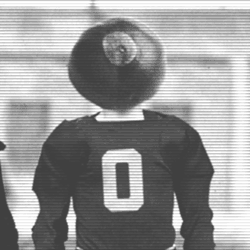 Extramedium
---
MEMBER SINCE August 12, 2015
Recent Activity
Just ask them what year it is
I wouldn't be surprised one bit if OU beat LSU. One offense will have to outrace the other, because neither play defense.
I agree, but it's not their fault they play a shitty schedule. I just really dislike Dabo
The one thing they got wrong all season was their weird love of Georgia. Never understood it and can't believe reporters haven't asked them more why they were ranked so highly all season
Exactly correct. Eveyone kept talking about "avoiding Clemson" as if it's possible to win a title without beating them
They did take care of business
I honestly wouldn't be 100% shocked if he laid down that first half vs Wisconsin just to make it come to fruition and give them a real scare.
I think it is nuts, and I was pretty shocked they put us at #2, but whatever. As you said, we have to win two games, and honestly I'd rather have a month to prepare for the tougher of the two.
I don't understand everyone acting like getting Oklahoma in round one is like a golden ticket to the national title.
I find it just as likely LSU can't keep up with OU and loses 73-72 as LSU cruising past them as everyone seems to think will happen.
Did our first half erase the fact that LSU gave up 400 yards to a 5-7 team?
They were champs in 2018, a different season and a different team.
there are no "defending champs" in college football. This is not boxing or MMA.
this is a new season and every team has to start from scratch and earn it just like every other team
This is not the AP poll, that's not how this works
It would pretty clearly be OSU and LSU most deserving
Neither. They continue to reward Ohio State for their entire season of work, which is how this poll works. This is not the AP poll where you are only judged by your most recent performance
Recency bias works for the national media who likes controversial headlines and clicks... The CFP committee considers the entire season for each time every week
They do, and that's why the LSU #1 argument is so stupid
So would you rather have 3 weeks to prepare for Oklahoma or 3 weeks to prepare for Clemson?
That's not a problem because the committee's system doesn't consider recency bias. It's the entire season up to the point of the current poll.
The problem is, would we rather have 3 weeks to prep for OU or Clemson?
Everyone is acting like we don't have to play Clemson if we get the #1 seed. Like the goal is only to make the playoffs, who cares about winning it..
I think we'll need to beat Clemson to win the NC, and I'd rather have a month to prepare, and be the first good team to play them all season.
That's not how the playoff committee poll works. What is this year 5 now? Can we at least get to the point where we aren't treating it like the AP poll?
It's the entire season graded up to that point every single week. It's not "they had a bad game, we move them down"
If only it was possible..
Yes this was our first test