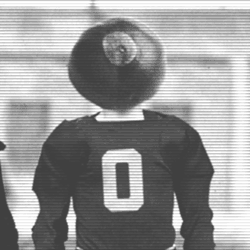 ExpressiveBuckeye
---
Nashville, TN (via Springfield, OH)
Member since 03 June 2014 | Blog
Favorites
SPORTS MOMENT: 2006 OSU vs scUM game 42-39
COLLEGE FOOTBALL PLAYER: Carlos Hyde
COLLEGE BASKETBALL PLAYER: Slam Thompson
NHL TEAM: CBJ
Recent Activity
I signed in just to upvote this. Well done, sir.
I agree 100% Dad! The future is bright but there is work to be done.
Seriously. Go to Twitter and look at these jokers. They all look like huge buckeye fans and outstanding citizens...wait...
the fat, pimpled kid from berea asking urban for a scholarship is ironically funny though.
Sad to hear about Rod. I was a big fan. As for other players...I find it funny how many commenters know so much about what's happening inside the WHAC. I'm sure your brother's uncle's kid's soccer coach is in Urban Meyer's wife's spin class, but lets hold out on dropping names and accusations of other players "doing drugs" until we hear otherwise.
Just curious, didn't they throw those guys in to take snaps right after JT initially sprained his knee to give him a breather?
That was my understanding...more necessity than creativity.
Would you call him a "no talent ass clown"?
Agreed. I have family in auburn and have been down for a few games. Had an absolute blast! To me, it wasn't as big or crazy as OSU tailgates, but the fact that a town smaller than Marysville nearly triples in size on gamedays to pack a stadium is incredible. Plus everyone was extremely friendly. We were handed front row tickets by a stranger...for free. No joke.
I agree with your point. Side note: Apart from Florida and Atlanta, I'd like to see the statistics surrounding the "migration to the south." Have you ever been to Alabama or Mississippi? There really aren't a bunch of thriving cities. Not to mention all of the new studies surfacing about northern cities like Columbus that are growing like crazy. I just don't buy that as an excuse for the B1Gs woes.
No kidding. And if I see one more signed copy of his photo in someone's home or office...so help me if there is a lighter near by.
Haha Vanderbilt kills me. I live in Nashville and have to hear many Vanderbilt "fans" talk...it's beyond comical when they try to compare themselves to larger programs. I won't even get started on the TV and radio commercials...
I take it you're a huge Axelrod fan..
I'd trade that guy for absolutely nothing.
Wish I could up vote more than once for mentioning Warren Zevon.
Agreed. I HAD an uncle that was a Penn State fan and lived in Columbus. That guy was a dickhead.
Likewise Chad!
However, some days I would LOVE to have an unarmed 5'8" 125lb punk try to break into my home...wouldn't need to use my weapons to layeth the smacketh downeth.
Good idea by Meyer...nothing motivates a "starving college kid" more than a well cooked meal. I know I'd sure play to win for shrimp, lobster and steak.
No worries. My brother is a huge bears fan. I really have no room to talk as a bandwagon browns fan (which means I really have no team and I'm from ohio), but it's true.
Must be a Bears coach. No concept of d line talent.
I will have convinced myself into 15-0 by Friday night. It's either going to be a glorious carpet ride through the skies or I'm going to end up puking into my bath tub.
Love ya, football.
Truer words have never been spoken, DJ. I'm ready to join you on the binge.
Sorry to be a dog nerd, but there is a sub-breed of boxers that almost don't drool at all. I own one and he is the coolest dog of all time. Only drools around other dogs and when it's hot outside...and when I grill, but who doesn't?
Technically some dogs drool as well..
No kidding! I travel full time for work and have seen people damn near fight over space...between that and no being able to use letters, numbers, and pictures in a sequence to figure out which seat you're in. Flight attendants have to be some of the most patient people I've ever met...