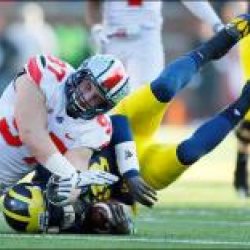 Exhortera
---
Member since 17 November 2013 | Blog
Favorites
SPORTS MOMENT: Holy Buckeye, Keith Byars loosing his shoe, "Let's party Columbus", Rich Rod reciting bad lyrics.
COLLEGE FOOTBALL PLAYER: Circle K
NFL TEAM: Nope
NHL TEAM: Nope
NBA TEAM: Nope
MLB TEAM: Nope
SOCCER TEAM: What?
Recent Activity
Watching the 85 yarder against Bama and looking to see if Bama's LBs were out of position.

They weren't. They were right there in the thick of it and they just got handled.
I'm still rolling around in all this sweet sweet sugar. Probably after Monday, when I'm able to rub this win in the face of my arrogant Alabama fan coworker that never gave us a chance, I'll start switching into Oregon mode.
Can I have your helmet stickers?
I hope Ms. Moore is found safe.
I don't care what the NCAA says, we beat Arkansas.


The NCAA relaxed the rules on food. Players now get unlimited grub.
I'll have you know, i enjoy my Fossil watch.
This may be a big part of it.

I don't make a lot of money at my job. The bills are paid and there's a little bit of scratch left for our pockets, but it's not raining $1000 bills on the Exhortera household.

I could probably get paid more somewhere else, but I like where I work. If something better were to come along I may take it, but it better be a homerun move.

I imagine it's the same for Herman. He's in a good spot so he might as well wait for a great opportunity.
"Meyer had a word for the critics who demeaned the Gators.
'I'd like to thank all those people. Our pregame speech was easy,' he said."

Taken from an article in the aftermath of "41-14".

Not counting the VT game, when the focus seemed to be more on recruiting and the new player's tunnel in the Shoe, when the sun goes down and the bright lights come on the Buckeyes turn it up a notch.

I have no doubt we'll see the same team that destroyed Wisconsin. Buckeyes by 10 points.
Mheh. There's very little loyalty from the little dogs in the B1G.

Just keep on winning.
10

This team is too talented and have been through too much this year to let up now.

Honestly, the committee may have us at 5th behind TCU, too.

Not impressed with TCU at all.
Mine's a casual fan but she works for the university. Come on faculty season ticket lottery!
Apples and oranges between Bruce and Hoke.

Earle Bruce was a really good coach. AD Rick Bay resigned in protest over his firing.

Brady Hoke is an idiot.
This is a great team that had a down game.

Shake it off, it's Michigan week!
BUT THE SKY IS FALLING!!!!