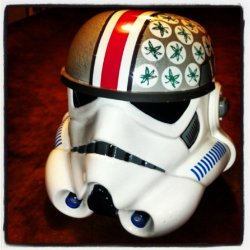 EvilEmpireBuck
---
Atlanta, GA (via Columbus, OH-IO)
MEMBER SINCE October 25, 2019
Born at University Hospital in 1960. Raised in Clintonville. Once played a pickup touch football game in Whetstone Park with Archie and Duncan Griffin. Attended OSU 78-82. Work for the Evil Empire. Go Bucks!
Favorites
SPORTS MOMENT: 2002 National Championship
COLLEGE FOOTBALL PLAYER: Historically - Archie Griffin/Currently - Chase Young
COLLEGE BASKETBALL PLAYER: Joey Lane
NFL TEAM: Browns
NHL TEAM: N/A
NBA TEAM: N/A
MLB TEAM: Braves
SOCCER TEAM: Atlanta United
Recent Activity
Don't break the law when you're breaking the law
Nobody has stopped J.K. this year. Today will be no different.
Go Bucks! Beat Clemson!
Can't say enough about the way our players, current and past, represent our university. Way to go Michael Thomas! Love is love!
Go Buckeyes! Beat Clemson!
Well, because he works for ESPN, he has to be against Ohio State. It has nothing to do with his own bias. it has nothing to do with our collective bias as Buckeye fans. I love how people complain about BS narratives, (Clemson is now obviously better than OSU), while they push their own BS narratives (ESPN tells everyone to push the SEC). ESPN didn't support OSU's bid for the 4th playoff spot the last 2 years, but they weren't alone. Let's forget that FOX wasn't exactly supporting OSU's bid either (Matt Leinart is Mark May incarnate, Reggie Bush isn't much better, and neither pushed OSU). The only person on their show promoting OSU was Dave Wannstedt, and his over the top delivery and lack of sincerity didn't help. He ended up sounding like a crackpot. Even Joel Klatt, who has been promoting Ohio State as the most dominant team in CFB all year, is hedging his bets. FOX doesn't support Ohio State, no problem. ESPN doesn't support Ohio State, then they are biased. The ESPN hates Ohio State narrative is as lazy, uninformed, and biased as Vilma's weak analysis.
"I feel like our talent is better"
So then, you just suck...
Undeserving is a term I heard over and over at the SEC Media days to justify why their conference's #2 team should get in over other conference champions. Pay no attention to the fact that the last two years Ohio State was champion of what was arguably the best, if not, then second best conference in the country - OSU is undeserving because they lost badly to Purdue and Iowa, end of story. Pay no attention that the SEC West is such a cesspool of crappy teams that 5 of the 7 programs have replaced their HC's in the last few years (SEC East not much better), Alabama clearly looks better, therefore they are more "deserving". I have even heard this argument from Georgia fans - that a 3 loss UGA is still better and more "deserving" than a 1 loss B1G champion (they really think that!). Deserving is such a relative term. By who's standard? The SEC? The media? The committee? You? This is why I prefer the expanded model. Win your conference and you're in. Finish highest in the Group of 5, you're in. The committee chooses the 2 at large teams. Once the field is set, we will find out who is deserving. If you're a poser, you'll be exposed. Win three games against the best competition in the country? It would be hard to say any team that does that is undeserving.
Don't sell his old man short. Mike Sr is a really great guy and I guarantee you would like hanging out with him.
One of the writers in the Atlanta paper did an opinion piece this week stating that Georgia made the correct choice at QB because Jake Fromm State Farm fit their system better. He then went on to say he felt that was Georgia's biggest problem, because they chose an inferior player that fit their system, rather than adapting the system to fit a better player. He then doubled down by saying he didn't think Georgia's coaches were capable of creating an offense that could utilize Field's talents the way Ohio State has.
I live in the south. They hate Ohio State, more than any other program. I think it has something to do with coaches Grant and Sherman. Meyer is also hated with a passion down here. It's not just Florida fans either. When I talk about Meyer, the general reaction I get is "I think he's a snake oil salesman". It's amazing how consistently that phrase is used. They hate him because when he was at Florida, he kicked their asses. In a recent cab ride in Tallahassee, the cabby noticed my OSU shirt and then proceeded to rant the entire ride about how much he hated Meyer, because he wouldn't say Florida State's name, and that he was a "sum-bitch" (Meyer was 5-1 at Florida vs FSU). When he left Florida, their whiney butt hurt fans branded him "Urban Liar". (I take great pleasure in the fact that Florida has been nothing since he left) Then, when he left the south to "bring SEC football" to the one team the south absolutely despises - THE Ohio State, he gained a whole new level of villainy. His treatment in this poll doesn't surprise me at all. Vince Dooley at #24? Tells you all you need to know about who contributed to this poll. Dooley spent 22 years at UGA, had only 6 SEC titles, 1 Natty (more due to Herschel Walker than Dooley), and a bowl record of under .500 (8-10-2). That's top 25 of all time? LOL!
Seems to me, no one is giving Wisconsin any credit at all. They are a 10 win team, and definitely not a pushover. In October, they played us pretty much straight up the 1st half of that one too. After losing badly in the end, they started to prepare for the rematch. They knew if they took care of business in a weak division, they would get another shot at us. If you hadn't noticed, Jim Leonhard is an outstanding defensive coach and he and his defense were able to make long term adjustments to counter what the Bucks had success with in the first game, as well as figure out new schemes to overload and attack the O line and force them into making decisions. It worked some in the short term, but by the 2nd quarter we were able to put together 2 long drives, and that was that. The 2nd half speaks for itself.
Rather than worry(?) about our O line, I take the opposite view. This unit is way better than last year. I'll take an O line that can run the ball anytime, anywhere, and these guys can. All season long, nobody has been able to stop JK All Day. These guys have won the line of scrimmage in every game we have played. They allow us to control the clock, and wear down the opposition. So we give up a sack here or there. So Justin sometimes holds the ball "too long". I'll trade that for the scary good 3rd down conversion rate, the long TD passes, and punishing run game. Personally, I think the strength of our O and D lines are what makes this team so dominant.
Please, I am expected to believe that the people on the committee from other conferences were complicit in protecting the SEC? To perpetuate the "SEC bias" that works against their conferences too? And that it was advantageous for the ACC to have Clemson open against OSU? If the B1G wants to reverse the "SEC bias", then teams like Minnesota and ttun need to win their bowl games against top SEC teams. Until then, the national perception that the SEC is better will remain. If they get smoked by Auburn and Alabama, the "bias" is reinforced. Everybody knows OSU is elite, but they don't respect the rest of the conference. It's going to take wins in games like those, as well as OSU winning playoff games, to truly reverse the perception of a superior SEC.
Last year we didn't run the ball that well and Ryan Day was being touted as a QB guy. Maybe the top RB recruits weren't sold on Day as a run oriented coach. This year should erase that stigma. And how come nobody's talking about Marcus Crowley? 25/237 - 9.5 yds per carry! I thought he was an breakaway threat every time he touched the ball. I can't wait to see him play a whole season! Between Teague, Crowley and Chambers we are well set at RB going into the future.
Thanks for adding some perspective Iowa. ESPN is a company with lots of different chiefs running lots of different chiefdoms with little or no coordination between them. There's the broadcast side (ESPN/ESPN2/ESPNU) who's objective is to provide content for the rest of the company to utilize. When on site, there is an expectation of neutrality, and the motivation is to make everyone involved look good, even the losing side. SportsCenter is a news operation, and they follow news stories just like your local TV station. Because the shows are on live, they are allowed to show content from other broadcasters as highlights, but only after the other broadcast is off the air. The morning studio shows are simply filler content based on hot takes and endless jabber about anything sports related. It's sport's radio on steroids, but there's alot of airtime to fill. The online portion of the company is where much of the perceived bias comes from. It's there, but it's not intentional. As you pointed out, where the original broadcast video comes from makes all the difference. The online entity can post any content owned by the company, but video from another broadcaster like BTN or FOX is strictly off limits, due to copyright. Therefore, the video on ESPN.com is mostly generated from ESPN broadcasts. Because ESPN owns the rights to all things SEC, there is naturally an overabundance of SEC content. Because there is an overabundance of SEC voices, SEC content, well, you can see where there is an appearance of bias. I work for the Evil Empire. I'm not SEC biased. I'm not offended, either. But some of the takes about what ESPN can or can't, or is, or isn't doing are pretty amazing.
Bucks by 25 in Chapel Hill? Wow!
Well earned redemption for Borland, Werner, Harrison and Browning. Not only were Borland and Werner "too slow", Browning wasn't even good enough to make the field last year. His improvement over the course of this season warranted important minutes in the last two games, and he didn't disappoint. What was it? The greatest victory is only possible after tremendous adversity, or something like that?
Go D! Crush the Badgers!
As I recall, he deflected from the "2 year commit" scenario and said something more along the lines of making OSU a place where you could raise a family. I believe he is offering stability and hoping some of the younger coaches might stay awhile.
Hutchinson is a legacy. One of my friends knows his Dad, who was an All-American for Michigan from 1989-1992. He introduces himself as "Dr. Chris Hutchinson, Michigan Man, never lost to Ohio State", or something like that.
The delusion is ingrained.
Nailed it TMac. Who would, or even could, they get? How would they turn the tide in the recruiting gap? Despite his negatives, Harbaugh still keeps them relevant, has restored the recruiting imbalance against Sparty, wins 9-10 a year, is a "Michigan Man" and harkens back to an era of success for them, which gives them hope (LOL). And as they know all too well from the RichRod/Hoke era, it could be worse. They wish he would win more big games, but the few Michigan fans I know are still solidly in his corner.
They're all as angry and frustrated as Charles Woodson, because they know this isn't going to change anytime soon.
Minn/Wisc was a no brainer for Gameday. Auburn/Alabama is a big game, but there was nothing on the line, and Bama was expected to win, as usual. Meanwhile, you have Minn/Wisc playing for the B1G West title, winner take all, and at minimum a possible trip to the Rose Bowl - something Minny hasn't done since 1962. A more compelling storyline, two highly energized alumni bases (Minnesota has been a big university for some time now), and you get to promote your own broadcast. Believe it or not, conference bias is not what they care about in Burbank...
#1 - Those aren't the lyrics I learned...
Also - Da, Da, Da, Da Da, Du_ Du_ Du_, Screw The Blue!
And - we STILL don't give a da_n for the whole state of _ichitigan!
The Cooper era was beyond bad. It wasn't like we didn't have good teams. Even when we had the better talent, we still lost to them. Cooper would stand on the sideline with that "what just happened" look that we often see on Harbaugh's face. I remember him being asked about the players seeming lack of motivation for these games. "I don't coach the players, I coach the coaches" was the response. He was never going to figure it out.
Wait, where is the Jack Harbaugh 2018 Big East Co-Champions Xirage Award?
But, wouldn't the calculus for the B1G be (TV revenue for B1G Network in #1 TV market) against (share money for Rutgers)? The success of the program, or lack thereof, isn't really part of the equation for the conference. As for Rutgers, Schiano was asking for significant investment, which would require going further in debt. Apparently, the school isn't ready for that. Their objective might be to first get on firm financial footing with their athletic department, then structure debt for the future based upon full share revenues after 2027. Makes sense in a way, but how much damage does it do to your program in the long run? Tough choice for them.
I'd rather get the biggest test out of the way first. Just like Alabama - Oregon in '14. However, we're assuming alot as LSU will still have to beat UGA in Atlanta to be #1 at the end, and OSU and Clemson will need to win out. If UGA wins that game, it will be 1-OSU, 2-Clemson, 3-UGA, 4-LSU. I hate UGA, but at least this would virtually eliminate Alabama.
Like we've never had success with 3 star kids from Cincinnati...