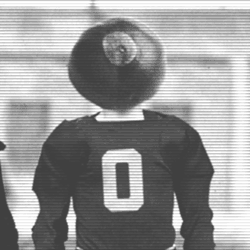 Even Steven
---
MEMBER SINCE June 27, 2019
Recent Activity
Comment removed for violating the site's commenting policy.
We need PJ, Jr. to have a meeting with his buddy Bijan
Comment removed for violating the site's commenting policy.
Still a better option than that criminal Locksley.
Some, not all, of these professors definitely fall into the anti-football group.
This is what I've been saying, 'Roo.
Very strange. The timing and all; gotta be something more to this.
Yeah, I know...but still, it was a lot of tOSU talent.
Maryland was a lot better than their record. I just think Canada kinda got a raw deal.
Re-watch the OSU/MD game last year. We should have lost. He is a great offensive mind, and a much better coach than Locksley.
Check Locksley's career record...not pretty. Ditto his off-the-field/character issues.
Yeah, he can sell snake oil...but that's it.
Agreed, SoSo was very so so
I can't explain, otherwise I'd risk getting locked up in jail for 7-10.
Here are two possible under the radar prospects, who are Ohio kids:
https://247sports.com/Player/Miyan-Williams-46042588/
https://247sports.com/Player/Torrance-Davis-46081317/
Locksley is not a good coach.
They screwed the pooch on that hire; should have just kept Matt Canada. Great offensive mind.
If it's true what they said on Bucknuts — Bijan wants tOSU, but his family wants him to stay home — then why rush a decision so soon. Wait until after the season, or signing day. Make sure you get it right.
General / casual advice = ok.
No payments. No money.
We'll see how he feels about USC after Clay Helton is shitcanned after this season. They have a tough schedule, like lucky-to-go-.500 schedule.
* (Hoping Urban doesn't replace him, though).
Thanks for the reply.
I love you Andrew.
- Steve
Thanks for the question.
LOL, I don't know who the fellow is, but, I missed that.
I don't think so. Unless it was something physically threatening, or someone posted nude pictures of him, for example.
Come on Andrew, you're better than that.
Im saying he didn't just "change his mind" at the last second.
Some shiiiii went down behind the scenes, yo.
Nah. Kid committed to Ohio State and changed his mind. Stranger things have happened
Sorry, but not buying it was as simple as you put it.
Very strange timing, etc..
LOL at the butthurt Willie Taggart fan with his or her anonymous downvote.
The truth hurts.
Taggart is severely unqualified to be head coach at FSU.
They'll be lucky to win 6-7 games, even though they're in the weakass ACC.